Due to a widespread recovery in risk assets, Bitcoin and its altcoin counterparts have recovered all the losses they have incurred in March. From the March lows of $3,700, in fact, Bitcoin is up by over 150%.
Yet with BTC finally stalling in the $9,000s, analysts see a confluence of tell-tale signs that a further bearish reversal is inbound.
Bitcoin Is Printing Tell-Tale Signs of a Reversal
Over the past few hours, Bitcoin has slipped under $9,000 after holding above the pivotal level for upwards of two weeks.
Analysts have already reacted to this move lower negatively, postulating that BTC is in the midst of reversing after its jaw-dropping rally from March's capitulation lows.
A top trader recently identified four technical trends indicating that Bitcoin's uptrend is over, sharing the chart below:
Bitcoin has finally broken below the ascending triangle formation that began to form at the start of May. Ascending triangles are textbook chart patterns that often break higher as they signify that an asset is trending higher.
After attempting to rally back into the triangle, BTC failed, turning a support level into a resistance.
Bitcoin moved below the daily Bollinger Bands base line — a technical occurrence that has historically preceded downside.
BTC could soon break below the crucial 50-day simple moving average.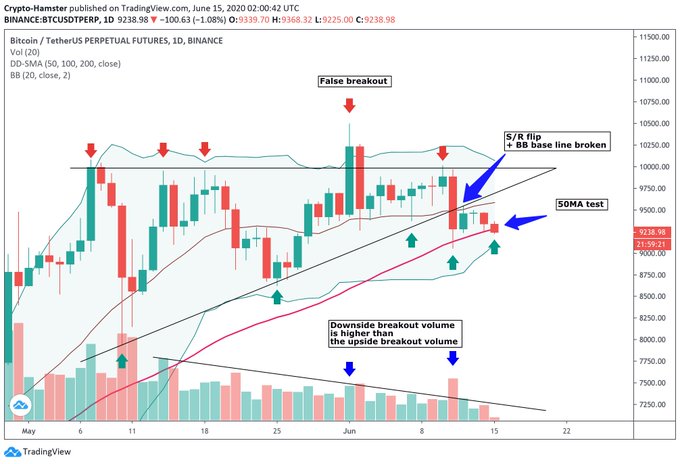 Bitcoin breaking below the 50-day simple moving average will open the cryptocurrency up to a move to the $7,900-8,200 range, per the same analyst that shared the chart above.
One of Many Factors Suggesting the Start of a Greater Correction
Supporting the expectations of crypto market downside is a bear trend seemingly forming in the S&P 500 and broader risk-asset markets.
Leading equities have slipped lower over recent days after recovering effectively all of March's losses in a V-shaped reversal. The reversal has been so strong that June 11th's trading session was one of the worst days for the Dow Jones in history.
Bitcoin is not in a place where it will rally if stocks continue to sink, analysts have said.
Analysts at JPMorgan, for instance, said in a report on June 11th that Bitcoin has exited March's crash trading like a risk asset that moves in tandem with equities and other asset classes.
Even cryptocurrency proponents like BitMEX CEO Arthur Hayes have thrown their weight behind this narrative. Hayes wrote in an April newsletter:
"Bitcoin will be owned unlevered. Could the price retest $3,000? Absolutely. As the SPX rolls over and tests 2,000 expect all asset classes to puke again. As violent as the Q1 collapse in asset values was, we have almost 100 years of imbalances to unwind the ancien régime."
Featured Image from Shutterstock
Price tags: xbtusd, btcusd, btcusdt
4 Key Signs Show Bitcoin's 170% Rally From the $3,700 Lows Is Finally Over