It's been a brutal past 24 hours for Bitcoin.
After attempting to secure $10,000 as support on June 10th, the cryptocurrency failed to do so, diving instead of rallying as most investors were expecting.
The weakness culminated in a $1,000 drop lower on June 11th that took place over the course of approximately eight hours. During the drop, approximately $80 million worth of positions on BitMEX alone were liquidated, crushed as the $9,500 support was rapidly lost.
The bull case is getting a strong boost with the news that a buy wall has appeared on Bitfinex, though.
Bitcoin Buy Walls Appear, Boosting Bull Case
A trader shared the chart below on June 11th, showing that according to the Order Book Dominance Bands indicator, a massive block of buy orders have appeared from $8,600 to $9,000 for BTC.
Although this may suggest that the cryptocurrency has room to drop from the current price of $9,300, such a large confluence of buy orders shows that buyers believe there is upside ahead of Bitcoin.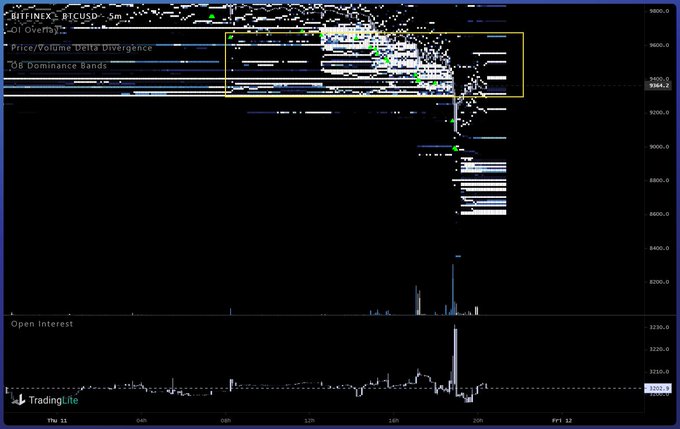 As indicated below, whenever there has been strong buy support over the past few months, the cryptocurrency has rallied. Furthermore, whenever there was a confluence of sell-side orders, the trend topped.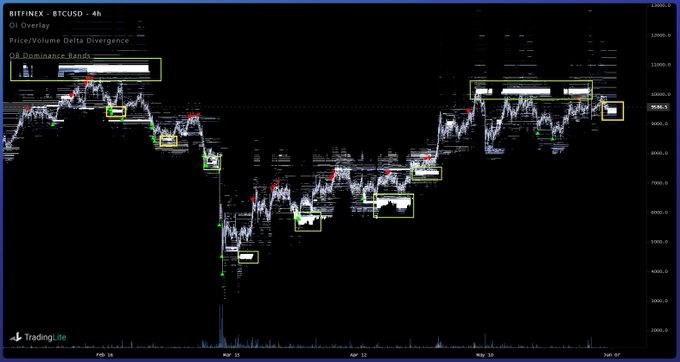 Weak Stock Market Could Crush Bull Narrative
The bull case may still be in play, but a tumbling stock market could change the narrative.
Bitcoin's weakness on June 11th came as the S&P 500 and Dow Jones saw their worse performances since the extreme weakness seen in March and April, both falling around 6%.
As Avi Felman of BlockTower Capital observed, "the tick for tick with the SPX is back baby." This comment was referring to analyses from March and April that revealed Bitcoin and the S&P 500 were trading in tandem, with prices moving together down to the minute.
Tick for tick with the SPX is back baby 🙏🏽

— Avi IS RIGHT (@AviFelman) June 11, 2020
Most analysts seem to be bullish on the market, despite the 6% drop.
Yet the underlying economy is painting different signs: as reported by Bloomberg, the World Bank is currently projecting the worse economic loss since World War 2, an annual GDP drop of 5.2%.
It isn't clear if the stimulus from governments will be enough to stave off a stock market decline related to the poor macroeconomic data.
Should stocks plunge yet again, Bitcoin is unlikely to benefit. As Arthur Hayes of BitMEX explained:
"Bitcoin will be owned unlevered. Could the price retest $3,000? Absolutely. As the SPX rolls over and tests 2,000 expect all asset classes to puke again. As violent as the Q1 collapse in asset values was, we have almost 100 years of imbalances to unwind the ancien régime."
Featured Image from Shutterstock
Price tags: xbtusd, btcusd, btcusdt
Massive Bitcoin Buy Walls Appear in the Low-$9,000s in Critical Win for Bulls