Bitcoin has been stuck in a tight consolidation pattern over the past six to eight weeks. Prices have barely deviated from a relatively tight $2,000 range, with each attempt at breaking out failing dramatically as millions of dollars worth of leveraged positions are liquidated.
Yet at long last, a big move is coming, an analyst has said.
He shared the chart below, arguing that his use of a "time-based Fibonacci extension" found that a move out of the range is likely to take place in the coming seven days. And according to him, the breakout will be on a "massive" scale:
"We have spent 49 days today inside this exact range shown. The move when it comes should be massive. Position accordingly."
With Bitcoin currently sitting in the middle of the range around $9,200-9,400, it seems like the breakout could be in either direction. But as it stands, there seems to be more bearish sentiment than bullish.
Bitcoin Could Move Lower Out of the Range, Analysts Say
The analyst that in the middle of 2018 predicted that Bitcoin's bear trend would bottom at $3,200 believes that per his use of Elliot Wave analysis, a drop to $7,000 is in order by early July.
Adding to this, a top trader noted that BTC has decisively failed to maintain the uptrend it formed after March's $3,700 bottom. He cited the loss of an ascending triangle support, a move below the Bollinger Bands baseline, and attempts at breaking under the 50-day simple moving average.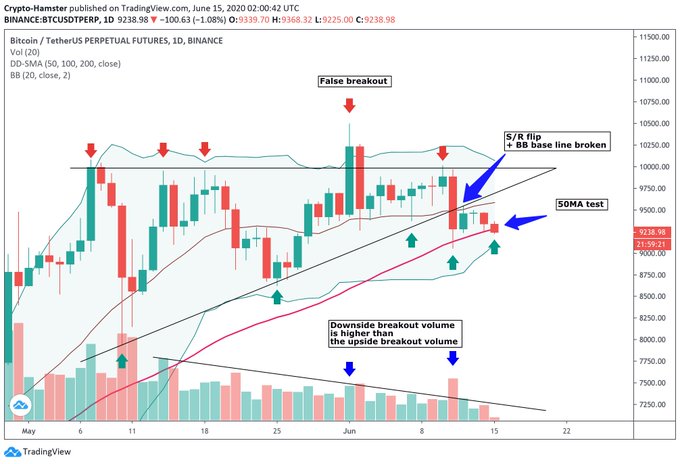 Yet the aggregate BTC investor is seemingly betting on the bull case. Alistair Milne, CIO of the Altana Digital Currency Fund, noted that there is an outsized number of Bitcoin bids on Bitfinex's order book.
The data he shared on June 14th indicates that there was 2,807 BTC worth of sell orders from $9,400 to $10,100 while there was 6,163 BTC worth of buy orders from $8,700 to $9,400.
Bids are stacked on Bitfinex again … pic.twitter.com/K5oVbBjGX2

— Alistair Milne (@alistairmilne) June 14, 2020
On-Chain Outlook Could Threaten Bullish Technicals
On-chain signals could further threaten the bull case. After all, if not one is using Bitcoin, how can we expect it to appreciate?
As reported by NewsBTC previously, Charlie Morris, the founder of blockchain data firm ByteTree, suggested that BTC's on-chain statistics are suggesting a drop to the $7,000s is imminent.
"1-week network velocity down to 454%, 5-wk 556%. Tx value down, av tx size down, fees down, MRI shot to pieces. Why the lack of interest? Can't see price holding up. Fair value <$7k," Morris wrote.
ByteTree leverages on-chain transaction volume, which is arguably a derivative for Bitcoin demand, to determine a "fair price" for the cryptocurrency. The higher the economic throughput, the higher the fair price is.
Featured Image from Shutterstock
Price tags: btcusd, xbtusd, btcusdt
A "Massive" Bitcoin Move Is Pending: Here's What Analysts Expect Is Next