Binance Coin has been consolidating within a narrow trading range. Its price action has been mostly contained between the $15 support level, and the $18 resistance over the past two months.
From a technical perspective, the ongoing stagnation phase forced the Bollinger bands to squeeze BNB's 1-day chart. Squeezes are indicative of periods of low volatility and are typically succeeded by wild price movements. The longer the squeeze, the higher the probability of a strong breakout.
Since this technical index does not provide a clear path for Binance Coin's direction, the area between the lower and upper band is a reasonable no-trade zone. An increase in volume that allows a daily candlestick to close below or above this critical zone will determine where this utility token is headed next.
Binance Coin Consolidates Within Narrow Trading Range. (Source: TradingView)
It's just a matter of time before support or resistance breaks to provide a clear signal of the direction of BNB's trend. However, the high levels of activity on its network adds credence to this optimistic outlook.
Binance Coin's Network Activity Explodes
Despite the lackluster price action, Binance Coin's network has been extremely active over the past couple of weeks. BNB's daily active addresses have entered an uptrend while prices remain stagnant. The divergence between the two suggests that a bullish impulse is on the works, according to Santiment. 
The behavior analytics platform stated in a recent blog post that once the bulls step in Binance Coin may see its price explode. 
"This model is indicating that there may be a serious jump once markets start to roll again, with several spikes well over the +0.5 threshold over the past week. As one of the largest gainers and least impacted crashers after the end of the 2017 bull run, people may soon be reminded why Binance Coin generated so much hype two and a half years ago," said Santiment.
Binance Coin's Daily Active Addresses Are Trending Up. (Source: Santiment)
Although investors appear to have shifted their focus towards small-cap coins, especially those in the DeFi market sector, Binance Coin has "some serious potential" to surged based on the daily active addresses growth. 
On-Chain Volume Must Pick Up
The steady decline in on-chain volume, however, is favoring the bears at the moment. Such a steep divergence between price and volume represents a negative sign that indicates that momentum for a downswing is building up slowly.
An eventual increase in volume can serve as confirmation of the bullish view. Until this happens, traders must remain on the sidelines as there is still a chance for a downward impulse.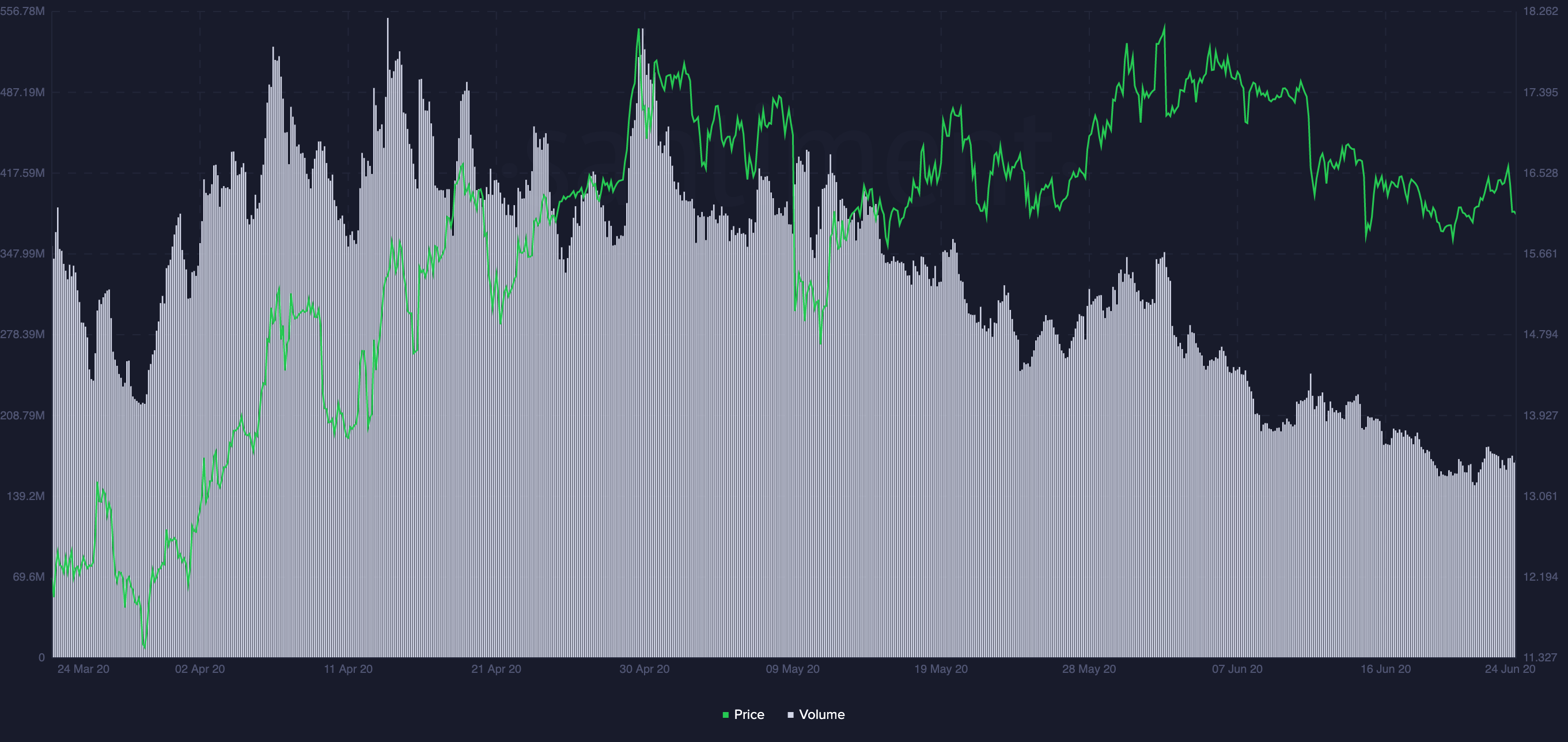 Binance Coin's On-Chain Volume Declines. (Source: Santiment)
It is worth mentioning that due to the unpredictability of the cryptocurrency market, it is essential to wait for a break of either support or resistance before entering any trade. Now that the market seems to be at the cusp on its next bullish cycle, having fresh capital to deploy is a must.
Featured Image from Shutterstock
Charts from TradingView.com
Activity on Binance Coin's Network Swells Despite Lackluster Price Action