It's been an explosive past 24 hours for the Ethereum market.
As covered by NewsBTC, on Wednesday the asset gained approximately 8% in five minutes, surging past the pivotal $250 resistance. ETH now trades at $275 as of this article's writing, having inched higher after the aforementioned surge. The rally peaked at $280, another pivotal resistance that marked the highs in February.
Despite the rejection at $280, analysts remain decisively bullish on Ethereum. One trader, in fact, argued that the asset has the "most bullish chart" in this entire market.
Ethereum Has the Most Bullish Chart, Analyst Says
According to a cryptocurrency trader that predicted the ongoing Ethereum recovery, the asset's chart remains bullish. "The most bullish chart right now," he said in reference to the chart below.
The chart shows his analysis of ETH's performance against Bitcoin (ETH/BTC). Per the chart, Ethereum just broke above a macro resistance which has been of relevance for around two years. The fact that it did so convincingly has left the analyst with "no words."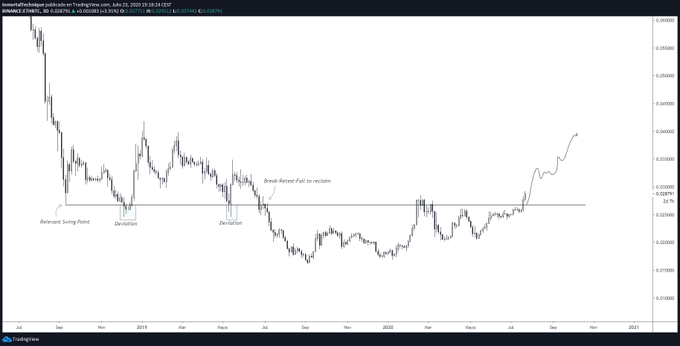 Analysis of ETH's performance against BTC by trader "inmortal technique" (@inmortalcrypto on Twitter). Chart from TradingView.com
This optimism has been echoed by a swath of other traders. Blockfyre's lead technical analyst shared in a comment on July 22nd, which notably came before the surge to $275:
"The great $ETH bear capitulation is coming and some people still have 0 Eth exposure. But they will soon… Oh they will soon. There is no mountain high enough for where Eth is going."
Rhetoric aside, the same analyst said in analyses that Ethereum's charts indicate it is set to test $290-300. He explained that the asset broke above a "one year trend" and has validated a bullish inverse head and shoulders pattern.
Fundamentals To Boot
Further boosting the Ethereum bull case, the analyst seemingly has strong fundamentals.
As reported by NewsBTC, the founder of Mythos Capital, Ryan Sean Adams, says the imminent launch of staking and the adoption of DeFi will boost prices. He said that these two market factors will "put far more demand on ETH than ICOs ever did."
There are some, though, that doubt Ethereum is currently seeing enough demand to outweigh coins being sold. Crypto analyst Josh Olszewicz said last week:
"As impressive as DeFi ETH locked has become, it only recently surpassed ICO treasury selling and is no where near absorbing inflation since 2018… b/c im looking at the $ETH price chart with the $ETH the on-chain data and there's a massive divergence here."
Yet with staking and DeFi as Adams explained, demand for the asset could soon shoot higher.
Featured Image from Shutterstock
Price tags: ethusd, ethbtc
Charts from TradingView.com
After 15% Surge, Ethereum Has the "Most Bullish Chart Right Now": Analyst