Bitcoin dominance has been caught in a descending channel since May when it reached 69%. At present, BTC represents 64.9% of the total cryptocurrency market cap, a 10-week low.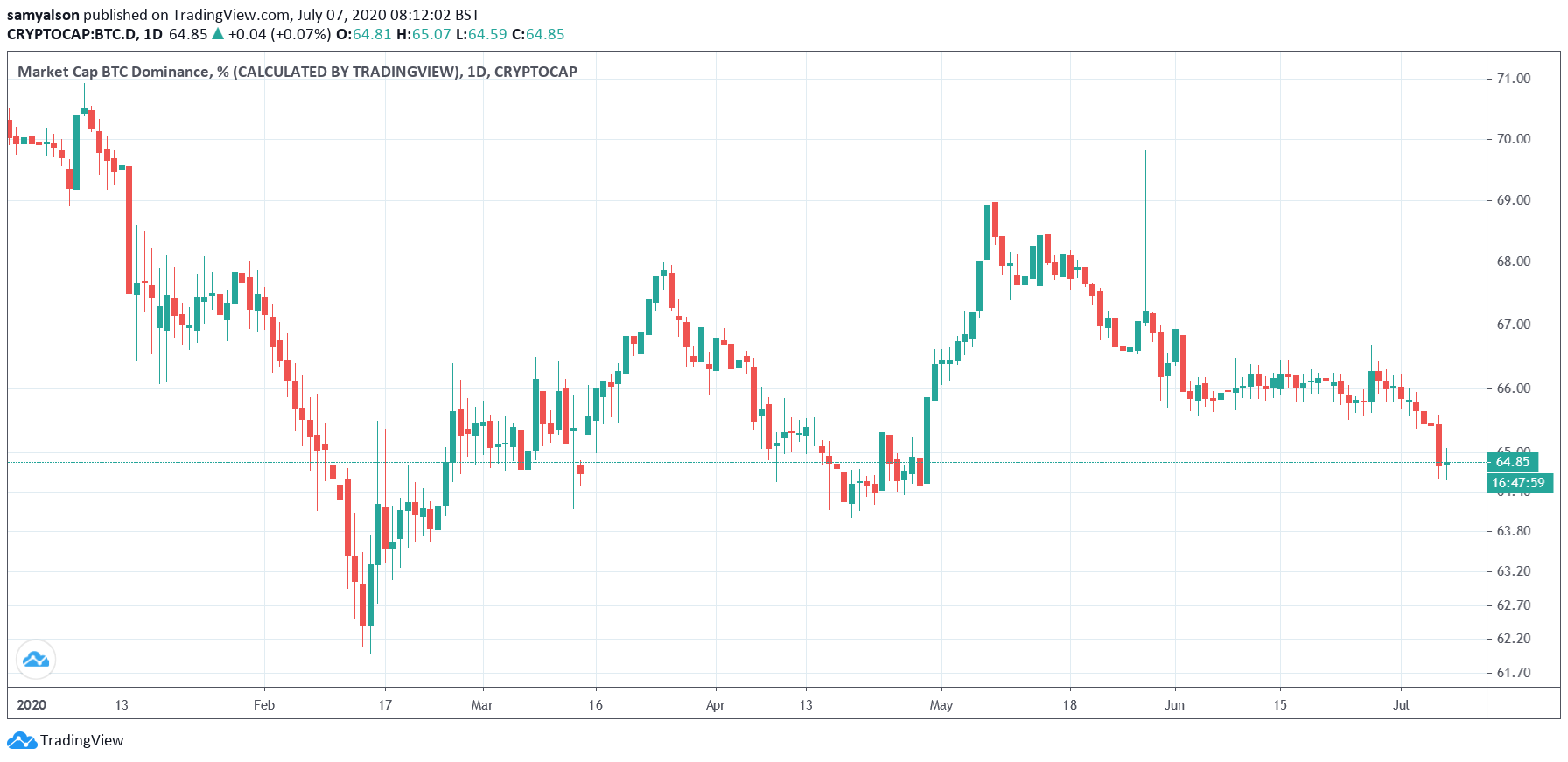 Bitcoin dominance year to date. (Source: tradingview.com)
The end of last month saw the start of a sharp down leg, which has had the effect of sparking life into the alternative cryptocurrencies.
Today sees a strong performance by the altcoins against Bitcoin, leading many to wonder if the long-awaited altseason is imminent.
Is Bitcoin Dominance Starting to Break Down?
Bitcoin dominance measures the market cap of BTC against that of the rest of the other cryptocurrencies. It serves as an indicator of Bitcoin's strength about the altcoins. As such, when BTC dominance falls, altcoins pump.
The metric has long been used as a guide to predict the coming of the so-called "altseason,
where exponential increases in altcoin valuations lead to a frenzy of activity in the market.
And as Bitcoin dominance continues to show signs of weakness, expectations are heightened for altseason to arrive soon.
With that, a trader noted that BTC dominance had broken down from its bear flag. While he warned of a possible fakeout, he also stated that this move could be the start of a favorable macro trend for the altcoins.
"focus on the next important key level 65,65% (red line), once it breaks ->altcoin party – strongly defended though for now might be a fakeout."
Bitcoin Dominance Update 💯

Accuracy of this thread continues to be 100%

– you see a breakout out of the bearflag as expected, but…
– focus on the next important key level 65,65% (red line), once it breaks ->altcoin party
– strongly defended though for now might be a fakeout pic.twitter.com/1IKfejDOh1

— AN₿ESSA (@Anbessa100) June 26, 2020
Small and Micro-Cap Altcoins Gaining Ground
But before investors can officially call a start to altseason, Bitcoin dominance needs to drop much further, to the 58% level for this to happen. Standing in the way is strong support at around the 64% level.
Despite that, the majority of altcoins listed on Binance have today posting gains against BTC. The list of multiple double-digit gainers includes Aave, Fantom, and Chainlink, with Dogecoin leading the charge against BTC.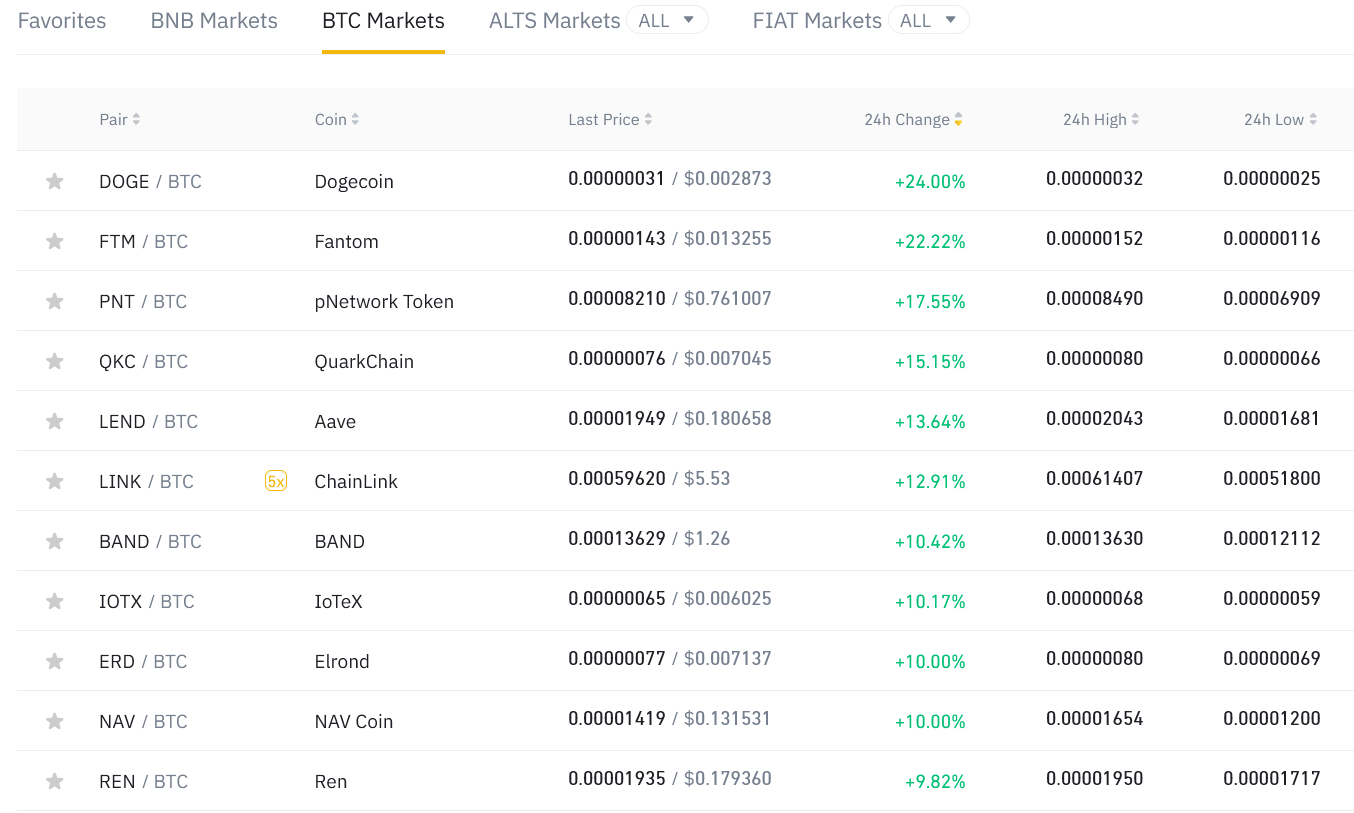 Source: binance.com
Dogecoin's surprising performance is a result of viral exposure on TikTok. Thousands of creators on the social media platform have called on followers to buy Dogecoin in the hopes of driving it up to $1.
Community insights analysts, LunarCRUSH tweeted that social media mentions of Dogecoin were up significantly, having reached 2,294 occurrences within a day.
With 2,294 daily social post mentions, Dogecoin has formed a near-perfect and extremely bullish $doge Twinkie. https://t.co/Xwka6Sxuwl #dogecoin pic.twitter.com/ZoYPoTn251

— LunarCRUSH Social Listening for Cryptocurrencies (@LunarCRUSH) July 7, 2020
Although it's too soon to call a start to altseason, the recent performance of some of the small and micro-cap coins would say otherwise.
That includes the likes of Zilliqa, up 223% in three months, and VeChain, up 214% in three months. Meanwhile, for comparison purposes, Bitcoin is up only 27% over the same period.
Investors have mostly forgotten about Dogecoin, until now. But with its ranking as of today's top performer, it's clear that investor sentiment has already flipped towards the altcoins.
Is this a trend that will continue to spread across the rest of the alt markets?