Yikes. Bitcoin (BTC) hasn't been doing too well as of late. But altcoins, unfortunately, have been doing worse.
On Wednesday morning, the victors of the latest tug-of-war between bulls and bears were decided.
Within a few minutes' time, the Bitcoin price shed some $400 to $500 dollars, resulting in BTC losing key support at $10,000, $9,800, and potentially $9,600. As of the time of writing this piece, BTC is trading at just a smidgen under $9,700, having lost 4.5% in the past 24 hours.
Altcoins have been destroyed by this flash crash. According to Coin Market Cap data, Bitcoin dominance — the percentage of the cryptocurrency market that is made up of BTC — has recently started to enter the 70% region again.
TradingView's data shows an even more harrowing story. Bitcoin Dominance, according to the chart service, is nearing year-to-date highs.
This strong move lower in the relative value of altcoins against Bitcoin comes as analysts have been expecting for Ethereum, XRP, and their ilk to outperform.
Analyst Crypto Michael recently pointed out that he believes altcoins (and BTC) are bottoming at long last. He wrote in a tweet:
"At this point, everybody is turning into a Bitcoin maximalist, while alts are showing signs of bottoming. If we repeat [what happened in] 2015/2016, altcoins started to outperform BTC after it found its first local bottom of the bull market."
Indeed, should history repeat, altcoins should begin to gain on BTC once again, thus marking the end of the current Bitcoin dominance rally.
That's not all. As reported by NewsBTC previously, Willy Woo believes that the altcoin capitalization-to-Bitcoin capitalization ratio and the altcoin market volume-to-Bitcoin market volume indicators are currently "heading into a region of support."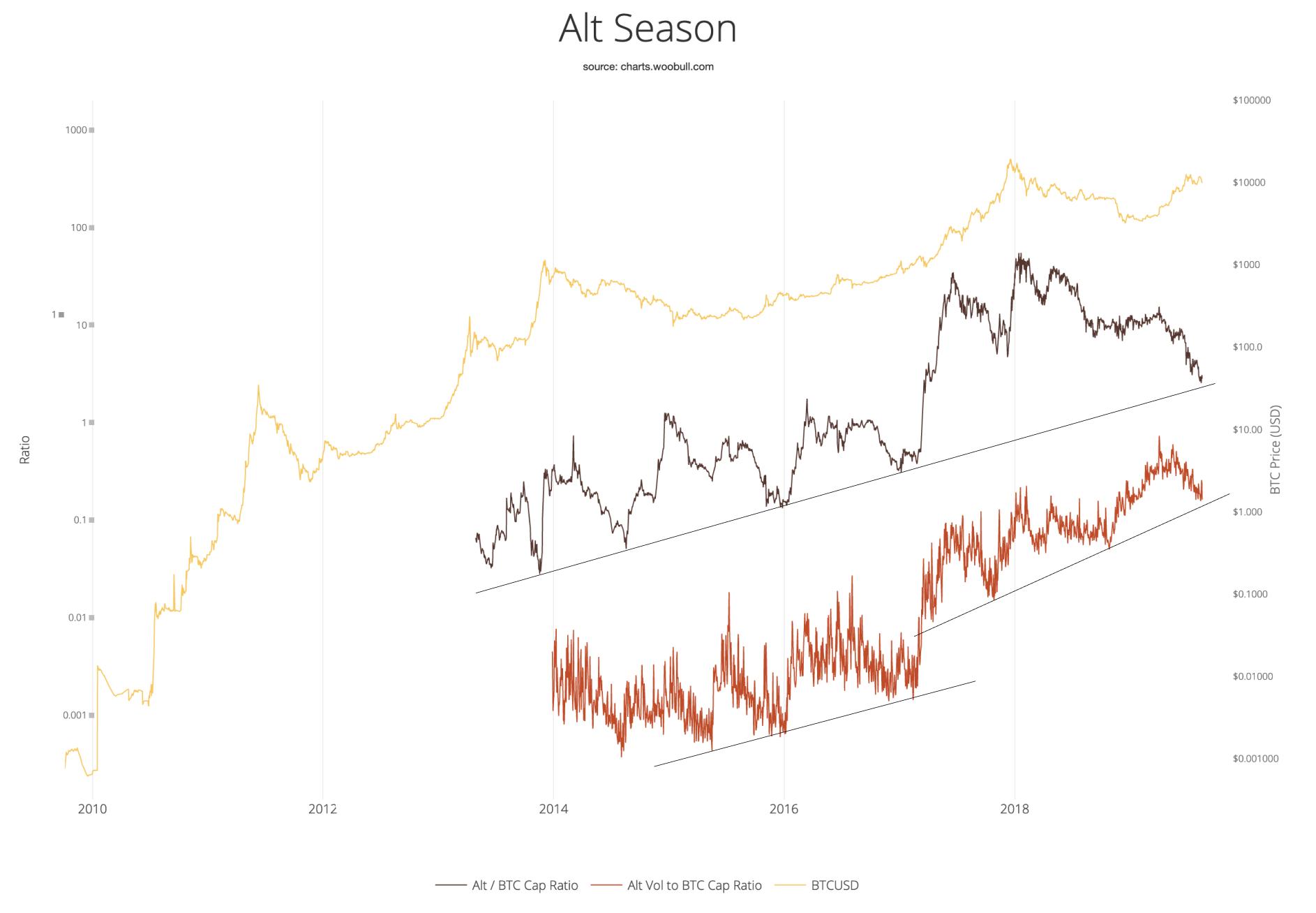 Indeed, as the Adaptive Capital partner chart depicts, the two aforementioned indicators are currently poised to encounter two key lines of historical support. History repeating would see altcoins should bounce in the coming months, potentially to kick off what crypto traders call an "altseason".
Featured Image from Shutterstock