Over the past few days, Bitcoin has been flagging. Ever since it peaked at $10,300 on Wednesday, it has been mostly downhill, with the leading cryptocurrency falling off a cliff on that very same day to $9,250 in an extremely short period of time.
Despite this bearish price action, which has been somewhat negated by a recent recovery to $9,900, analysts are extremely optimistic about the medium-term outlook for the crypto.
In fact, one prominent analyst suggested that the coming months could see BTC surge towards $17,000, around 70% higher than the current price of the asset. This has been attributed to a convergence of positive technical signals on Bitcoin's one-month chart, suggesting a bull trend is once again forming.
Bitcoin Could Soon Go Near-Vertical Towards $17,000
A trader going by Goomba, who sports a following of over 11,000, recently posted the below chart. 
For those unaware, it depicts Bitcoin's one-month performance as per data from Brave New Coin's Liquid Index for BTC (BLX), which gives a broader look at the market than data from a single exchange.
It shows that with its February candle, Bitcoin has begun to print an array of good signs: the one-month On-Balance Volume (OBV) reading is trending higher, the Stochastic Relative Strength Index (RSI) has flipped bullish and is trending positive after five months of a downtrend, and BTC recently exited a multi-month bull flag.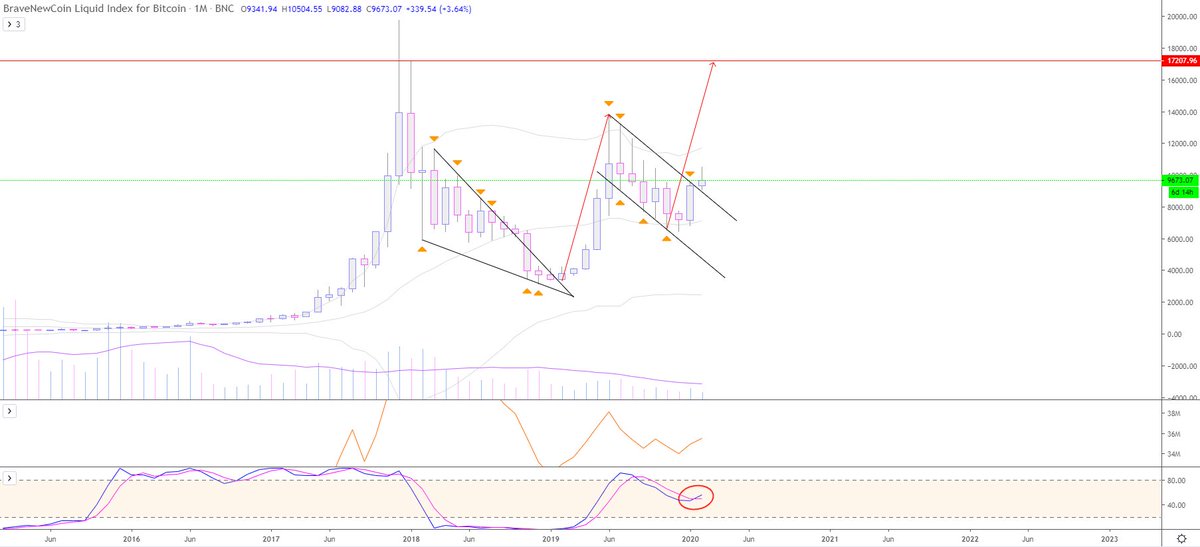 This confluence, Goomba suggested, gives the cryptocurrency a price target of $17,200 — 73.7% higher than the current market price of $9,900. The chart indicates the cryptocurrency could trade at this price sometime in the coming three or four months.
Goomba isn't the first analyst to have suggested that Bitcoin will rise to near its previous all-time high extremely quickly.
Per previous reports from NewsBTC, Financial Survivalism, the trader who called Bitcoin's January price action to a T, wrote an extensive TradingView analysis as to why he expects for BTC to retest its $20,000 high by July 1st.
Backing this point, he cited a number of analysis factors: Bitcoin's similarities to the $4,000 launchpad for the market in early-2019; the existence of a bullish Wyckoff Accumulation pattern; the strong buy signals suggested by the Ichimoku Cloud, Lucid SAR, and RSI; and much more.
Also, Mike Novogratz, CEO of Galaxy Digital and a former partner at Goldman Sachs, recently told a mainstream media outlet that he wouldn't be surprised to see Bitcoin trade near $20,000 by the time of the halving in May.
Featured Image from Shutterstock