Around three weeks back, altcoins suddenly started to rip higher; Ethereum gained 10% in a single day, Litecoin rocketed up by 8%, XRP gained some 20-30% in three days' time, and so on and so forth.
But since then, this odd trend in the crypto market, which has been dominated by Bitcoin for the better part of a year now (and especially since the start of 2019), has paused. After hitting 69%, Bitcoin dominance has been relatively flat, leading some to suggest that it is BTC's time to shine once again.
Analysts, however, are expecting the altcoin subset to soon begin their crusade higher.
Altcoins to Soon See Price Boom
Analyst Chonis recently noted that Bitcoin dominance — the percentage of the cryptocurrency market made up of BTC — is far from a support level, despite the metric's stagnation. He thus claimed that he could see altcoins continuing to gain traction "until the historic dominance level of 67.2% is truly confirmed as continued support."
$BTC (dominance)- I could still see giving up a couple more percentage points down to #alt coins until this level of historic market capitalization is truly confirmed as continued support…#bitcoin pic.twitter.com/FLNwAhavva

— Big Chonis⚔️Flux Trading Group🚀 (@BigChonis) October 12, 2019
Analyst NebraskanGooner has echoed this sentiment. He noted in a recent tweet that his indicator is "signaling a trend reversal in [Bitcoin] dominance", implying that the metric may trend towards 66%.
These expectations that Bitcoin may start to underperform altcoins comes as the leading cryptocurrency has started to stagnate — a market trend that analysts say is indicative of or a precursor to relative price strength in alternative cryptocurrencies. As a trader recently wrote in reference to the chart below:
"The more I see this PA the more I feel this will be the case. I think people will continue to overanalyze the BTC range and miss out on significant alt movements. Not me."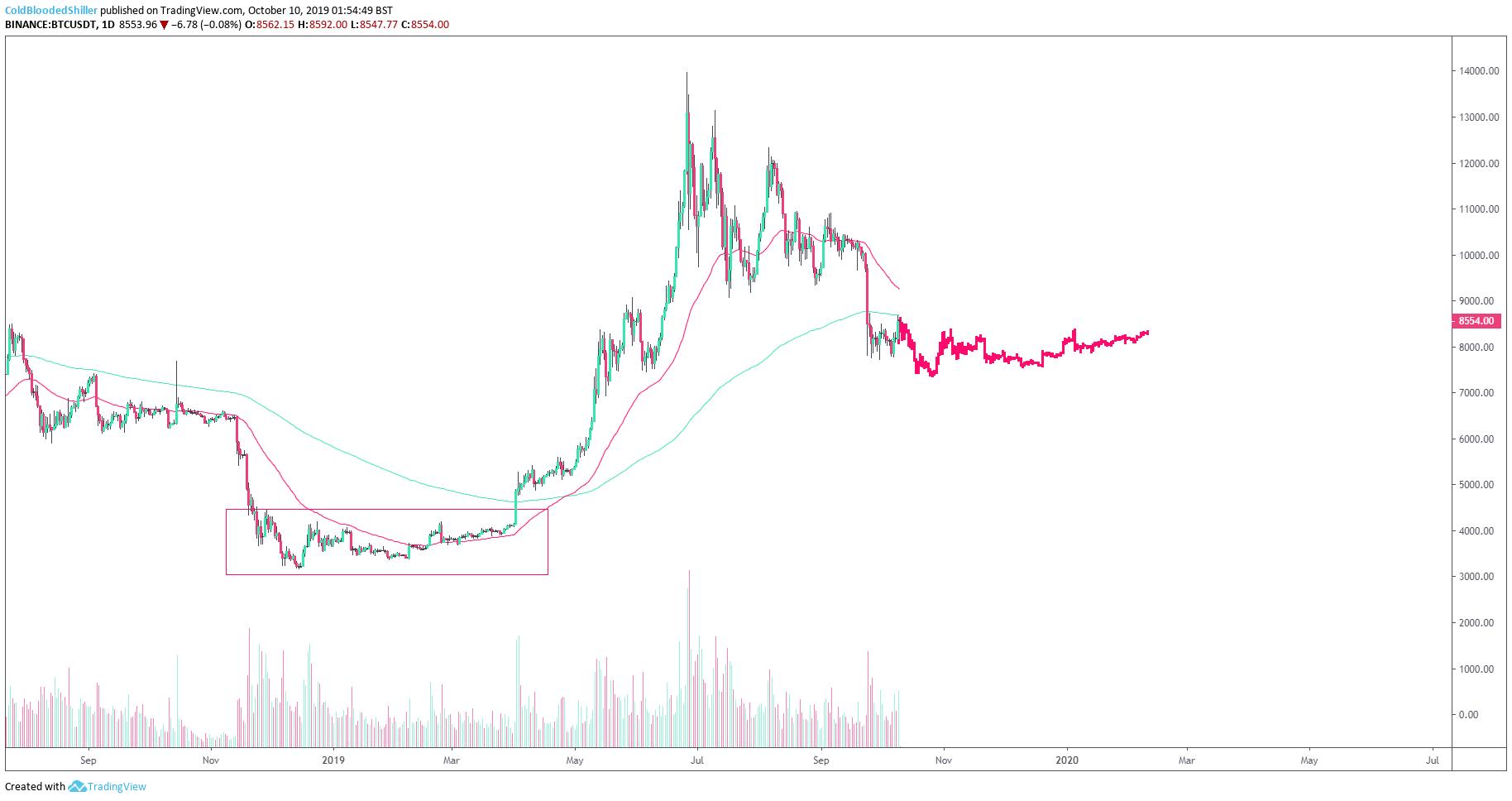 Featured Image from Shutterstock