SBI Ripple Asia has just confirmed that it will be working with SBI Remit and Vietnam's TPBank to facilitate remittance payments between Japan and Vietnam. The partnership will enable near-instant, low cost payments using the collaboration between Ripple Labs and SBI Holdings, RippleNet.
Although the partnership is certainly encouraging for the adoption of RippleNet, the price of the Ripple-launched XRP digital currency  didn't move on the news. The third largest digital asset by market capitalisation is down almost 2.75 percent over the last 24 hours.
SBI Ripple Asia Deploy RippleNet for Remittances Between Japan and Vietnam
According to a press release, SBI Ripple Asia, SBI Remit, and Vietnam's Tien Phong Bank have just launched the first remittance service between Japan and Vietnam using distributed ledger technology. The news follows the pair partnering earlier this month.
November 15, 2019.

SBI Ripple Asia, SBI Remit and TPBank (Vietnam) announced the start of the first Japan-Vietnam remittance service using #RippleNet.

"We will also develop remittance
services that incorporates crypto in the future" —@yoshitaka_kitaohttps://t.co/qOgpLMhwRU pic.twitter.com/qIL49qcFYH

— XRP Research Center (@XrpCenter) November 15, 2019
A press release from TPBank announced the deal at the start of November, explaining that the bank had previously implemented a blockchain-based domestic money transfer system and had plans to create similar services between Vietnam and other Asian nations using RippleNet.
Nguyen Hung, the CEO of TPBank, stated the following of the new service:
"Our cooperation with SBI Ripple Asia Co., on the application of blockchain technology in cross border money transfers marks an important turning point in enhancing our customer experience and makes international money transfers via TPBank faster, more convenient and safer than ever before."
Interestingly, a representative of SBI Group, Yoshitaka Kitao, not only praised TPBank's progressive stance towards cutting-edge technology but added that SBI Ripple Asia is looking into providing cryptocurrency remittance services in the future. He stated:
"The adoption of RippleNet will further differentiate the company from its competitors. We will also develop remittance services that incorporate crypto-assets in the future."
XRP Price Not Phased by RippleNet Adoption
Despite the obvious positive development, XRP has continued to trade in tandem with the wider cryptocurrency market. Evidently, investors have not rushed out to buy XRP on the news.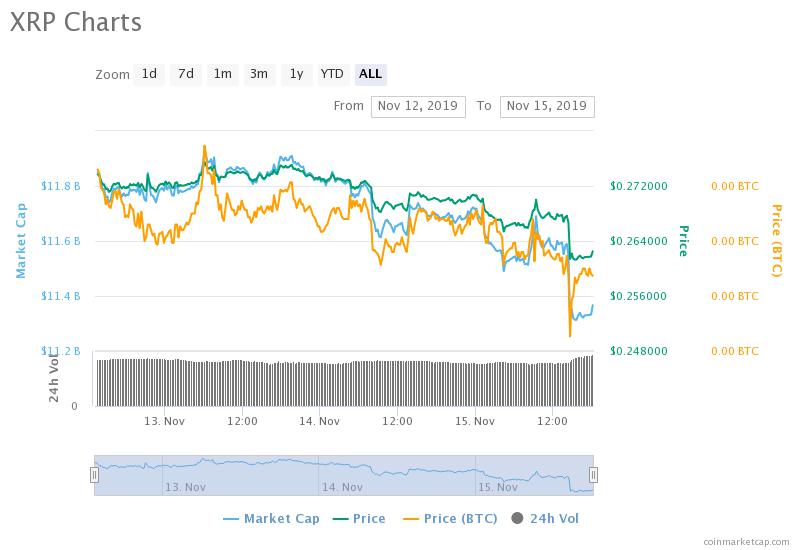 This may be explained by the fact that the news, strongly hinted at two weeks ago anyway, may not even affect XRP. The use of XRP is an optional feature for users of RippleNet. Even when transfers do use XRP, unless the recipient wants to hold it, there will be an equal volume of buying and selling pressure created by the transaction. Thus, the price won't really be affected. However, the RippleNet brochure does advertise an advantage to using XRP in transfers:
"Eliminate pre-funding in foreign accounts and send payments 24/7 using XRP."
Ripple has forged many large partnerships already too. Rppl.info lists some of the largest financial institutions on the planet as using Ripple products. Several of these are RippleNet committee members too. Given with the gravity of those names already participating in the system and the lack of necessity to use XRP, investors may be waiting on news of such institutions actually accumulating XRP, rather than just using Ripple's other products.
Related Reading: Ripple Makes Sets Up Shop in United States Capital
Featured Image from Shutterstock.