Over the past few weeks, Bitcoin traders have been divided over whether or not the crypto market has bottomed. Interestingly, many have said no, simply citing the fact that there's no telling how long the coronavirus crisis will last and how that uncertainty and economic damage will affect traditional markets, especially equities.
Though, a popular crypto trader recently shared a very familiar fractal seemingly confirming that the bottom is in.
Fractal: Bitcoin Bottom May Be In
Trader Coiner-Yadox recently shared the two charts seen below, accentuating that the recent price action is looking eerily similar to the bottoming process seen in late-2018 and early-2019: both of the charts depict a vertical drop into a bottom, an immediate rally from the bottom, then a drawn-out ascending triangle to kickstart a new bull phase.
The only thing that the recent price action is missing is it rallying out of the ascending triangle as Bitcoin did in early-2019.
Thus, BTC following this fractal to a T will see it rally past $8,000 in the coming days.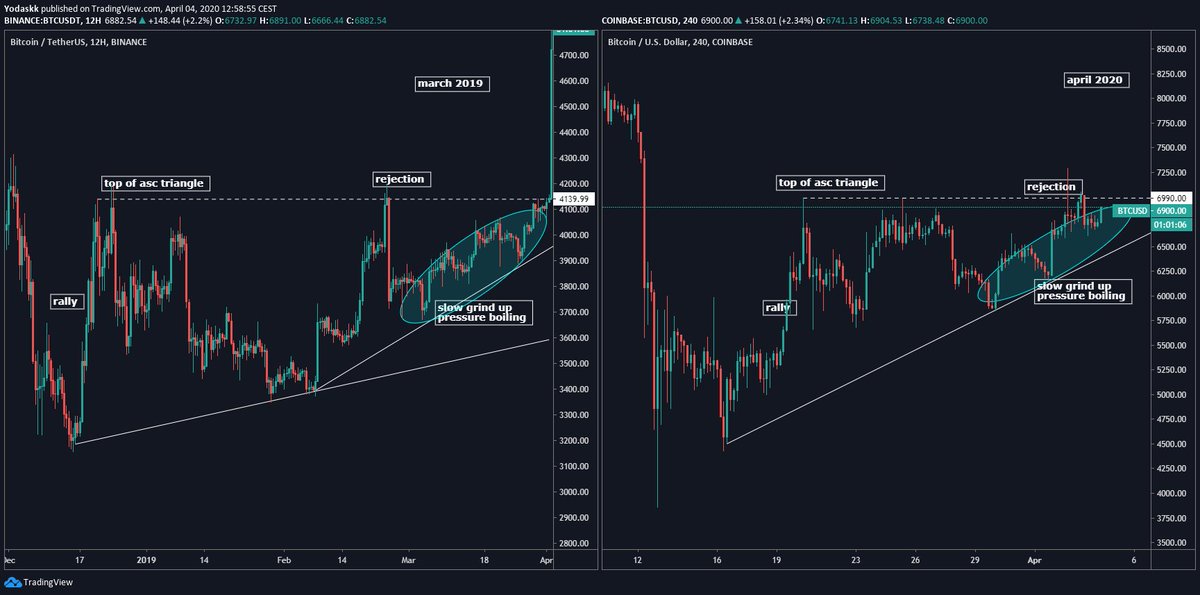 Importantly, there are some key differences between the fractal's basis and the current price action. These include but are not limited to: the last bottom took 140 days compared to the three-odd weeks for the current, and Bitcoin's recent crash was due to a black swan event rather than simple market cycles.
Corroborating the cheery sentiment that the crypto market has bottomed, Bloomberg reported late last week that Bitcoin recently pushed above a key level of technical resistance, allowing the DVAN Buying and Selling Pressure Gauge to print a "positive divergence and a buy signal."
The last time this signal was seen was at the start of January, just before BTC began a strong 50% rally to $10,500 by the middle of February.
Some Beg to Differ
Although possible, there are some that have thrown cold water on this fractal, which would create a "V-shaped" recovery on the charts.
Per previous reports from NewsBTC, when looking at Bitcoin's chart through the perspective of Elliot Wave analysis, trader Smart Contracter thinks it remains bearish:
"[T]heres [sic] so many different ways you could count BTC here: either wxy, larger triangle, larger flat, I'm not too sure, the one thing that does stick out is the series of 3 wave moves and lack of 5 wave motives. [F]or this reason, I think its still too early to call a bottom."