Despite volatility in global stock markets, Bitcoin has remained relatively stagnant over recent days.
Case in point: FTX's BVOL token, which tracks volatility, is reaching all-time lows. Further corroborating this, the Bitcoin Bollinger Bands are at lows not seen since November 2018, just days before the 50% crash to the $3,000s.
Yet technicals show that the asset may be primed to see a correction to the $7,000s.
Bearish Ichimoku Cloud Analyses Predict Bitcoin Will Soon Plunge
Bitcoin may be preparing to break down towards $7,000 in the weeks ahead, a noted crypto analyst recently shared.
Josh Olszewicz, a crypto analyst for Brave New Coin, recently shared that Bitcoin is about to confirm a textbook bear signal as per the Ichimoku Cloud. The Ichimoku Cloud is a popular technical indicator for important price points and trends.
The chart shows that Bitcoin is about to lose the support of the top of the Ichimoku Cloud.
The analyst is a proponent of the belief that once an asset enters the top of the cloud, it will fall to the bottom. For Bitcoin, that means it will soon trade in the $7,000s.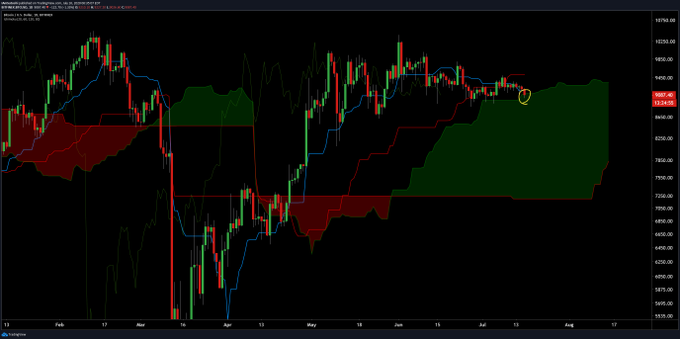 BTC price chart by Josh Olszewicz, a crypto analyst. Chart from TradingView.com
Olszewicz isn't the only trader to have recently shared a bearish Ichimoku Cloud analysis of Bitcoin.
One cryptocurrency analyst almost solely focused on using the Ichimoku Cloud to derive crypto market signals shared this chart below at the start of June.
It shows that per his settings of the Cloud (you can change the indicator's parameters), BTC looks almost identical to how it did prior to the drop to $3,700. As can be seen, the four signals in the indicator that formed just days and weeks before BTC saw its capitulation have been formed now.
Long-Term Outlook Is Still Bullish
Despite these trends, BTC remains long-term bullish.
Lyn Alden, the founder of Lyn Alden Investment Strategy, recently shared three reasons why she is macro bullish on the cryptocurrency in an extensive blog post. The reasons the prominent financial analyst and commentator shared are as follows: Bitcoin has extremely strong network effects, BTC's block reward halvings lend to price appreciation, and the crypto market has an "ideal" macro backdrop.
I published a new research piece for #bitcoin explaining why I'm currently bullish from a macro/generalist investor perspective, as part of a portfolio.

Check it out here: https://t.co/8LxOPZTBf5 pic.twitter.com/NYl3ImXgK7

— Lyn Alden (@LynAldenContact) July 16, 2020
There's also been a similar sentiment shared by Mike McGlone, the senior commodity analyst at Bloomberg.
He wrote in a number of Bloomberg's recently "Crypto Outlook" reports that the fundamental case for the cryptocurrency remains decisively tilted to the upside.
Featured Image from DepositPhotos
Price tags: xbtusd, btcusd, btcusdt
Charts from TradingView.com
BTC Could Soon Fall to the $7,000s as Price Loses Pivotal Support