After peaking just shy of $7,000 today, Bitcoin has tumbled lower, falling from the $6,950 high to $6,600 just minutes ago, a drop of 5%. Altcoins have followed suit, posting a similar loss to the crypto market leader.
Bitcoin's recent bout of weakness comes as the stock market has shown signs of reversing after last week's rally, purportedly the strongest seen in decades.
The S&P 500, per data from Google Finance, closed 2.20% down from the previous day's close, while the Dow Jones slid by a similar amount. This trend has continued into the futures trading session, with the S&P 500 and Dow Jones both falling by 0.74% since Wednesday's close.
Considering that Bitcoin fell in tandem with stocks, it appears the correlation between the two asset classes is playing out yet again, despite those claiming that BTC is a "store of value" or otherwise.
Bitcoin Could Bounce From Here
BTC is closing the lowest it has in days, but the cryptocurrency may be preparing to bounce. A top trader recently observed that Bitcoin is breaching the lower Bollinger Band on the six-hour chart, which led to immediate bounces.
When the lower Bollinger Band was pierced at the end of March, BTC spiked 8% in the two days that followed. Furthermore, the past four times the cryptocurrency pierced the upper Bollinger Band, multi-day corrections followed.
Not So Fast
Unfortunately for bulls, the bearish case seems to be more popular at the moment that the bull case.
Per previous reports from NewsBTC, Bloomberg wrote in an early Monday article that BTC was then leaning bearish, citing the "GTI Vera Convergence Divergence Indicator, which measures up and down shifts."
At the time, the indicator suggested that the bull trend that began in the middle of March after the capitulation event is starting to "narrow," indicating a loss of strength, "potentially indicat[ing] Bitcoin may be losing steam and could retest the $6,500 level."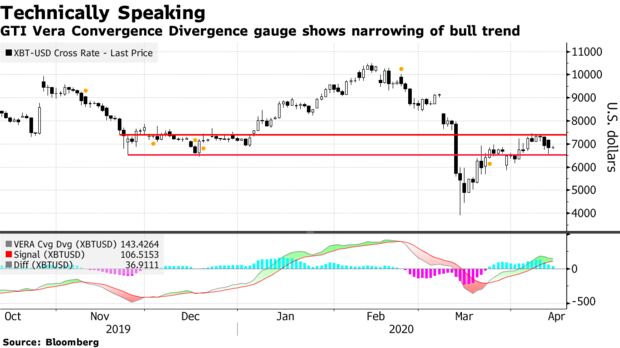 The call for more downside has been echoed by other analysts. Crypto trader Smart Contracter indicated that with Litecoin currently making new lows, there's a good chance BTC could follow lower, especially since the altcoin acts as a bellwether for the rest of the market.
Photo by Jeremy Thomas on Unsplash