Bitcoin remains stagnant without providing any clear signs of where it is headed next. Over the past month, its price seems to have leveled off as continues consolidating within a $1,000 trading range.
The ongoing stagnation phase forced the Bollinger bands to squeeze on BTC's 1-day chart. Squeezes are indicative or periods of low volatility and are usually succeeded by wild price moments. The longer the squeeze, the higher the probability of a strong breakout.
Since this technical index does not provide a clear path for Bitcoin's direction, the area between the lower and upper band is a reasonable no-trade zone. An increase in volume that allows a daily candlestick to close below or above this critical zone will determine where BTC is headed next.
Bitcoin Consolidates Within Narrow Trading Range. (Source: TradingView)
Despite the high levels of uncertainty in the market, a key technical index suggests that the flagship cryptocurrency just entered a re-accumulation zone that has historically proven to provide sizable opportunities to profit.
Bitcoin Enters the "Buy Zone"
The Bitcoin Puell Multiple, a technical metric that takes into consideration the supply of BTC miners and their revenue, dropped into the green zone for the first time since mid-May. The sudden decline suggests that the value of newly mined BTC per day is undervalued compared to historical standards.
Glassnode affirmed that every time the Puell Multiple plunges into the "buy zone," it has produced outsized returns for those who bought in.
"For investors with long-term time horizons these levels below the 0.5 line have historically marked excellent entry points into Bitcoin," said the on-chain data and intelligence firm.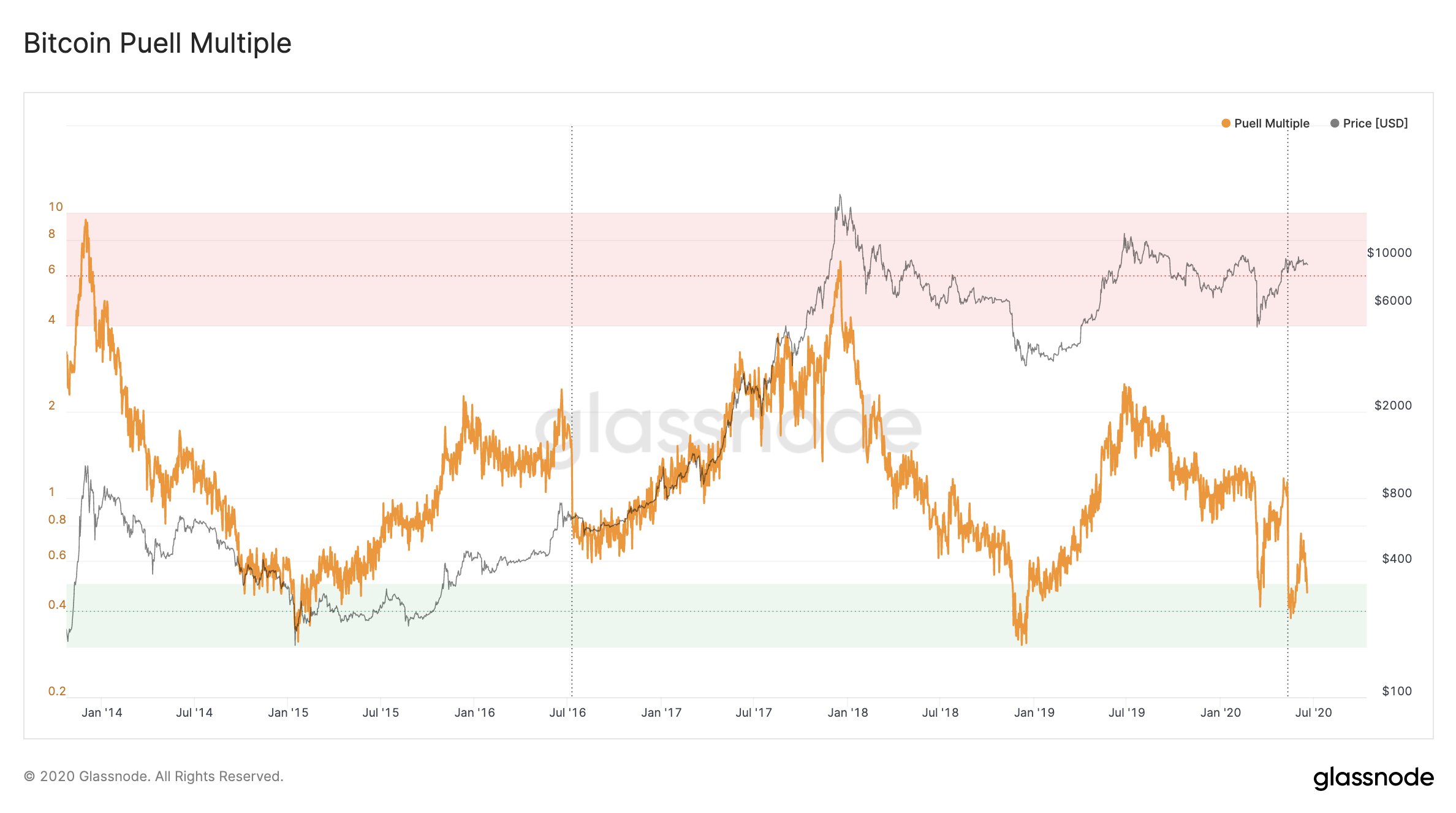 The Puell Multiple Flashes Buy Signal. (Source: Glassnode)
Nonetheless, there is a significant resistance barrier ahead of Bitcoin and it must overcome in order to resume its historic uptrend.
Strong Resistance Ahead
IntoTheBlock's "In/Out of the Money Around Price" (IOMAP) model reveals that the range between $9,300 and $9,600 represents a massive supply wall. Here, more than 2 million addresses had previously purchased 1.42 million BTC.
The machine learning and statistical modeling firm maintains that this is a critical resistance level as several of these addresses will attempt to break-even on their positions in the event of a bullish impulse.

Bitcoin Faces Strong Resistance Ahead. (Source: IntoTheBlock)
On the flip side, the IOMAP cohorts show nearly 1 million addresses had previously bought a total of 560,000 BTC between $9,000 and $9,300. This supply hurdle may have the ability to act as strong support.
Holders within this price range will likely attempt to remain profitable on their positions and push prices above this level, according to IntoTheBlock.
Based on this information, market participants should pay close attention to the $9,600 resistance level. As the Puell Multiple is currently providing a buy signal, moving past this barrier may serve as confirmation for a further upward advance.
Charts from Tradingview.com
Festured image from Shutterstock