There's been talk about Bitcoin's "Hash Ribbons" over recent days. The Hash Ribbons is an indicator that derives signals from crosses in the short-term and long-term moving averages of the hash rate of the Bitcoin network.
Crypto investors have begun to discuss it because they said it was on the verge of printing a bullish signal of macro importance.
According to the creator of the indicator, the signal in question was just confirmed three hours ago (as of this article's publishing).
Bitcoin Just Confirmed a Bullish Signal of Macro Importance
As reported by NewsBTC on Sunday, there was talk of the Hash Ribbons forming a "buy" signal as prices inched higher.
After the daily candle for Sunday closed, digital asset manager and the creator of the Hash Ribbons, Charles Edwards, confirmed the signal:
"#Bitcoin Hash Ribbons "Buy" signal just confirmed. The post-Halving signal is particularly special.  It will probably be a very long time until the next occurs. …and so the great bull run begins."
The signal is important as it has historically preceded parabolic rallies in the price of BTC.
The chart below is from Edwards and is current as of December 2019. It shows that each instance of the Hash Ribbons printing a "buy" has led to parabolic gains, with the rallies averaging out to 5,520%.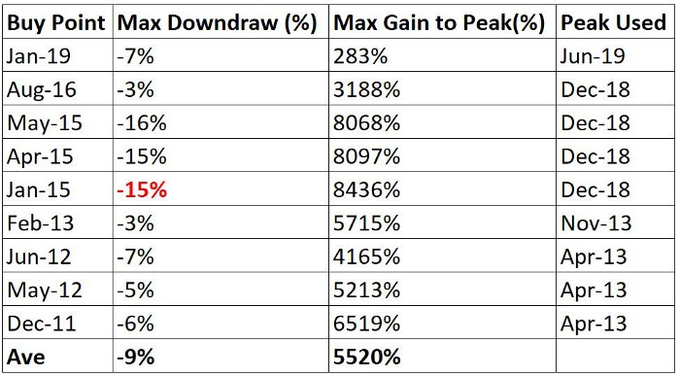 Graph of Bitcoin's gains in the wake of a Hash Ribbons "buy" from Charles Edwards
Fending Off the Death Spiral
The Hash Ribbons' latest "buy" signal is only possible because Bitcoin miners quickly bounced back after capitulating.
On July 12th, this writer published an extensive Twitter thread on Twitter analyzing the state of the cryptocurrency mining space.
Foremost, the seven-day moving average of Bitcoin's network hash rate just hit a new all-time high above 124.5 exhashes per second. This is around double that seen just a year ago. The strength of BTC miners comes in spite of the block reward halving in May, which effectively reduced the revenues of miners by 50%.
After falling 27% following the halving, Bitcoin's hash rate has just set a *new all-time high* at over 124 exahashes per second.

Once again, no "death spiral" was had. And that's long-term bullish for BTC.

Here's more on why. pic.twitter.com/aftOputP74

— Nick Chong (@_Nick_Chong) July 12, 2020
The strength in the mining system is seemingly derived from the following four trends:
An influx of investment by cryptocurrency mining firms, especially in the U.S. and in Canada: one company alone bought 17,400 of the newest machines from Bitmain.
The arrival of the rainy season in China: Hydroelectricity costs in China drop during rainy season, allowing Bitcoin miners to turn on more machines.
The sale of more efficient mining machines from ASIC manufacturers: Companies are selling more efficient crypto mining machines.
And a potential hash rate war caused by national interests of certain countries, namely Iran and Venezuela. 
Featured Image from Shutterstock
Price tags: xbtusd, btcusd, btcusdt
Charts from TradingView.com
Bitcoin Just Confirmed a Signal That Preceded Historical 5,000%+ Rallies