Since the crypto bubble of 2017-2018, investors have been waiting for Bitcoin to surmount its $20,000 all-time high.
While BTC reaching a price above $20,000 seems to be a quixotic dream at best, a prominent cryptocurrency trader has suggested that the cryptocurrency is preparing for a rally to $30,000 — if this one resistance can be breached that is.
Bitcoin Breaking This Crucial Level Could Set Stage for Surge
Brian "Ledger Status" Krogsgard, a prominent cryptocurrency trader with nearly 70,000 followers on Twitter, recently shared the below chart, showing that BTC is in the midst of forming a long-term pennant.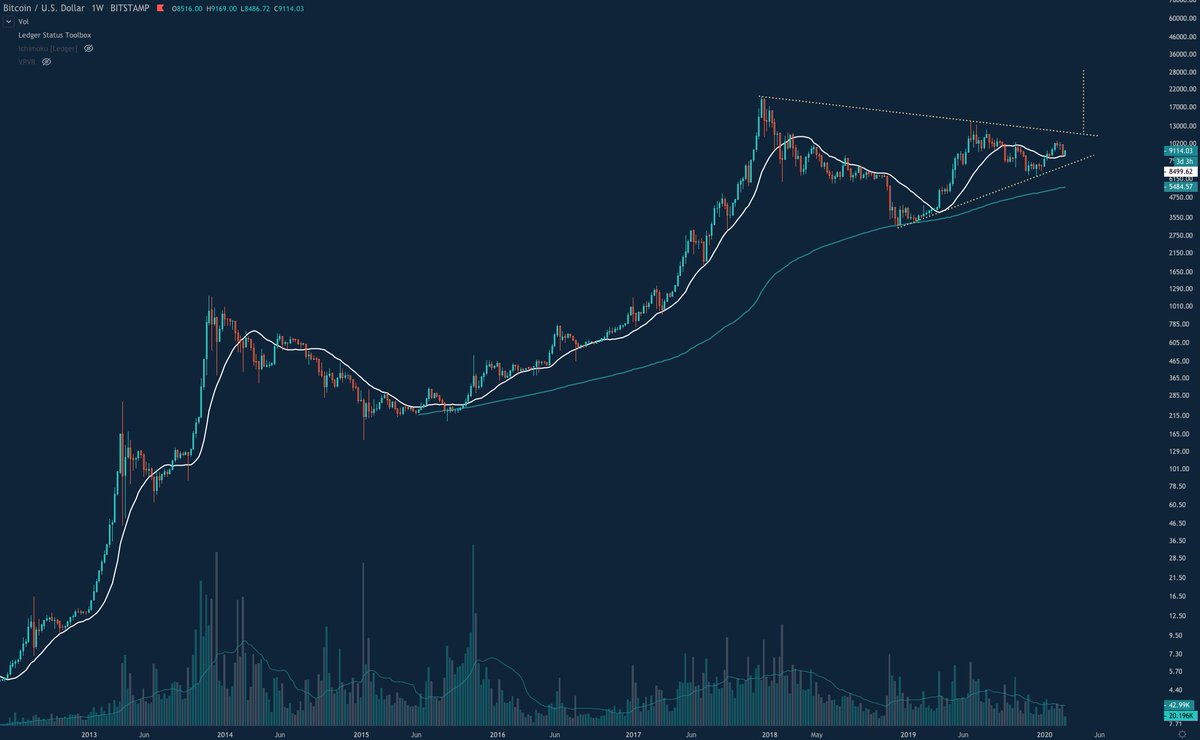 In a message accompanying the chart, the analyst said that Bitcoin breaking above the pennant, whose upper bound currently trades around $12,000, will set a potential surge to $30,000 — more than 200% above the current market price of $9,100.
Although the pennant could also break to the downside, Krogsgard seemingly has his money on the bullish narrative, writing "maybe it is as easy as long he 20-week support," referencing the fact that Bitcoin decisively bounced above the 20-week moving average — a technical level which BTC bounced off of multiple times in 2017's rally to $20,000.
Indeed, pennants are textbook continuation patterns, meaning BTC has a higher chance of breaking higher to fresh highs than falling into a secular bear market.
Will Bulls Break Above The Pennant?
This may leave readers with the pressing question — will BTC break above the pennant's upper bound at ~$13,000?
According to many analysts, it's highly possible.
PolarHunt observed that there are eerie similarities between the market structure in 2014-2016 to the market structure today. BTC following the previous market cycle to T, per Polar Hunt's charts, will mean the asset surging to $18,000 — a gain of 100% from the current price of $9,000 — by the time of the block reward reduction in May 2020.
Strong Fundamentals For Bitcoin
Underscoring the positive technical outlook is strong fundamentals.
Analyst RookieXBT noted on Tuesday that the hash rate is almost "~940% from where it was when BTC was at an all-time high" of $20,000. This, RookieXBT wrote, is a sign that "Bitcoin has never been more bullish."
Indeed, growth in the hash rate of the network suggests at least two things: 1) Bitcoin miners are confident in the long-term success of the cryptocurrency (especially in terms of price) and allocate more resources to the security of the network; and 2) the technology of mining machines is being improved on, resulting in the increase in hash rate.
Also, India's Supreme Court just recently ruled that India's central bank ban on banks from servicing crypto companies will be reversed. This ruling allows for Bitcoin exchanges to operate in India after an over-one-year hiatus, opening the door to a massive amount of fiat inflows in the coming years.
Featured Image from Shutterstock