Despite the strength seen earlier this week, Bitcoin started to plunge on Saturday.
After printing a bearish "Darth Maul" candle that resulted in a crucial reversal at $9,200, the cryptocurrency has trended lower and lower, falling as low as $8,325 just minutes ago as of the time of writing this article. This marks a nearly 10% drop from the local high at $9,200.
This move came in three legs: the first, which brought BTC from $9,200 to $8,900, occurred on Saturday afternoon; the second, which took prices from $8,900 to $8,700, came around midnight; and the biggest and latest one has taken place over the past three hours.
As a result of the latest leg lower, $92 million worth of Bitcoin long positions were liquidated on BitMEX. (The two previous legs liquidated $21 million and $18 million in long positions, respectively.)
Data from https://t.co/T3RTVBbJrD shows $92 million worth of bitcoin contracts were liquidated on BitMEX within a single hour, as bitcoin fell from $8,633 to $8,291 in less than 15 minutes. pic.twitter.com/VDvFdNH6Qr

— Joseph Young (@iamjosephyoung) March 8, 2020
Analyst Expects Bitcoin to Hold $8,400
While the momentum seems clearly bearish, analysts are expecting a bounce in the near term. Prominent trader Big Cheds posted a message just minutes ago, stating that BTC has "his permission" (half-jokingly) to "bounce now."
Backing this lofty sentiment, he pointed to a chart that showed that Bitcoin has found support at $8,400 over three times in the past few weeks.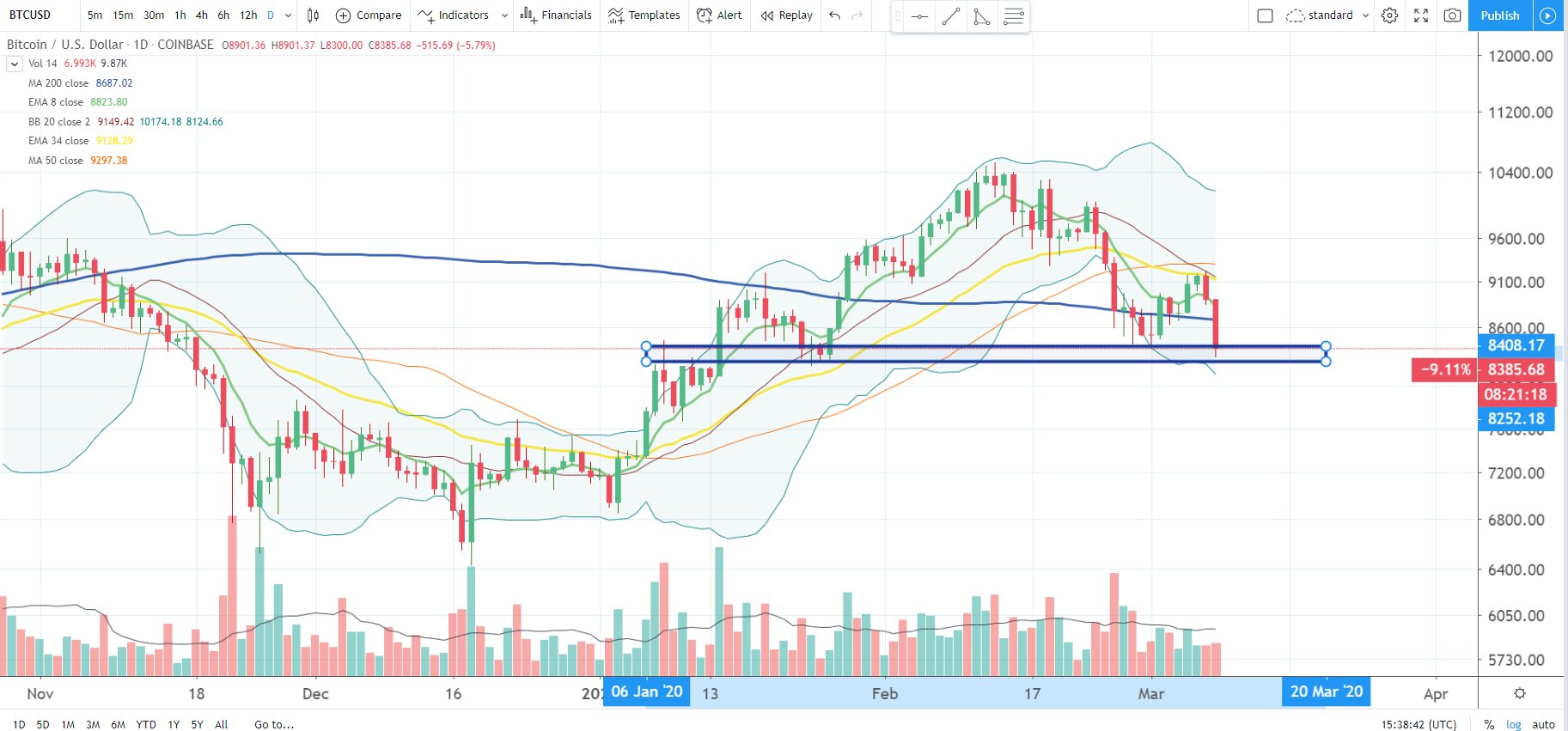 Crypto investment consultancy head BurgerCrypto remarked that this drop may be the start of a greater correction, one that will bring it back to the $6,000s in due time. He noted that the recent price action has formed a "plausible" head and shoulders pattern on the daily chart for BTC, which is a textbook pattern that is likely to break lower.
Combination of #Corona FUD and TA makes it a plausible scenario; H&S pattern on the daily chart for $BTC which often marks the start of a reversal.

Unsure how all the Corona FUD will affect BTC price. It shouldn't affect it too much from a theoretical POV, but emotions ey. pic.twitter.com/QWkYW7yWHM

— ₿urger (@BurgerCryptoAM) March 8, 2020
Featured Image from Shutterstock