After days of consolidation after rallying 100% from the March bottom, Bitcoin tanked under $7,000 just minutes ago, reaching a local low of $6,920 as of the time of this article's writing. With this downward move, the cryptocurrency is down 6% from Thursday's peak and down nearly 8% from the highs at $7,470.
Bitcoin's drop comes after stocks have seen an extremely healthy week, with both the S&P 500 and the Dow Jones rallying hard as the coronavirus curve starts to flatten and despite record-level unemployment claims in the U.S.
The crypto market's ongoing correction was somewhat to be expected.
As reported by NewsBTC previously, the Tom Demark (TD) Sequential on Wednesday printing a sell "9" candle on the charts of Bitcoin, Ethereum, Ethereum Classic, Cardano, Binance Coin, Litecoin, Ontology, OmiseGo, Tron, Stellar, and Tezos.
The so-called 9 candles, per the time-based indicator, are often seen at reversal points in markets. Case in point: 9 candles were seen at the $6,400 Bitcoin bottom in December 2019 and at the local $10,500 top in February of this very year.
Furthermore, this outlet also observed that the Stochastic indicator, a trend/momentum-based indicator, recently printed a sign that Bitcoin was overbought. A top analyst observed that it has been accurate up to 86% for BTC.
What's Next for Bitcoin?
Traders expect Bitcoin to breakdown further if it fails to maintain current levels.
Tyler D. Coates, a technical analysis author and a popular Bitcoin trader, remarked that the recent price action has seen BTC "threaten to breakdown a bull trendline" that has held since March's bottom. The breakdown, Coates wrote, could see the cryptocurrency return to the "mid $5ks."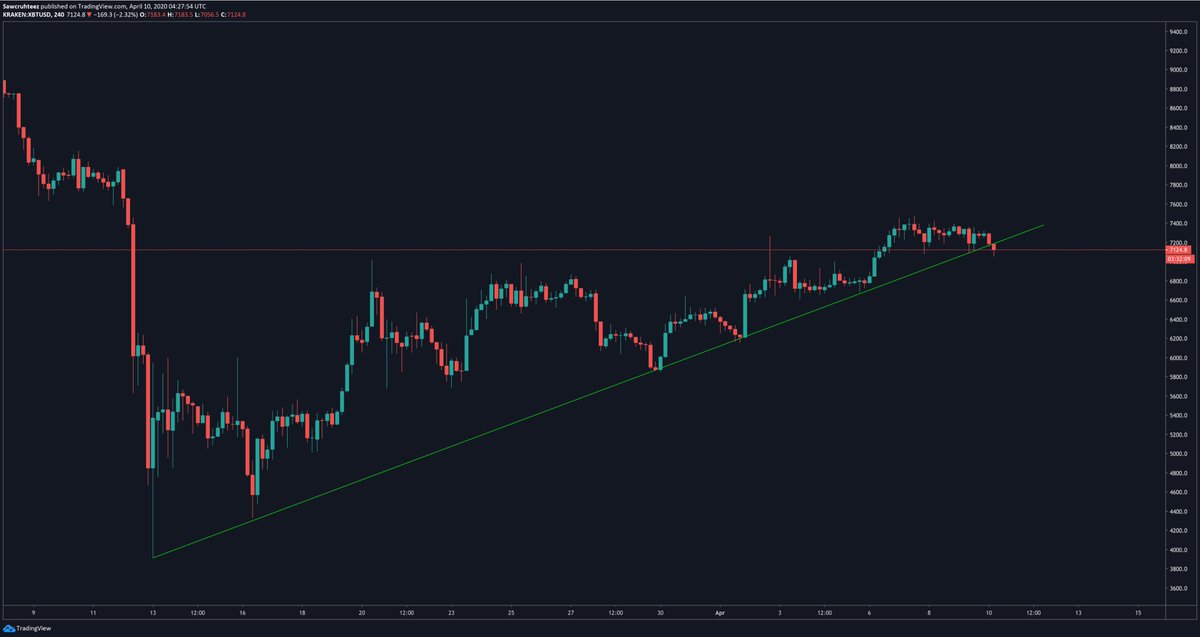 Coates' bearish sentiment was echoed by others, like a trader who suggested that Bitcoin's recent price action is looking so much like the start of the 2018 bear market that it is "uncanny."
Despite the potentially harrowing short-term outlook, many remain optimistic about Bitcoin's long-term prospects.
In the latest edition of  "Crypto Trader Digest," Arthur Hayes of BitMEX remarked that while Bitcoin has the potential to retest $3,000 yet again if global markets roll over, his year-end price target "remains $20,000," which is a 180% rally from the current price.
As to why he thinks this is the case, he cited that the monetary and fiscal solutions that governments and central banks are enlisting to stave off precision:
"Everyone knows the shift is upon us, that is why central bankers and politicians will throw all of their tools at this problem. And I will reiterate, that is inflationary because more fiat money will chase a flat to declining supply of real goods and labour. There are only two things to own during the transition to whatever the new system is and that is gold and bitcoin."
As of the time of this article's writing, BTC is trading for $6,952 and seems poised to print the lowest one-hour candle since April 6th.
Featured Image from Shutterstock