Bitcoin has failed multiple attempts at breaking past $10,500 over recent weeks, yet analysts say that the cryptocurrency is still on track to erupt into a new bull run in the coming months.
Bitcoin Charts Signal a Start to Another Bull Run
A prominent trader shared the chart below on June 13th, showing that Bitcoin's two-week relative strength index (RSI) is about to break past a downtrend formed in the wake of the rally to $20,000.
This is important as the last time the two-week RSI looked as it did now was at the start of BTC's previous bull run, prior to a ~4,000% move from ~$500 to $20,000.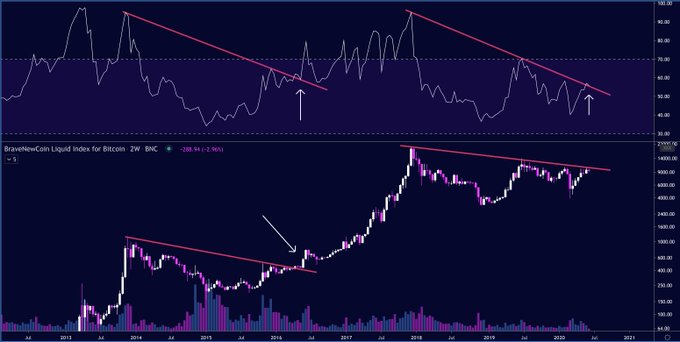 The RSI breakout isn't the only trend that has analysts believing that the start of a macro uptrend is on the horizon.
Technical analyst Eric "Parabolic" Thies shared the chart below. It shows BTC's macro price action along with two key trend indicators, the Chaikin Money Flow (CMF) and the Stochastic RSI (Stoch RSI).
The analyst noted that both indicators look almost exactly as they did at the start of the 2016-2017 bull run, which as described previously, took Bitcoin from the hundreds to $20,000 literally within the span of two years.
These signs show that "your time to buy Bitcoin below $10k is limited," Thies remarked.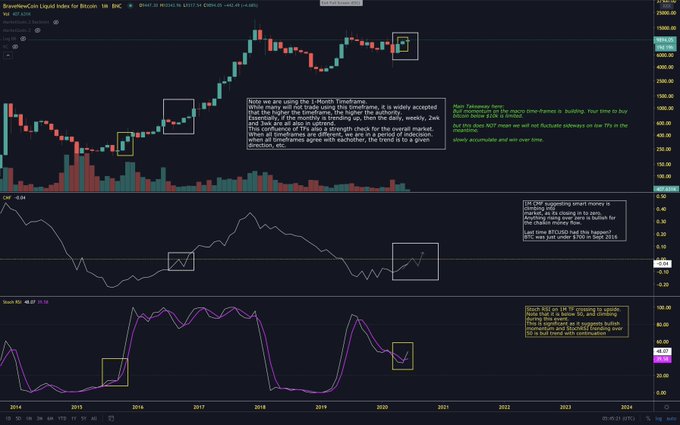 The Buy Pressure Is There
The expectation that the start of another Bitcoin bull run is here can be backed up by underlying market trends.
Data shows that there's recently been exponential growth in the CME's Bitcoin futures market. Derivatives tracker observed that the amount of value in the CME's Bitcoin market is up 310% in 2020 alone.
The CME is mostly used by institutions due to the relatively higher barrier to entry of futures contracts, along with the high minimum order sizes enforced by the exchange.
"More evidence for the 'institutionalization' of Bitcoin. CME Bitcoin Futures Open interest is fast approaching BitMEX's XBTUSD.  CME Open interest up 310% in 2020 alone," digital asset manager Charles Edwards explained.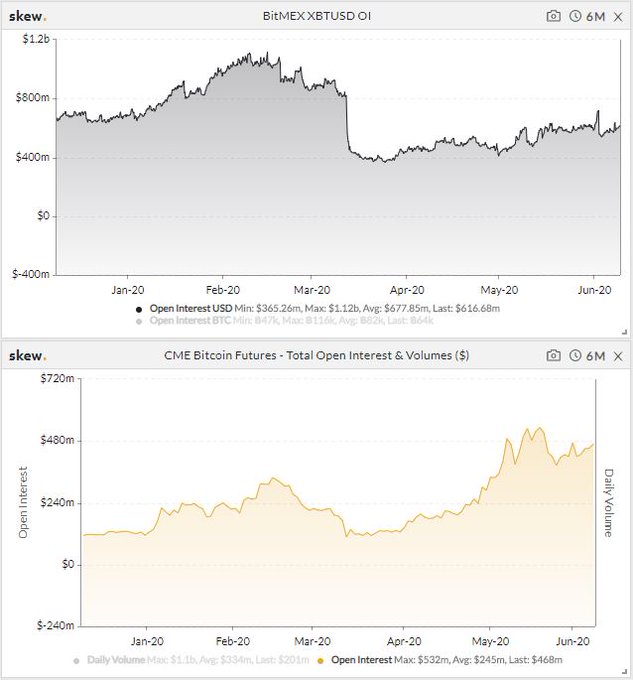 Adding to this, crypto derivatives publication Ecoinometrics found that there is now $300 million worth of Bitcoin call options held by institutions via the CME, up from around $10-20 million from the start of the year.
There are also few put options, suggesting institutions are leaning bullish.
Investopedia explains that call options are "financial contracts that give the option buyer the right, but not the obligation, to buy a stock, bond, commodity or other asset or instrument at a specified price within a specific time period." Calls are bought by investors that want to benefit from an asset appreciating in value.
Featured Image from Shutterstock
Price tags: xbtusd, btcusd, btcusdt
Bitcoin Will Soon Print the Exact Same Signal That Marked the Start of a 4,000% Rally