A minute ago, Bitcoin's monthly candle close for the month of August took place. The cryptocurrency did what many thought would be difficult; it closed the month of August above $11,500, a pivotal resistance level. This means that Bitcoin just printed its second-highest monthly close ever.
Due to the importance of the monthly chart to BTC's macro trend, analysts say that the cryptocurrency is prepared to see further upside from here.
Why Bitcoin Will Surve Even Higher
Blockroots founder and crypto analyst Josh Rager thinks that Bitcoin closing its monthly candle at these levels will trigger a strong move to the upside.
In an analysis published prior to the close, Rager noted that the close should allow BTC to extend its gains towards $13,880.
$13,880 is 19% above current prices. That price is also the highest monthly close ever. Bitcoin managing to close above that level next month is likely to trigger a move to new all-time highs, other analysts have stated.
Regarding the latest close, Rager remarked:
"Monthly close soon – and the chart looks good as support held and next target on monthly is $13,880+. The high time frames say bullish."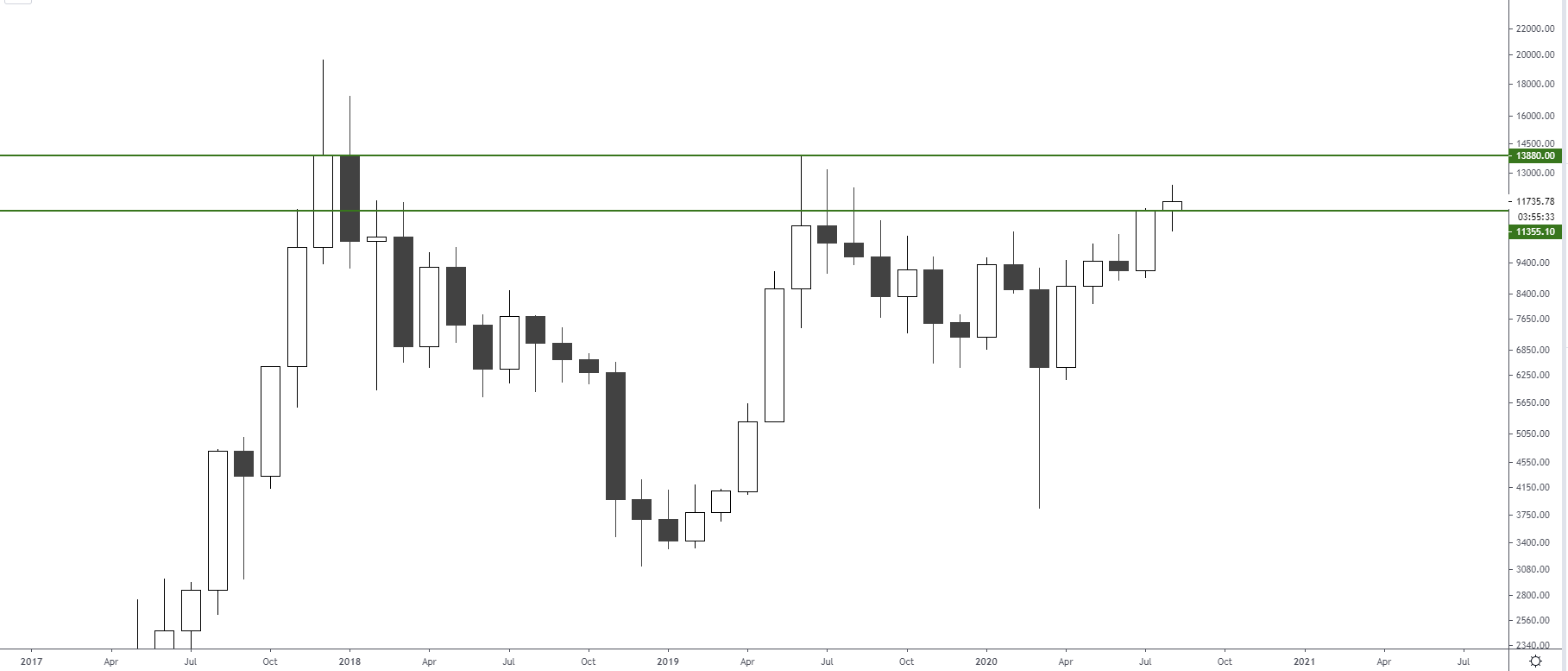 Chart of BTC's macro price action with analysis by crypto trader Josh Rager (@Josh_rager on Twitter). Chart from TradingView.com
Rager isn't the only investor expecting a move towards $14,000 in the near future. As reported by NewsBTC, Vinny Lingham, CEO of Civic and partner at Multicoin Capital, said that BTC is likely to hit $15,000 in the near future due to $10,000 acting as strong support:
"It looks to me that #Bitcoin is poised for another leg up, with an overshoot above $15k, but then a retrace and heavy consolidation around $14k for a few weeks at least. I doubt this sub-$12k price holds for much longer and $10k represents strong support right now."
Fundamentals Favoring Growth
Fundamental trends also suggest that Bitcoin is primed for growth.
Fidelity Investments, the $2 trillion asset manager giant, was just revealed to have begun a new Bitcoin-only fund for institutional investors.
The company's new fund is expected to draw in a vast amount of investment, which will boost BTC in the longer run.
Also supporting growth in the Bitcoin price is the devaluation of the U.S. dollar against assets. The Dollar Index has continued to slip for the umpteenth week in a row, reaching notable lows just today.
Featured Image from Shutterstock
Price tags: xbtusd, btcusd, btcusdt
Charts from TradingView.com
Bitcoin's Monthly Close Just Took Place: Here's What Comes Next