Things are going from good to better for Ethereum, the second-ranked cryptocurrency by market cap.
Bitfinex CTO, Paolo Ardoino today tweeted that both spot, and perpetual, volumes for Ethereum have been consistently higher than Bitcoin during the past couple of days.
$ETH volumes consistently above $BTC in the past days. Same for perps@bitfinex pic.twitter.com/lCb3PJm9TC

— Paolo Ardoino (@paoloardoino) August 4, 2020
Ardoino's screenshot showed 24-hour spot volume for Ethereum at $60.9 million versus $46.9 million for Bitcoin. Similarly, volume for Ethereum perpetual swaps far exceeded that for Bitcoin.
The Ethereum Flippening is Back on the Agenda
Comparisons between the two inevitably lead to talk on the flippening, which refers to a hypothetical situation in which Ethereum takes over Bitcoin as the biggest cryptocurrency by market cap.
Programmer Eric Elliot believes absolute measures, such as market cap, are inconsequential. Instead, he sees the value a network brings as much more important.
"Reality: BTC and ETH could complement each other, and asset diversification reduces risk."
As the most decentralized and censorship-resistant platform, Bitcoin offers security. In comparison, Elliot sees Ethereum as a provider of programmable value and utility.
He concluded by saying both can win.
Nonetheless, most take a more reductionist point of view, and with the explosive growth of decentralized finance, the flipping is a real possibility.
The Blockchain Center recently released The Flippening Index, which looks at eight weighted metrics to provide an overall flippening score.
The current chart shows that Ethereum is 54% of the way to flipping Bitcoin.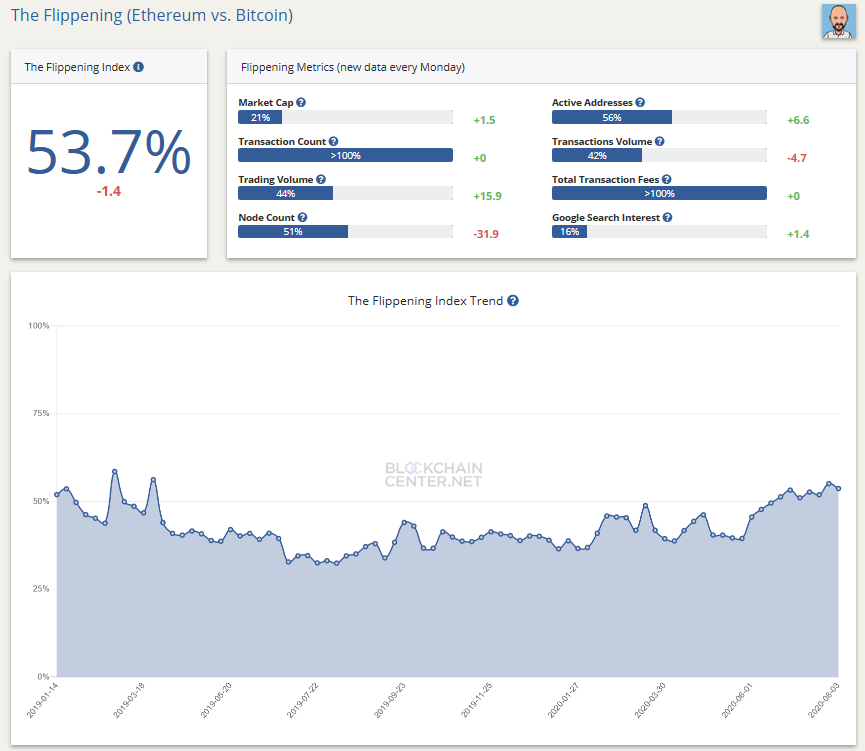 Source: blockchaincenter.net
For now, Ethereum beats Bitcoin on only two of the eight metrics, those being total transaction fees and transaction count.
But with developers making great strides in rolling out ETH 2.0, will we see The Flippening Index move much higher in the coming months?
ETH 2.0 Staking Testnet is Live
Today marks a milestone in the transition to Ethereum 2.0 in that the Medalla testnet goes live.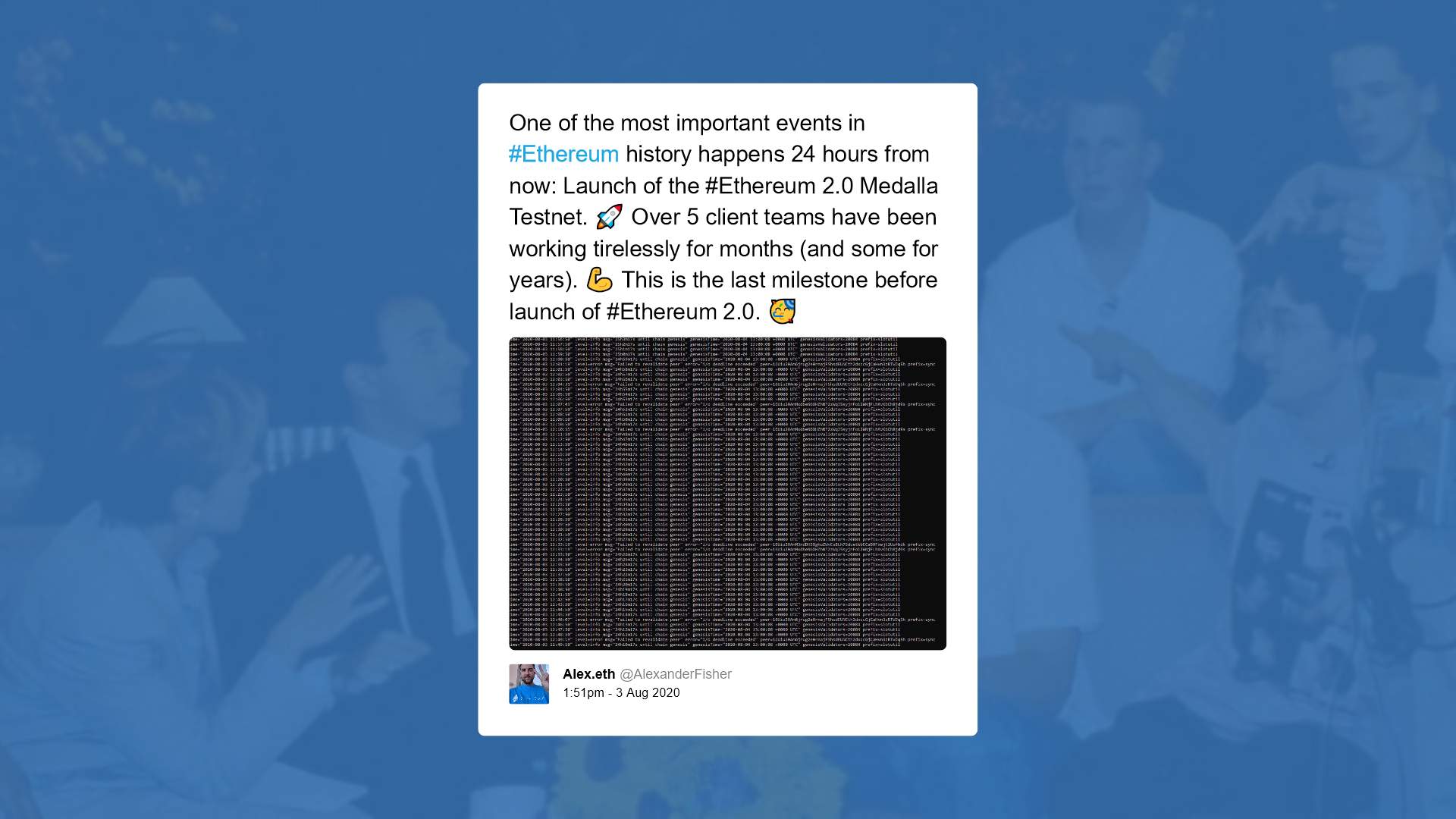 Source: twitter.com
Such is the need for this to run smoothly, Core Developer, Danny Ryan said the testnet should be treated by validators as if it was a mainnet launch.
"Remember, the vast majority of validators on the Medalla testnet are run by you, the community. We're relying on you to treat this as a dress rehearsal for mainnet launch – have your nodes running well in advance, keep an eye on your validator's performance, and be on the lookout for any critical updates to your client's software."
The news goes some way in addressing concerns over delays to the roll-out of ETH 2.0.
Aaron Schreibman believes that once it does launch, the narrative that cryptocurrencies are not legitimate investment vehicles will be turned on its head.
"assume a simplified case where any Ethereum bought will be staked forever, this then looks like a financial asset with a future stream of cash flows."
Schreibman commented that the lack of income generation acts as a barrier of acceptance for the traditional investor. But with staking on Ethereum, those investors will be forced to reconsider their options. Schreibman goes on to say that this is a potential catalyst for accelerating the flipping.
While Elliot may be right in saying both can win, for now, Bitfinex users are voting with their money by choosing utility over security.