The total crypto market cap is attempting to surpass a major resistance near the $216.0B level.
Bitcoin price is correcting gains and is trading below the $8,200 level.
BCH price is up more than 3% and is recently surpassed the $230 resistance.
BSV price rallied more than 15% and it broke the key $110 resistance area.
Binance Coin (BNB) is currently consolidating gains above the $18.00 support area.
Cardano (ADA) price is up 3% and it surpassed the main $0.0400 resistance area.
The crypto market cap and bitcoin could climb higher, while BSV and BCH are surging. Ethereum, cardano (ADA), BSV, EOS, and ripple remains well supported on dips.
Bitcoin Cash Price Analysis
After forming a base above the $205 support area, BCH price started a fresh increase against the US Dollar. The BCH/USD pair is up more than 3% and it recently climbed above the key $230 resistance area. The next major resistance on the upside is near the $240 level.
On the downside, the previous resistance near the $225 and $220 levels are likely to act as supports. If there is a break below $220, the price could revisit the $205 support area.
Bitcoin SV, Binance Coin (BNB) and ADA Price Analysis
In the past few hours, there was a sharp rise in bitcoin SV above the $100 and $105 resistance levels. BSV price even broke the $110 resistance and it is currently up more than 15%. An immediate resistance is near the $115 level, above which it could test the $120 zone.
Binance coin (BNB) remained in a range in the past few sessions and it seems like it is consolidating above the $18.00 support area. On the upside, BNB price has to clear the $18.80 and $19.00 resistance levels to start another increase towards the $20.00 and $20.50 levels.
Cardano price finally managed to climb above the key $0.0400 resistance area. ADA price is currently up around 3%, but there is another strong resistance waiting near the $0.0420 resistance. A clear break above $0.0420 might set the pace for a rally towards the $0.0500 resistance area.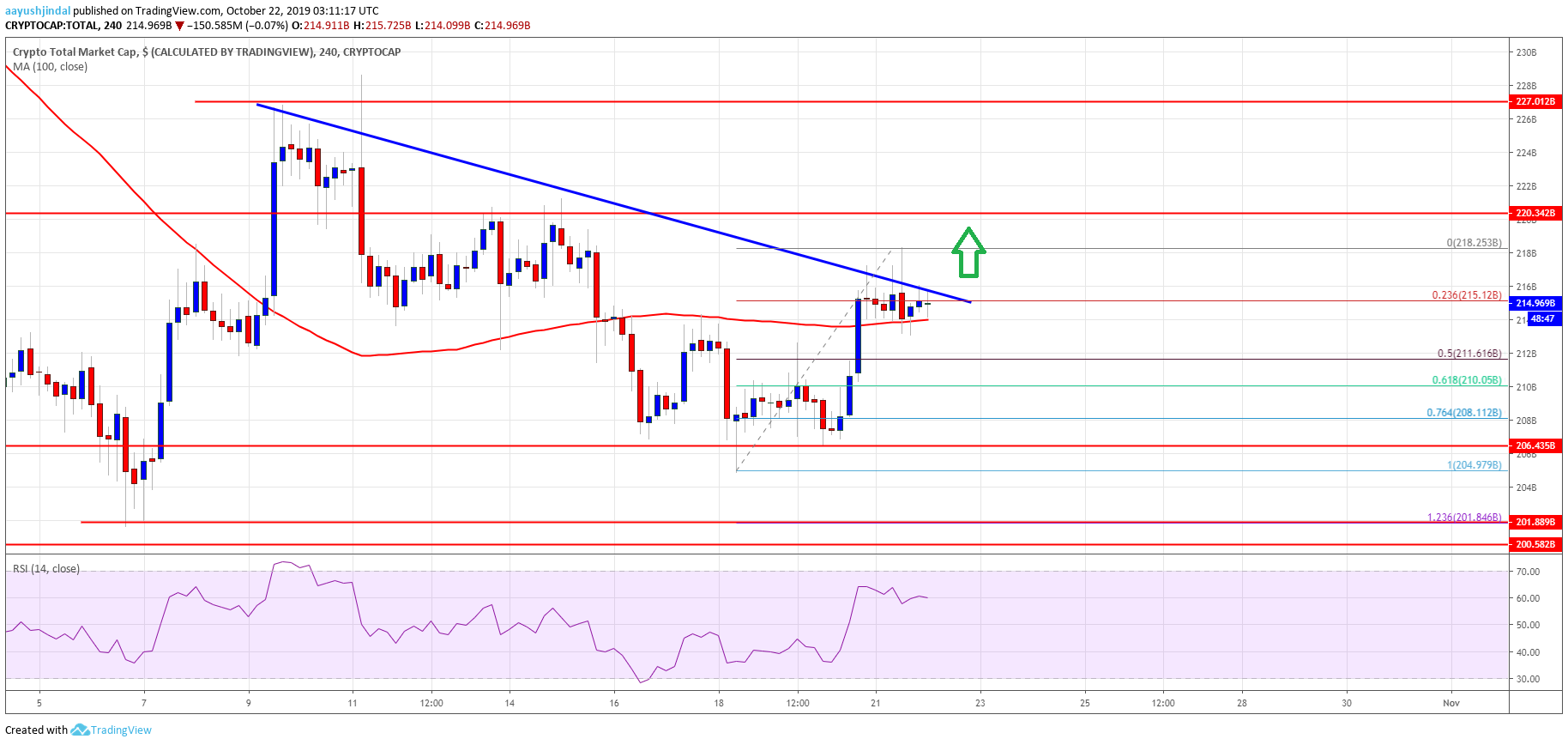 Looking at the total cryptocurrency market cap 4-hours chart, there was a decent rise from the $205.0B support area. However, the market cap is now facing a strong resistance near the $215.0B area and a connecting bearish trend line on the same chart.
Therefore, a successful close above $216.0B, plus a follow through above $220.0B could open the doors for more gains in the near term. Overall, there are chances of a fresh increase in bitcoin, Ethereum, ADA, ripple, tron, XLM, ADA, BNB, ICX, BCH, EOS, and other altcoins in the coming sessions.
The post Crypto Market Cap And Bitcoin Climb Higher: BCH, BSV, BNB, ADA Analysis appeared first on NewsBTC.