Last week, the crypto market experienced a deadly selloff that took most of the digital asset prices down by 50% or more in most cases.
The selloff, however, was mostly fueled by short-term investors, leaving those in crypto for the long-term mostly unfazed by the recent collapse.
Latest Panic Selloff Was Mostly Short-Term Investors Panicking
The massive selloff across traditional markets spilled over into the crypto market last week, as the coronavirus reached pandemic status and fears of a recession began to grow.
But the selloff was almost entirely fueled by short-term investors, according to on-chain data.
Related Reading | The Coronavirus May Be The Best Reason Yet To Own Bitcoin 
Crypto market data aggregation firm Coin Metrics has released a report studying "old coins that have come back into circulation after being untouched for a specific  period of time."
The report reveals that roughly 281K BTC was moved that were previously untouched for over 30 days, while the amount of BTC untouched for a year or more that was suddenly moved on reached 4,131 BTC.
This suggests that almost all of the sellers were near-term holders, likely buying the asset in late December in anticipation of that asset's value increasing ahead of the halving this May.
Notably, the selloff was the fourth largest increase in BTC held over 30 days suddenly on the move during the last eight years.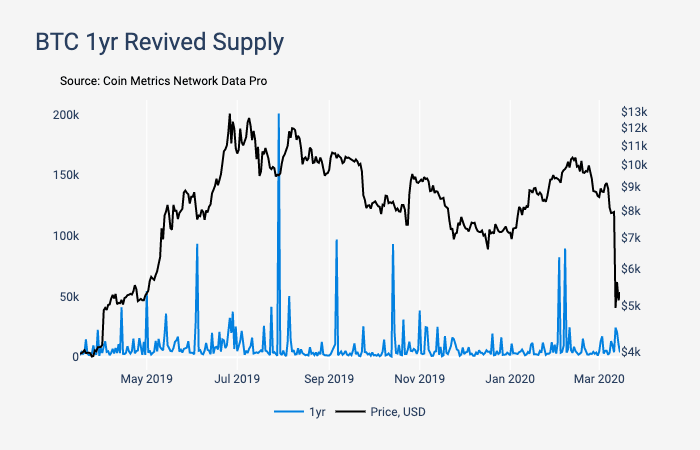 Crypto Investors HODLing Bitcoin Strong In Face of Recession
But why are crypto investors continuing to hold Bitcoin and other crypto-assets despite the recent selloff, and a world about to enter a recession? Theories are mixed.
There continues to remain a subset of long-term believers in the asset class, who adhere to the "hold on for dear life" mentality.
There's also a portion of cryptocurrencies that are lost on the blockchain forever, hidden behind a misplaced or forgotten private key.
Many more may have also purchased cryptocurrencies in bulk during the height of the crypto bubble, but after seeing their values drop by 99% or more, they simply wrote them off for good and forgot they even exist.
But because Bitcoin's value is a lot higher than other crypto assets, there must be more at play with the number one cryptocurrency by market cap.
Related Reading | How Bitcoin Is the Answer to The Questions Everyone Should Be Asking Ahead of Crisis
With Bitcoin, investors may be holding on tighter than ever in the face of a possible recession, as Bitcoin's true value could finally shine amidst the darkness.
Bitcoin was designed to be deflationary, decentralized, and unable to be seized. In the bleakest of circumstances, which are a very real possibility given the shape of the economy, the asset could become incredibly valuable.
Featured image from Shutterstock