It's been an impressive past few days for the Bitcoin market. The leading cryptocurrency started the week at around $9,200, but now BTC trades at $9,700 after managing to benefit from a rally in the price of Ethereum.
With the recent price action, analysts argue that Bitcoin is primed to see an explosive move higher reminiscent of October 2019. But, not everyone is convinced that is the case.
Bitcoin Could Still Correct to the $7,000s, Analyst Says
Bob Loukas, an analyst that has been covering the Bitcoin price for years, is not 100% convinced the asset breaks higher from here.
Referencing the chart below, he said that the asset could still fall towards the $7,000s as BTC faces strong resistance overhead:
"Continue to believe in bullish accumulation #bitcoin. Timing ripe (new cycle) for significant move higher here. Cannot rule out another 40day consolidation though, which ends with sharp V pattern from $7k's or a volatility surge. Sorry to those looking for exact prediction."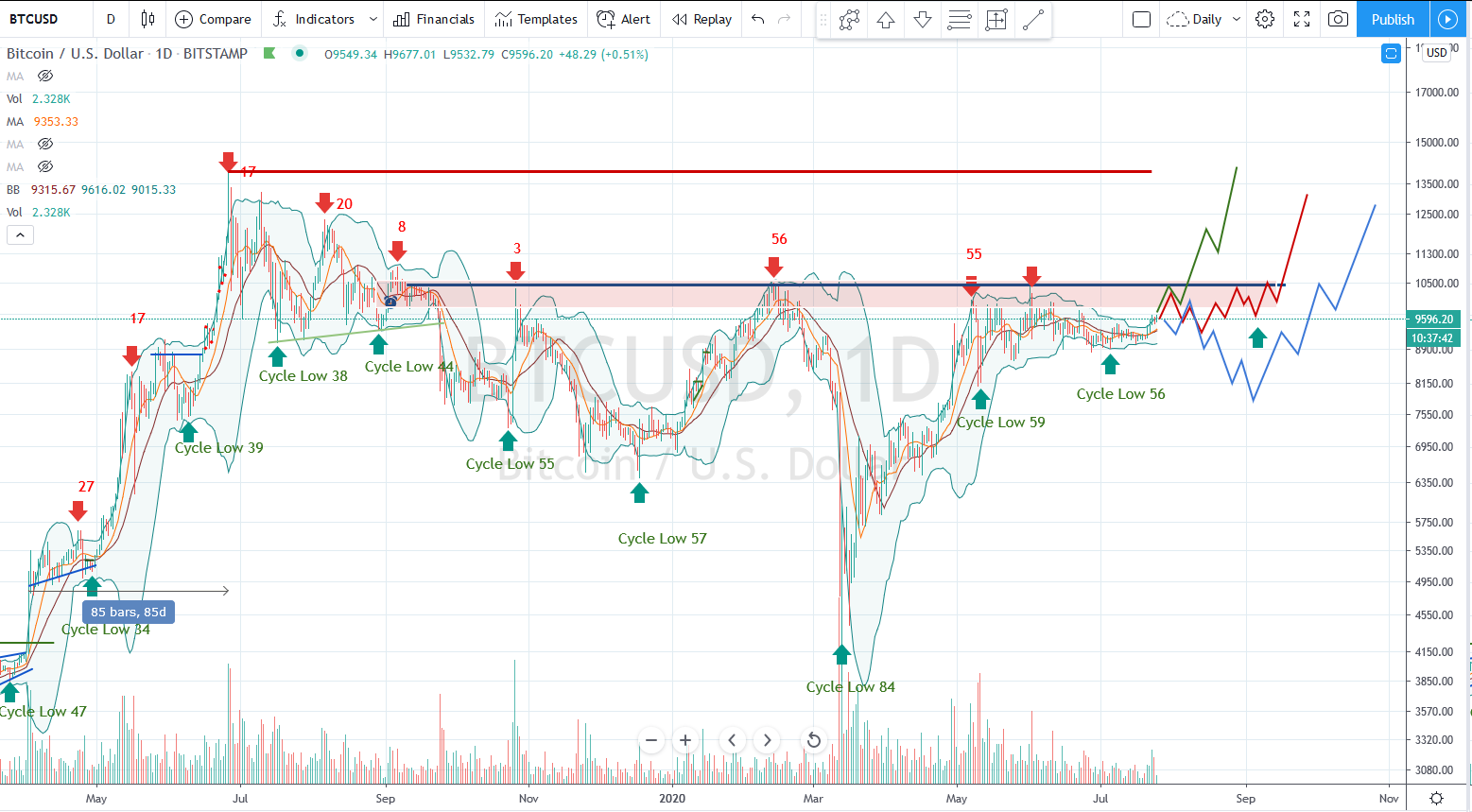 Analysis of Bitcoin's price action over the past year by analyst Bob Loukas (@BobLoukas on Twitter). Chart from TradingView.com
Loukas isn't the only trader that believes a correction could transpire before Bitcoin breaks into a macro bull market.
A trader shared the chart below last week, arguing that Bitcoin will likely see "one last set of cycle lows" before moving to a new all-time high.
Macro BTC analysis by trader "TraderXO" (@TraderX0X0) on Twitter). Chart from TradingView.com
The trader who predicted Bitcoin would bottom at $6,400 in 2019 also thinks that Bitcoin could move to the $6,000s and $7,000s once again.
Expansion Is Coming
Analysts are divided over how Bitcoin trends in the coming weeks, but most agree that the trading range will expand. That's to say, a large number of analysts expect volatility to soon increase dramatically.
As NewsBTC has covered extensively over recent weeks, Bitcoin has effectively flatlined over recent weeks. Volatility indicators, such as the historical volatility index and the width of the Bollinger Bands, have reached multi-year lows in some instances.
Yet with the recent price action, there has been a growing expectation of an expansionary move that will establish Bitcoin's medium-term trend. One trader commented on July 25th:
"Yellow dot on BTCUSD daily. Yellow dot implies that price is still in a squeeze (BB inside KC), but BB expanding, for a potential breakout. It's not perfect (you can see a few yellow dots that didn't break out). But on a longer timeframe, yellow dot generally gives good entry."
How Bitcoin breaks out, as aforementioned, does remain to be seen.
Featured Image from DepositPhotos
Charts from TradingView.com
Price tags: xbtusd, btcusd, btcusdt
Despite Bitcoin Surge Towards $10k, Analyst Thinks a Drop to $7k Is Possible