What a day it's been for the Bitcoin market. After holding under $9,000 for multiple days and weeks, the asset saw an extremely explosive breakout that saw it reach a local high of $10,450 literally just minutes ago.
With this latest leg higher, BTC is up 13% in the past 24 hours — outpacing a majority of altcoins, including Ethereum and XRP.
Some are fearful that the rally stops here, citing a number of trends, including a CME gap and a Tom Demark Sequential "9" candle. Yet an eerily fractal analysis predicts that the cryptocurrency will hit $20,000 this year.
Bitcoin Fractal Predicts Surge to $20,000 Is Imminent
In technical analysis, a fractal is when a pattern of price action is repeated over different time frames and/or for a different asset. As Investopedia explains, "Fractals also refer to a recurring pattern that occurs amid larger more chaotic price movements."
One trader recently shared the chart below, noting that Bitcoin's price action since the 2017 highs looks eerily like Amazon from the Dotcom bubble to the Great Recession. This fractal was first proposed many months ago, and thus far, it's been eerily accurate.
The fractal now suggests that by the end of the year, Bitcoin will trade close to or at its all-time high price just shy of $20,000.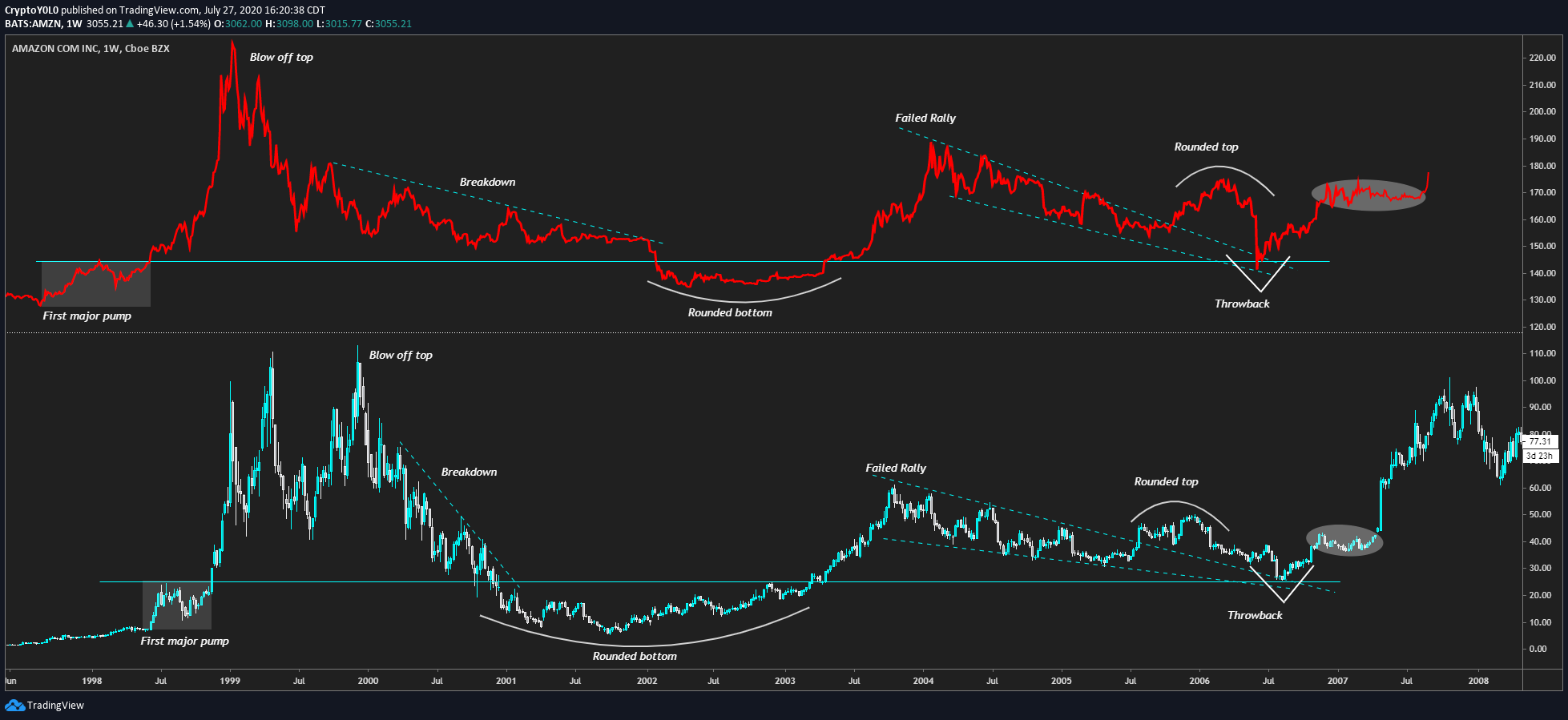 BTC fractal analysis by trader "Mr. Chief" (@HaloCrypto on Twitter). Chart from TradingView.com
Top Analysts Think So Too
It isn't only fractals suggesting Bitcoin will near a new all-time high price in 2020.
Bloomberg senior commodity analyst Mike McGlone said in a June report that as long as BTC follows the path it took in 2016, it can reach $20,000 this very year:
"Bitcoin is mirroring the 2016 return to its previous peak. That was the last time supply was halved, and the third year after a significant peak… Fast forward four years and the second year after the almost 75% decline in 2018, Bitcoin will approach the record high of about $20,000 this year, in our view, if it follows 2016's trend."
There's also Dan Morehead, Co-CIO of Pantera Capital, one of the earliest crypto funds. He wrote in a March report that with the amount of money printing going on in the world, he expects BTC to establish a new record price in the 12 months after his pots.
Morehead specifically cited the potential for institutional investors and other investor demographics to begin to acknowledge the potential of scarce assets.
Bitcoin, with a 21 million supply cap, is especially included in that list of assets.
Featured Image from Shutterstock
Price tags:  xbtusd, btcusd, btcusdt
Charts from TradingView.com
Eerily Accurate Bitcoin Fractal Predicts Bitcoin Could Hit $20k This Year