Bitcoin and Ethereum are pulling back, but Compound (COMP) is surging higher. The native governance token of the flagship of the decentralized finance space, COMP has gained 15% in the past 24 hours as per Coin Market Cap.
This comes after the altcoin was embroiled in a multi-week bear market after an initial surge in June. Many attribute the ongoing bull market to the launch of Compound, which spurred interest in DeFi, then Ethereum, then Bitcoin.
With bulls seemingly back in control of COMP, traders are wondering what comes next for the Ethereum-based asset.
Ethereum-Based Compound Token Surges 15%
Compound is pushing higher after plunging lower after its initial spike in June. The asset, as aforementioned, is up 15% in the past 24 hours.
Analysts remain bullish on the Ethereum-based cryptocurrency despite the nascency of the ongoing breakout.
One trader shared the chart below on August 7th. It shows that Compound's on-balance volume indicator, which attempts to relate price action to market volumes, is undergoing a textbook bullish reversal pattern.
"Daily OBV reversal pattern. I don't plan on selling until $200+ Risky play but the accumulation sub $140 could pay off big time," the anlayst wrote in reference to the ongoing price breakout and the implications of the chart.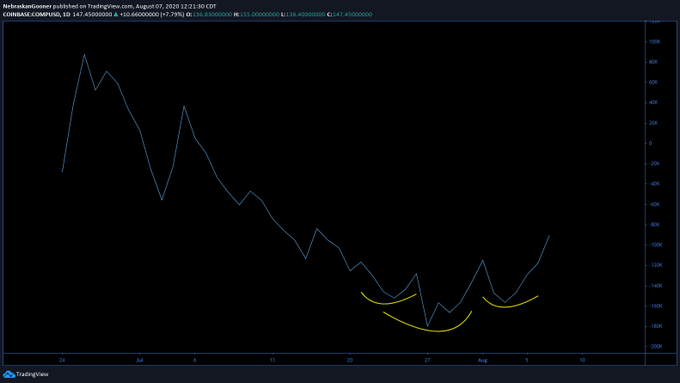 Chart of the Ethereum-based Compound's on-balance volume indicator from trader Nebraskangooner (@Nebraskangooner on Twitter). Chart from TradingView.com
Other analysts are also optimistic about the prospects of the Ethereum-based altcoin. Sean Nance, a trader, noted that COMP looks structurally similar to Bitcoin's macro price action; the comparison suggests COMP is poised to double in the week ahead.
Is COMP Even Worth That Much?
Although Compound may be rallying, some think that the asset isn't actually worth that much.
One trader called "Theta Seek" noted that considering the fundamentals of Compound, he would be inclined to suggest the asset is intrinsically worth around $50 as opposed to $150.
"I'm short on $COMP, the fundamentals of the 'governance', given the public information, don't make too much sense today… IMHO, the fair value of the token, (assuming similar long term profitability as other crypto AUM businesses) should be at around $50 today."
What Compound may be benefiting from, though, are expectations of another period of growth for Ethereum DeFi. Commentators say the next phase of growth may be triggered by the launch of Curve's CRV token, which is set to launch in the next week or two.
Featured Image from Shutterstock
Price tags: ethusd, ethbtc, compusd, competh
Charts from TradingView.com
Ethereum DeFi's Poster Child Compound Surges 15%: What's Next For COMP?