Out of the top-five cryptocurrencies, Ethereum has been the most bullish one over recent weeks. The cryptocurrency has pushed closer and closer to local highs as Bitcoin and XRP have stalled.
Analysts say that with this recent price action, ETH is likely preparing to see a massive breakout. One trader, in fact, said that Ethereum may soon see its "most significant breakout" since the bear market ended at the start of 2018.
Ethereum Could Soon See a Massive Breakout
According to a fund manager in the crypto space, Ethereum could soon see an extremely important breakout as it consolidates under a long-term resistance.
Should the diagonal resistance and the green line break, the analyst expects "explosive appreciation" due to a positive macro and fundamental environment.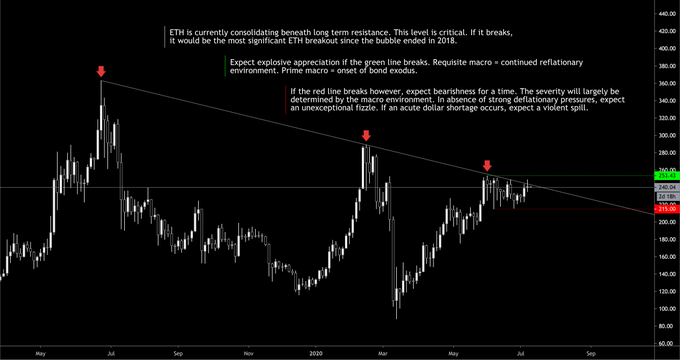 ETH macro price action analysis by "Lucid" (@Lucid_TA), a crypto fund manager and trader. Chart from TradingView.com
A Rapidly Growing Bull Case
This crucial analysis of the ETH price comes as the underlying Ethereum network has seen a growing fundamental case, analysts have said.
Despite Ethereum still trading in macro consolidation, the blockchain's decentralized finance (DeFi) ecosystem has seen a massive uptick in usage. The growth in this sector has resulted in the highest on-chain metrics for Ethereum since the 2018 bubble.
Blockchain analytics firm Santiment, for instance, found late last month:
"ETH's network growth metric has rapidly been on the rise since the beginning of 2020, creating 237% more addresses yesterday than it did on Jan 1, 2020. New daily addresses just crossed above 100,000 again yesterday, and it appears as though it is trending toward its 2020 high of 116,000 new daily address created, which was achieved on June 1, 2020."
ETH Fees Could Be a Short-Term Concern
What may prevent bullish price action, though, is high transaction fees.
Head of business development at Kraken's futures division, Kevin Beardsley, said on transaction fees in June:
"I have spent $14 on ETH gas fees to transfer/lock my $15 into @CurveFinance and I'm earning a princely $0.079 in weekly $SNX rewards. I'll break even in just 177 short weeks! (not including gas to close contracts."
Analyst Qiao Wang, a former executive at Messari, remarked that these instances of high fees leave Ethereum vulnerable to being "dethroned":
"So long as ETH 2.0 is not fully rolled out, there's an obvious opportunity for a highly scalable blockchain to dethrone Ethereum. Paying $10 transaction fee and waiting 15 seconds for settlement is just bad UX."
This has also been echoed by some of Ethereum's proponents, who say that the community need not be complacent in letting high fees persist.
Featured Image from Shutterstock
Price tags: ethusd, ethbtc
Charts from TradingView.com
Ethereum May See Its Most Important Breakout Since 2018:: All Eyes on $240