Now up nearly 100% from the "Black Thursday" bottom, Ethereum remains approximately 90% below its all-time high established at the start of 2018 at $1,400. For some reason, the market doesn't see as much relative value in the cryptocurrency as they did at the all-time high, when you could put ten ETH had the same value as one Bitcoin.
However, a simple market cycle fractal suggests that Etherem is on the verge of a massive rally.
Market Cycle Fractal Suggests Ethereum On Verge of Rally
Although the movements of the crypto market may seem random, analysts suggest that there's a rhythm to the market.
One prominent trader shared the below images, suggesting that Ethereum's price action since its birth is eerily similar to the price action of Bitcoin prior to its rally from ~$500 to $20,000. The implication being that if ETH follows Bitcoin's market cycle to a T, Ethereum has a parabolic, multi-year rally ahead of itself.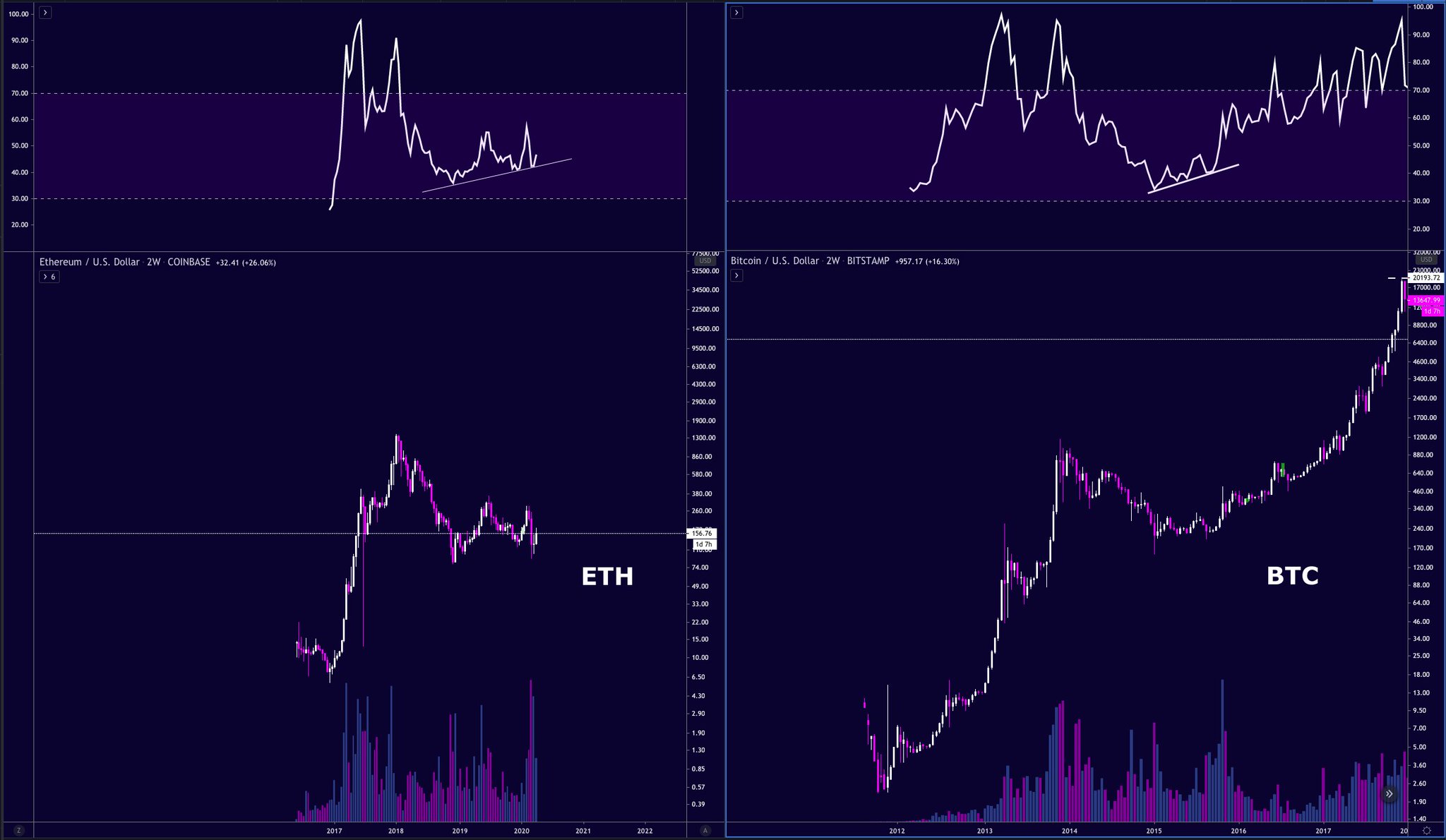 This is the second time such a scenario has been presented over recent months. A prominent crypto trader earlier this year remarked that Ethereum might be one of the best investments of the 2020s, pointing to the fact that there are striking similarities between the charts of ETH (from its birth until now) and Bitcoin prior to its parabolic rally to $20,000 from triple digits.
It appears that traders are preparing for this opportunity.
Per previous reports from NewsBTC, data from leading crypto exchange Bitfinex indicates that there are so many traders longing Ethereum that 1.8% of the asset's total supply is "margin long on Bitfinex." Corroborating this, fund manager Su Zhu observed a group of traders or single "whale" trader adding $40 million worth of Ethereum to their stack over a few hours.
Strong Fundamentals
The assertion that Ethereum is likely on the verge of embarking on a parabolic rally can be supported by a news event.
Reddit — the giant online forum with hundreds of millions of monthly active users — is purportedly using Ethereum for an upcoming project calling "Community Points."
This was discovered by a user named "MagoCrypto," who on Wednesday posted a video showing that on his Reddit app on his Android (Samsung), there was an integrated wallet with an Ethereum address, along with explanations of a digital coin/point system.
"Reddit [is] rolling out a community tokens system on…Ethereum. Could this 100x DeFi users? Wouldn't take much."
Photo by Aldebaran S on Unsplash