It seems the second leg of the crypto bull market has finally arrived. In the past 30 minutes, Ethereum has shot higher after a week of consolidation. As of the time of this article's writing, ETH trades for $420 — more than 7% higher than it was just an hour or two ago.
The breakout was triggered by an influx of liquidations on BitMEX and other margin platforms, which squeezed Ethereum higher. According to Skew.com, millions of dollars worth of ETH shorts were liquidated on ByBit, BitMEX, and OKEx.
Analysts expect Ethereum to rally higher as it sets a new year-to-date high above the previous $415 high, set on August 2nd.
Ethereum Could Surge Even Higher, Analysts Say After Breakout
While the ongoing breakout started under an hour ago, analysts are already expecting more upside for ETH.
A trader shared the chart seen below, showing ETH's ongoing breakout is of crucial technical significance. Ethereum, per the technical analyst, is breaking past a resistance downtrend formed at the highs of August 2nd. The fact Ethereum is shedding the resistances, while also holding crucial moving averages, is purportedly indicating the asset could surge ~20% to $480-490.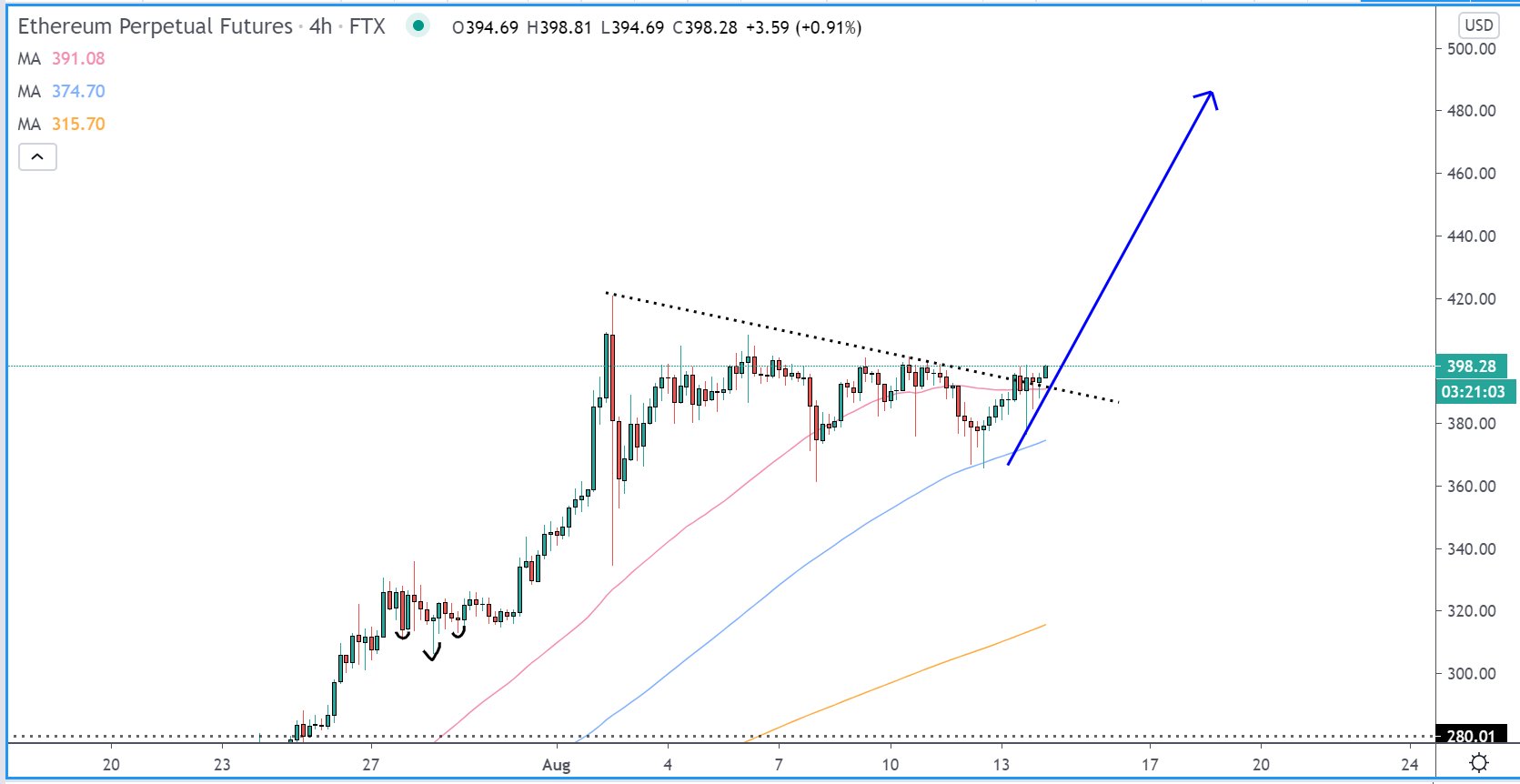 Chart of ETH's recent price action with analysis by trader "SmartContracte" (Twitter handle). Chart from TradingView.com
The expectations of a violent move to the upside have been echoed by other market participants.
The head of technical analysis at Blockfyre, a crypto research firm, wrote on Ethereum's recent price action:
"$ETH looking ready for another leg up imo. $450 weekly resistance up next on the plate. Wouldn't be surprised to see a lot of this alt money flow into Eth and see some healthy corrections across the board short term. Reducing some exposure to move to Eth."
Bitcoin Is Looking Good, Too
As Bitcoin moves to $11,700, the leading cryptocurrency is looking good in the eyes of analysts, too. While Bitcoin's ongoing breakout wasn't as technically significant as that of ETH, analysts say the recent price action is a likely precursor to $12,000 and beyond.
Featured Image from Shutterstock
Price tags: ethusd, ethbtc
Charts from TradingView.com
Ethereum Rockets to New Local Highs at $420—and More Upside Is Expected