The CEO of Ripple, Brad Garlinghouse, has re-established his commitment to cross-border payment solutions by saying the firm has no plans to change tack.
Garlinghouse claims the company is already making great strides in capturing the $10 trillion cross-border payments market. With that, he sees no need to pursue other ventures.
"Ripple has absolutely no plans to 'reset' our strategy. Using XRP to solve a real-world, $10T problem, like cross-border payments, is working."
The comments come in response to a Financial Times article that made several unfavorable assertions about Ripple and its native token, XRP.
Chief among which was the claim that Ripple technology lacks a compelling use case. As a result, management is looking to diversify its core strategies by becoming the Amazon of cryptocurrency.
A claim that Garlinghouse denies.
Garlinghouse Says XRP is Doing Just Fine
According to the FT, Ripple has failed to convince banks to adopt XRP.
In response, Garlinghouse struck back by saying its On Demand Liquidity (ODL) service, which uses XRP, continues to grow.
ODL, formerly known as xRapid, is a cross-border payment solution that uses XRP to bridge two fiat currencies. It allows for near-instant settlement without the need to pre-fund accounts.

Benefits of ODL. (Source: ripple.com)
According to Garlinghouse, over $2 billion in transactions has been conducted using ODL since its launch. And its growing use is bullish for XRP.
He further backed this up by quoting the latest information from the Ripple Q2 2020 report, which paints a picture of impressive development.
"Comparing just H1 2019 with H1 2020, RippleNet experienced 11x year-over-year growth in ODL transaction volume."
With that, despite Santander's rejection of XRP, Garlinghouse remains defiant by saying many other institutions are on board with ODL and XRP.
"Over two dozen customers are on board w/ ODL including MoneyGram, goLance, Viamericas, FlashFX, Azimo and the list goes on."
Regardless of the FUD, Garlinghouse is adamant that Ripple's focus on cross-border payments is the best strategy for the firm going forward.
But Isn't It Looking at DeFi?
Despite Garlinghouse's claims of sticking only with the cross-border payments market, Ripple CTO David Schwartz hasn't ruled out adding DeFi to the mix.
In an interview with BlockDown TV, Schwartz spoke of a future where Ripple is placed as a financial hub. With that, the firm is positioned to cater to all types of payment, not just cross-border.
"We're also looking into offering other services through RippleNet – things like loans, or maybe even if DeFi grows, offering DeFi services to institutional partners."
This future, he claims, is possible as Ripple has already built a network of banks and financial institutions as contacts. Therefore, any future service, including DeFi products, can be rapidly deployed through that network.
Ripple and XRP continue to divide opinion. But it still remains that no other crypto project can match it for the number of partnerships.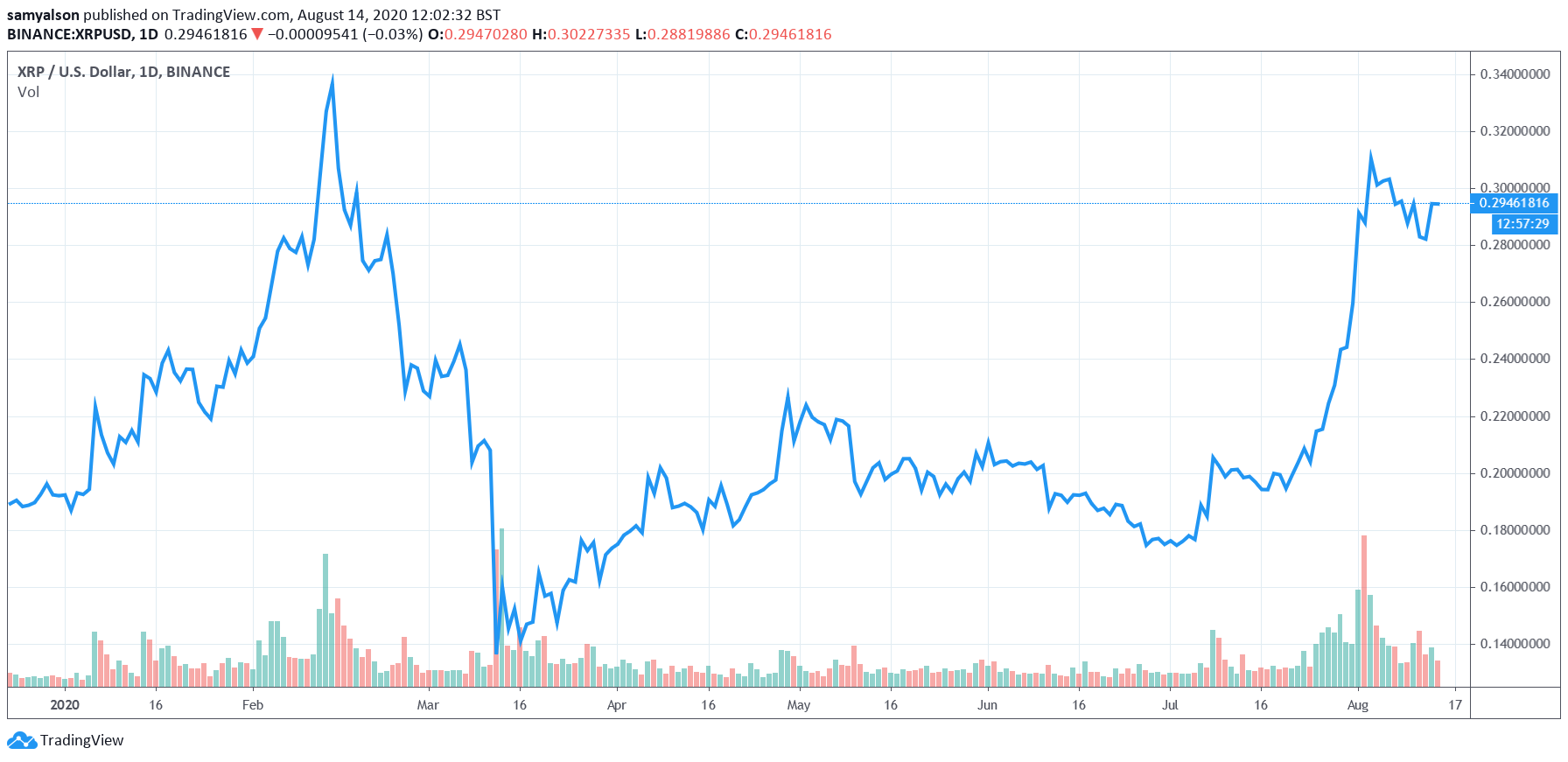 XRP daily chart with volume. (Source: tradingview.com)