Over the past few days, Bitcoin has found itself stalling in the low-$9,000s, failing to venture out of a tight range it has been stuck in for the past four days. The below chart from TradingView shows this non-action perfectly.
Although some say that this flatlining price action is a precursor to Bitcoin return into the $8,000s as bears take over, a leading analyst recently gave over 7 key reasons why BTC may break higher past $10,000 in the near future to restart a bull trend.
The analyst is one Coiner Yadox, who has done quite well over the past few weeks in calling the cryptocurrency market's price action.
7 Reasons Why Bitcoin Could Soon Explode Higher, Per Top Analyst
Here are 7 of the over 20 reasons why Bitcoin could soon head higher, according to Yadox anyway.
BTC recently took the monthly price support of the key 21-month exponential moving average, then closed above the 10-month exponential moving average. This was underscored by the fact that Bitcoin scored a higher high in the monthly close, killing the downtrend.
Monthly taking support on 21 Monthly EMA, and closing above 10 Monthly EMA

Also getting a Monthly Higher High close

2/x pic.twitter.com/qVfgBHtUiS

— Coiner-Yadox (@Yodaskk) February 3, 2020
Bitcoin's weekly Relative Strength Index (RSI) recently moved above the key 55 range, which has historically been an inflection point for the market; when the RSI is above 55, BTC is technically in a bull market.
The leading cryptocurrency has moved above the 200-day moving average. Yadox said that this is a sign of a bull market, and Fundstrat's Tom Lee agrees.
The 50-day exponential moving average and 200-day exponential moving average recently saw a bullish cross.
The weekly Super Guppy indicator has started to trend green, something that preceded historical bull markets.
Bitcoin's Ichimoku Cloud has crossed into green, suggesting a bull trend.
The halving is taking place soon, which should help boost prices in the long run due to a strong decrease in incoming supply, affecting the supply-demand dynamics fo this market.
On Sunday, prominent analyst Filb Filb — the trader who in October 2019 called Bitcoin's surge to $10,000 and subsequent decline to the $6,000s — posted the below chart to his Telegram channel for crypto analysis.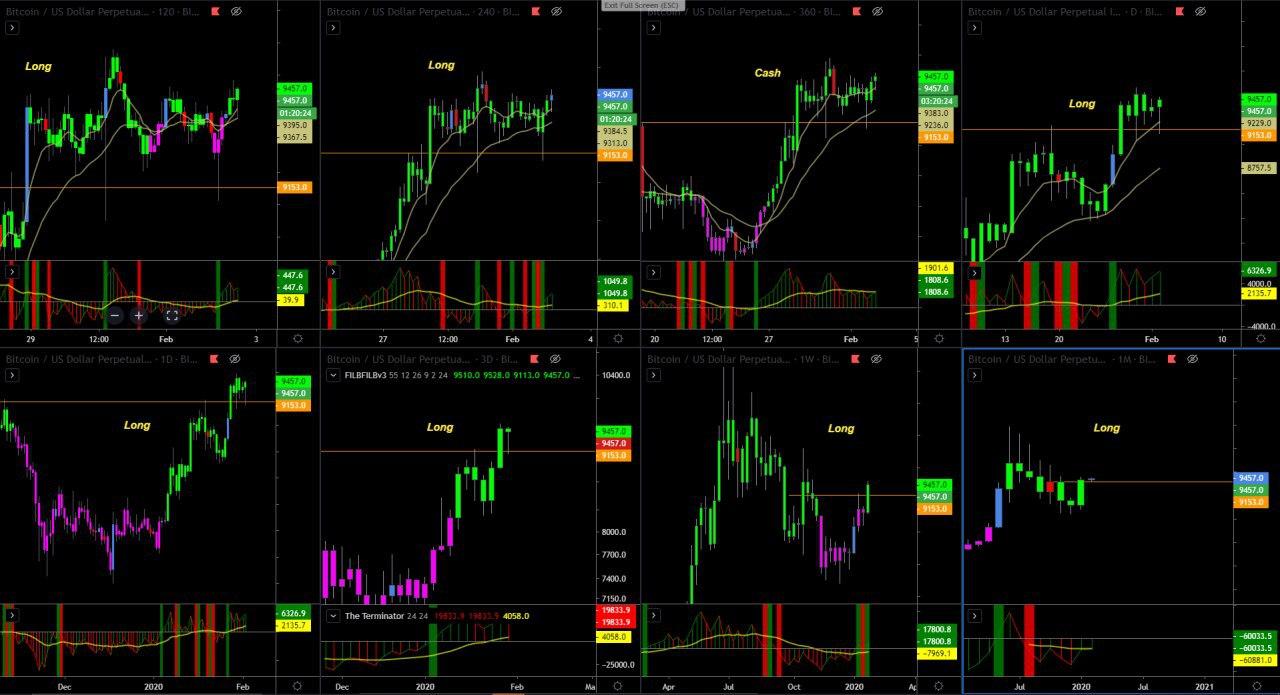 He wrote that these charts paint a "pretty bullish outlook" because the "volume indicators are good," not to mention the "moving averages are trending up." Filb Filb continued that his monthly chart coupled with a  proprietary indicator is printing a buy signal, "which in the past has meant a big upside move."
Featured Image from Shutterstock