Bitcoin has struggled immensely at the $12,000 resistance over the past two weeks. On at least four separate occasions over this time frame, the leading cryptocurrency has been cleanly rejected at $12,000. Often, the rejection took place at that level exactly, down to a few dollars.
While some analysts don't assign much importance to that price level, an analyst says that $12,000 is literally "the last great resistance."
If Bitcoin manages to break that level, analysts say that it will be set to move towards $13,000, $14,000, and beyond.
Fortunately for Bitcoin bulls, there are multiple market catalysts that suggest the level will soon be retaken by buyers.
Bitcoin Needs To Break Past $12,000 — Here's Why
$12,000 purportedly is Bitcoin's last major on-chain resistance, according to data shared by David Puell, the Head of Research at the now-closed Adaptive Capital.
Puell shared the chart seen below on August 16th, which suggests that $12,000 is important because it is the point at which buyers of the 2019 highs will reach breakeven:
"CIH is the delta between two volume profiles (in this case from 2018 onward): bitcoins unmoved (assumed as hodling) and bitcoins moved (assumed as distribution). Three levels of major buyouts are noticeble—two remain as major demand zones; one as a last major resistance."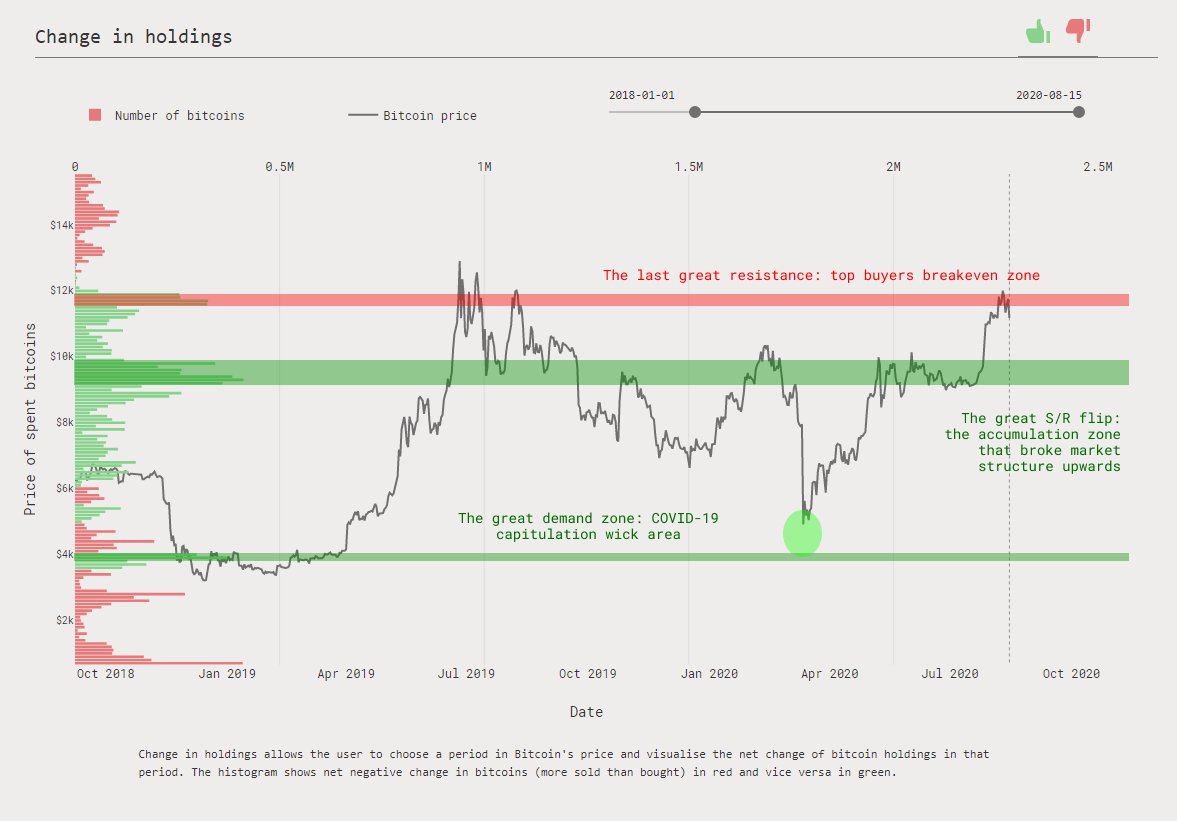 Chart of BTC's price action with the Change in Holdings from David Puell (@kenoshaking on Twitter), on-chain analyst and Bitcoin trader. Chart from WhaleMap
The researcher later shared data showing the holding habits of BTC whales. According to Puell, these whales will also breakeven in the $12,000 region, giving the level even more importance than it already has.
Growth Past $12,000 Is Imminent: Analysts
There are signs that Bitcoin will soon see growth past $12,000.
Speaking with CNBC earlier this month, Mike Novogratz of Galaxy Digital asserted that Bitcoin could reach $14,000 in the months ahead. He added that BTC reaching $20,000 this year is entirely viable. Novogratz cited the vast amount of money printing and the influx of interest in Bitcoin versus traditional asset classes:
"Bitcoin still has a lot of retail interest in it. A lot of that retail interest shifted to the story stocks, to the tech stocks, because they were just more fun … Yesterday you saw a lot of money shift back over to gold and bitcoin."
Others that subscribe to the theory that Bitcoin will see further growth from here include multiple accurate technical analysts and Novogratz's contemporaries.
Featured Image from Shutterstock
Price tags: xbtusd, btcusd, btcusdt
Charts from Tradingview.com
Here's Why $12,000 Is Bitcoin's "Last Great Resistance": Analyst