Although Bitcoin normally leads the crypto market, Ethereum has outperformed almost all other digital assets over the past few days. As of the time of this article's writing, the cryptocurrency trades at $182, up 7% in the past 24 hours and up 24% since the lows of the week near $147.
From the bottom seen during the "Black Friday" crash, the cryptocurrency is up well over 100% — outperforming a majority of multi-billion-dollar assets, even those that were bailed out by the world's governments.
Despite this decisively strong price action, an analyst is not yet convinced Ethereum bulls are home free, so to say, remarking that a key level needs to be breached for a trend reversal to be confirmed.
Ethereum Still Below Key Technical Level
An impressive rally, sure, but a crypto trader known as Calmly isn't too sure that a bullish medium-term future for Ethereum is certain after the recent rally.
Backing his cautious sentiment, he shared the below image on April 18th, indicating that he thinks a weekly close above $190 "would make [him] feel confident that this is bullish price action and not just a bear market re-test."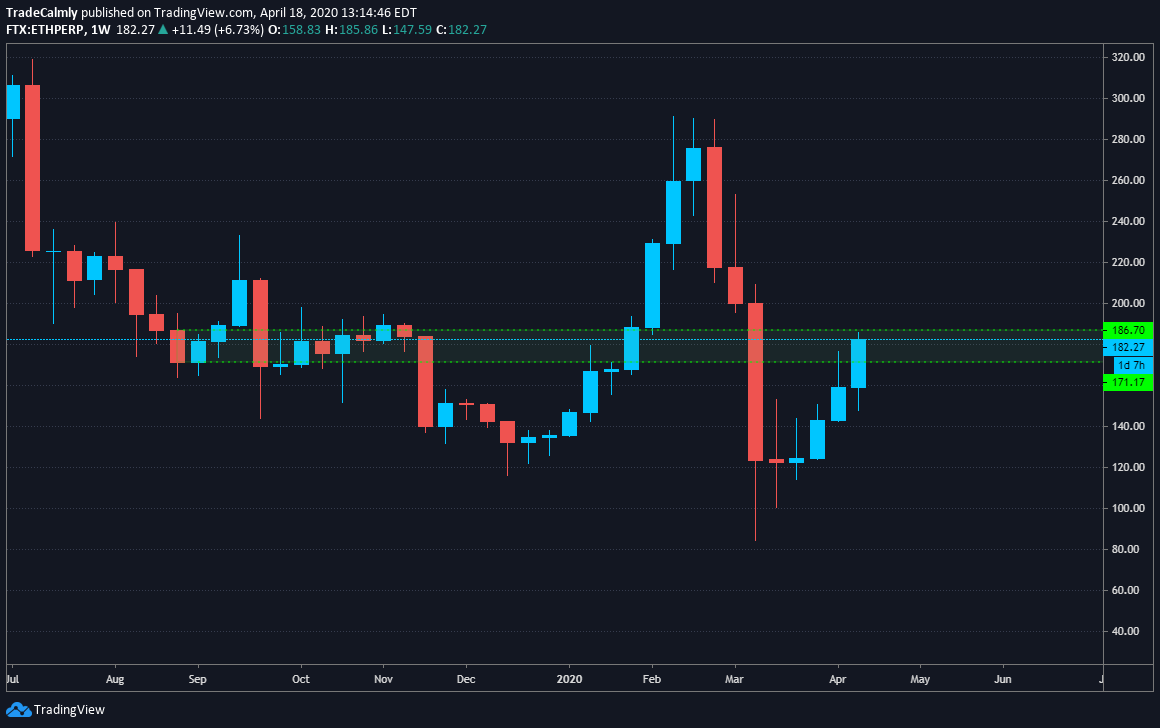 The chart specifies that historically, $180-$190 has been a crucial zone for Ethereum, with it acting as a launchpad for rallies. Furthermore, the cryptocurrency has often tested the zone as resistance on multiple occasions.
Analysts Eye Breakout
Although $190 is still a 5% rally away, leading analysts expect for the cryptocurrency to start attempting to break past the region.
Prominent trader Hsaka remarked that the ongoing price action has allowed Ethereum to break a "pivotal zone," which suggests that the cryptocurrency will see "substantial" bullish follow-through towards $200.
Corroborating this, another trader with the moniker of HornHairs explained that he thinks ETH may be in the midst of a "full retrace" of the bear market, which would imply a return back to the 2020 highs of $290 in the coming months.
Not to mention, there are simple positive fundamental factors.
A report from Grayscale Investments, a crypto fund provider and manager, shared that institutional players are investing heavily into both Bitcoin and Ethereum, despite the recent downturn in global markets. As investor Spencer Noon said:
"Institutional investors are buying ETH. The cat is officially out of the bag. From the latest @GrayscaleInvest report: Ethereum Trust saw $110M in Q1 inflows. This is more than all of its previous inflows combined for the past 2 years ($95.8M)."
Furthermore, it has been reported by crypto analytics firms that Ethereum's blockchain is seeing increasingly higher throughput volumes, boding well for the bullish narrative.
Photo by Jerry Zhang on Unsplash