There have been many optimistic Bitcoin traders that have been expecting an imminent break into a bull market. Yet an analyst has said that it may be until the end of 2020 that the cryptocurrency markets enter a full-blown bull phase.
Bitcoin May Have Months More of Consolidation to Go
There's no doubt Bitcoin's volatility has tightened over the past few months. Despite the drop in March, on a macro scale, the leading cryptocurrency is actually in consolidation as it aims to break out.
According to an analyst, the width of the Bollinger Bands indicates that more consolidation is likely. The Bollinger Bands is a technical indicator showing the level of volatility in a market over time frames.
"Room for further contraction in the Bollinger band width. Fourth quarter lift off?," he wrote, referencing how the Bollinger Bands are not yet at the level seen at the start of 2016's bull market to $20,000.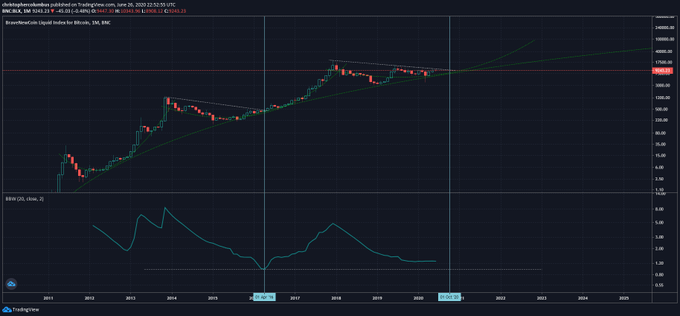 Macro Bitcoin volatility analysis by trader "Dave the Wave" (@Davthewave on Twitter). Chart from TradingView.com
The analyst who shared the chart above isn't the only one that expects Bitcoin's consolidation to persist for months.
According to the International Business Times, Tone Vays thinks that BTC may be stuck in a range until the end of 2020. Tone Vays is a prominent Bitcoin researcher and analyst, formerly a vice president of JP Morgan Chase and a Wall Street trader.
Vays said in a video analysis of the crypto market:
"Like I've been saying for months now, I have no reason to walk away from my prediction early in the year that Bitcoin is going to get stuck between $6,000 and $10,000 for the majority of this year."
This was attributed to his outlook on the S&P 500, which he expects to flatline or potentially trade lower.
Where Will BTC Go in the Short Term? 
With many expecting Bitcoin to consolidate, what's next for the asset in the short term?
A correction is the best guess of many.
Per previous reports from NewsBTC, the same analyst that posted the chart above expects a 25% drop in the crypto market.
BTC falling by 25% from current prices would result in a move to $7,000. And Ethereum doing something similar would imply a drop to the $175 region.
Bitcoin price chart shared by pseudonymous crypto trader Dave the Wave (@Davthewave on Twitter). Charts from TradingView.com
There's a separate chart by another analyst indicating that since Bitcoin rejected ~$10,000, a move to $5,000 is likely.
Featured Image from Shutterstock
Price tags: xbtusd, btcusd, btcusdt
Charts from TradingView.com
It May Take Bitcoin Until Q4 2020 to Break Into a Bull Market: Analyst