It's been an explosive past few months for Bitcoin, equities, and other global markets.
After a liquidation event in March that sent cryptocurrencies down by over 50% and other asset classes down almost as much, a bounce has ensued that has largely deleted the losses of March.
BTC now trades for $9,400, up by approximately 30% since the start of the year. And the stocks of the FAANG are up on the year, surging as the world adopts digital technologies in response to the pandemic.
Some have deemed this a relief rally triggered by central bank money printing, but JPMorgan analysts recently came to the conclusion that the S&P 500 could rally even higher. And Bitcoin stands to benefit.
JPMorgan Predicts S&P 500 Could Rally Even Higher — And Bitcoin Can Too
According to a research note shared by Dan Tapiero — CEO of a precious metal investment company and a prominent Bitcoin bull — JPMorgan is predicting equities will rally 47% from here. This comes after they rebounded approximately 40% from the March lows.
The analysts attributed their prediction to their "equity position metrics," which tries to draw valuations of equities by looking at the size of the bond and cash "universe."
The insinuation is that with the amount of cash in the system exploding higher due to central banks and bonds rallying due to central-bank buying, equities may be relatively undersized:
"With some of previous pockets of overextension clearing, we believe than an overall favorable equity positions backdrop will re-assert itself rejuvenating the equity bull market."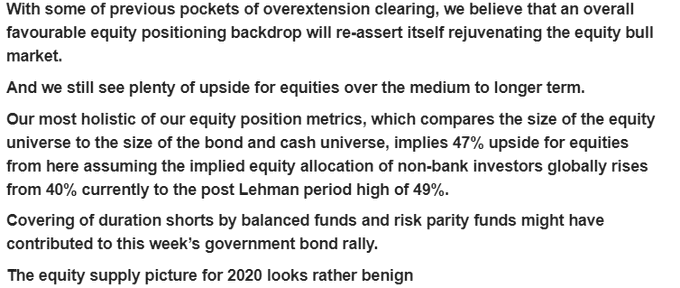 Tapiero suggested that this may be bullish for Bitcoin and gold, writing that some "excess cash" in the reserves of investors may "go into gold and Bitcoin" instead of equities.
He's not wrong in suggesting so.
A team of JPMorgan analysts reported on June 11th that for the past few months, "Cryptocurrencies have traded more like risky assets like equities—a significant change relative to the prior couple of years."
So should stocks continue to rip higher, so too should Bitcoin.
Stocks Are Reaching "Bubble" Territory, Others Argue
Not everyone is convinced that stocks (and thus Bitcoin) are ready to continue higher though, especially as the underlying economy remains somewhat weak due to lockdowns.
Jeremy Grantham, a prominent stock trader that called three previous stock market tops, told CNBC's "Closing Bell" this week that he sees tell-tale signs of a stock bubble.
"This is really the real McCoy," says legendary investor Jeremy Grantham on whether the recent rally is a sign of a bubble to come. "This is crazy stuff." pic.twitter.com/XetUBqqPBk

— CNBC's Closing Bell (@CNBCClosingBell) June 17, 2020
Scott Minerd, the Global CIO of Guggenheim Partners, made a very similar comment just a week earlier. He also said that he sees bubble-like qualities in the equity markets.
Should stocks crash, so too should Bitcoin — just like in March.
Featured Image from Shutterstock
Price tags xbtusd, btcusd, btcusdt 
Charts from TradingView.com
JPMorgan Suggests a 50% S&P 500 Rally Is Near, Boosting Bitcoin Bull Case