While history never repeats, history often rhymes for the Bitcoin market.
Each of the asset's market cycles seems to have periods of eerily familiar price action, marked by common chart formations and technical signals that appear time and time again. This allows analysts to predict what comes next by looking at the past.
An analyst recently observed that a chart formation that historically led to a breakout has formed once again, boding well for the Bitcoin bull case.
Bitcoin Bulls Are Still in Control
On June 11th, Bitcoin failed to decisively break past $10,000 for the umpteenth time in weeks. The cryptocurrency dove by approximately 10% after attempting to cross that resistance, crushed as a cascade of longs were stopped out of their positions.
Many were quick to express bearish sentiment after the move transpired.
As reported by NewsBTC previously, one trader even said that Bitcoin could dive by 40% in the coming weeks:
"BTC. I've been seeing more and more comments saying BTC going down to support is unlikely because that'd be too big a drop. That's not how Bitcoin works. Retraces are short and vicious. Crashes even more so. 40% down is not unlikely, it's happened before, it'll happen again," he stated.
A top technician begs to differ, sharing the chart below in the wake of Bitcoin's $1,000 crash on June 11th.
He wrote that technically speaking, the cryptocurrency is still decisively in an uptrend. "This is not 'the big move. Nothing significant happened," the analyst wrote, referencing how the crash did not bring Bitcoin out of the ascending triangle structure he depicted.
An ascending triangle is a traditional chart structure that is formed when an asset is trading in an uptrend but continually runs into a horizontal resistance, creating a triangle. Ascending triangles are also marked by decreasing volume.
In Bitcoin's case, an ascending triangle has formed after the cryptocurrency experienced a series of higher lows over the past five weeks and multiple failures at breaking past $10,000.
The ascending triangle is bullish because Bitcoin has historically performed well when it has formed ascending triangles that look like the one the asset is currently stuck in. As the analyst that shared the charts below said in reference to triangle formations:
Triangles are a […] a real strat imo for swing trading bitcoin. Here we have current, PA, slow grind up to 10k and 3 examples of similar structures lasting > than a month. Bullish as long as HL's continue.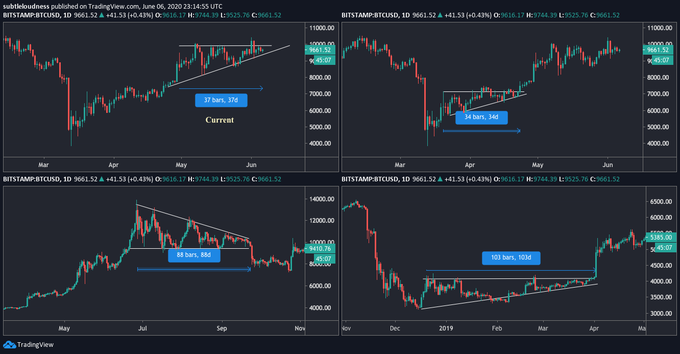 The last time BTC formed an ascending triangle like the one it is trading in now, the asset rallied 40%.
This historical precedent suggests that a similar rally may happen again as soon as Bitcoin breaks out of its current ascending triangle, which is literally days away.
Price Is Still Firmly In an Uptrend
Adding to the sentiment that Bitcoin is still in an uptrend, an analyst observed that a confluence of Bitcoin buy orders have appeared from $8,600 to $9,000.
Such a strong confluence of buy orders was last seen prior to BTC rallying from the $7,000s to $10,000.
Featured Image from Shutterstock
Price tags: xbtusd, btcusd, btcusdt
Last Time Bitcoin Saw This Structure, It Surged 40%. It's About to Happen Again