Against Bitcoin, Litecoin has not performed well since the highs of 2017 and 2018. As of this article's writing, the price of LTC in Bitcoin terms is 0.0053 BTC — again, far from all-time highs.
Analysts believe that LTC is set to outperform Bitcoin, though. They cite technical trends that show Litecoin is breaking higher against Bitcoin for the first time in months, even years.
Litecoin Is On the Verge of Outperforming Bitcoin: Analysts 
A founder of crypto exchange Level and a digital asset trader thinks that Litecoin is poised to surge upwards of 175% against Bitcoin.
He shared the tweet below on August 16th, which shows an analysis of LTC's price action against BTC. According to his analysis, LTC/BTC has broken above a pivotal one-year downtrend, has high trading volume (high buy volume), and formed a buy signal as per his proprietary indicator "Top Goon X."
The trader says that these three signals working in tandem should confirm upside of 45% to 175%, depending on which macro resistance level Litecoin struggles to pass.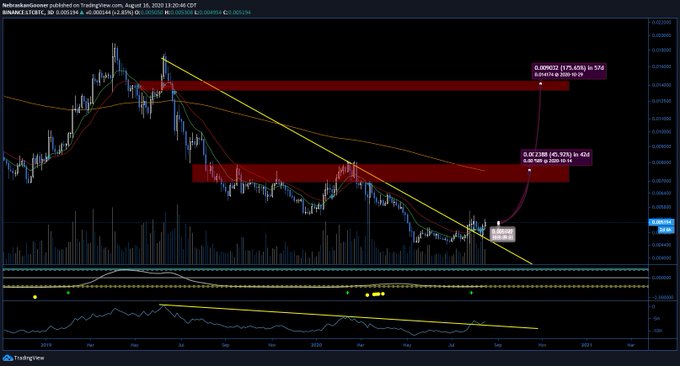 Chart of LTC's price action against Bitcoin in the past two years or so with analysis by trader Nebraskan Gooner (@Nebraskangooner on Twitter). Chart of TradingView.com
This sentiment has been echoed by other analysts.
One trader noted in a separate analysis that Litecoin is "ready to break out of a multi-month falling wedge" and ready to break above a multi-year downtrend.
Bitcoin Seeing Volatility Could Dampen This Narrative
Bitcoin undergoing a bout of volatility, though, could dampen the narrative that altcoins such as Litecoin outperform BTC.  As Mohit Sorout, founding partner of Bitazu Capital, explained to me in a recent interview:
"Most (altcoin) cycles in crypto are centered around bitcoin volatility. When it dries up, no one wants to trade btc which becomes evident from the volume as well. This leads to a large uptick in speculation on alts, driving their prices up – typically alts with strong narratives & large scale memetic behavior get the most volumes."
Bitcoin is set to see a spike in volatility, according to a volatility analysis by Josh Olszewicz of Brave New Coin. If Bitcoin sees volatility, altcoins may suffer against the market leader, just as they did when BTC surged early in August.
Featured Image from Shutterstock
Price tags: ltcusd, ltcbtc
Charts from TradingView.com
Litecoin Could Soon Outperform Bitcoin By At Least 45%: Here's Why