Despite the rhetoric on Twitter, holding Bitcoin has actually not been the best crypto investment of 2020 thus far.
The chart below shared by a cryptocurrency data analyst is a perfect case in point. It shows that over the course of 2020 (up until early June), altcoins have outperformed BTC by a large margin.
Bitcoin vs. low cap, mid cap, and large cap altcoins chart shared by cryptocurrency trader Ceteris Paribus (@Ceterispar1bus on Twitter). Chart from TradingView.com
But some altcoins are performing better than others. Enter, Cardano (ADA)
Since the start of 2020, the asset is up by more than 150% against the U.S. dollar and around the same against Bitcoin.
The cryptocurrency's impressive rally isn't just FOMO: the underlying Cardano blockchain has seen a flurry of positive technical developments.
But some don't think these developments will be enough to mitigate the bearish technical analysis case forming for ADA.
Cardano Is Poised to Plunge Against Bitcoin, Analysts Say
Cardano's rally has evidently been impressive over recent months, but one trader says that it will soon reverse against Bitcoin.
Referencing how the cryptocurrency failed to move above a zone of historical importance, he wrote:
"I know ADA has some news coming up this month, but this chart is highly suggesting that the top of the nice bull run is coming to a close."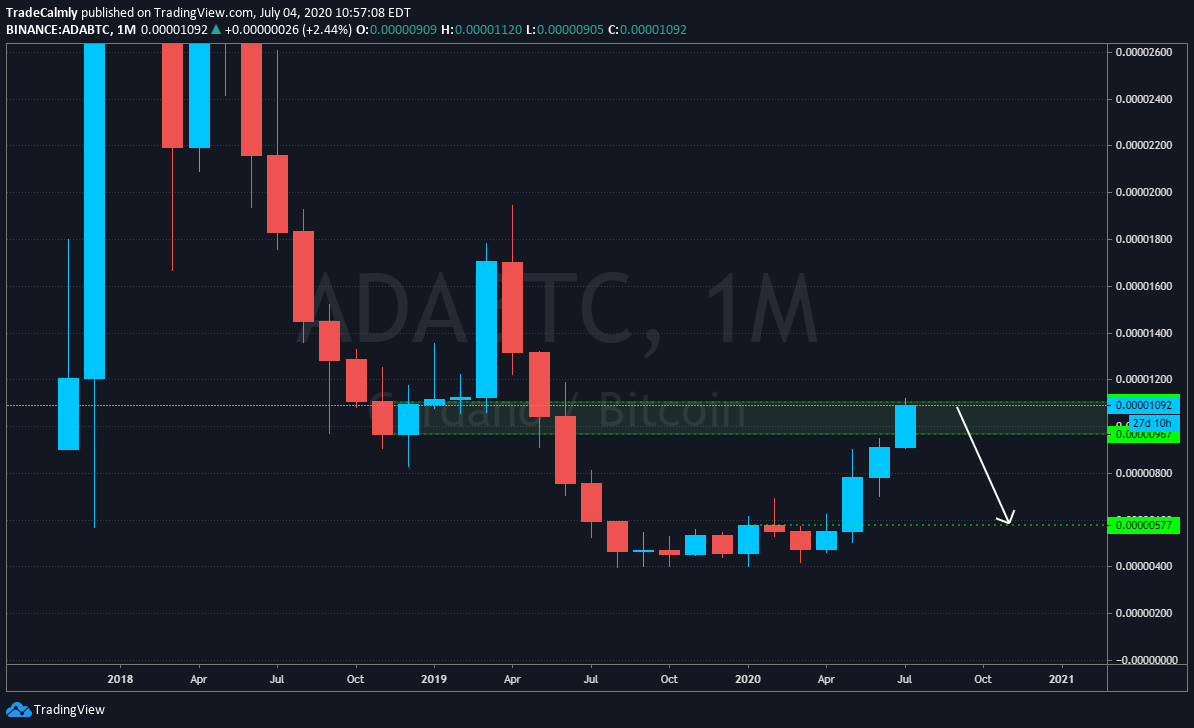 Macro Cardano (ADA) against Bitcoin chart from trader "Calmly" (@im_calmly on Twitter). Chart from TradingView.com
The chart suggests that towards the end of the year, ADA could fall by around 50% against Bitcoin to 577 satoshis.
Altcoin Rally Could Shake Bear Case
If Cardano is to retrace by upwards of 50% against Bitcoin, that implies the rest of the altcoin market could also see a pullback.
Fortunately for altcoin bulls, there are some signs indicating that altcoins will continue to rally relative to Bitcoin.
NewsBTC's Tony Spiltoro shared the charts below recently, showing that BTC dominance just saw a rejection at a key uptrend. BTC dominance is the percentage of the cryptocurrency market made up of Bitcoin.
Bitcoin Dominance (BTC.D) Daily | Source: TradingView
Others have shared in the skepticism of the sentiment that Bitcoin will re-assert control over the cryptocurrency market. One pseudonymous trader said lats week that Bitcoin dominance is likely to fall to ~60% by October of this year. In reference to the chart below, they wrote:
"BTC dominance with a clear breakdown and now retest as we saw in late 2019 indicating alt outperformance."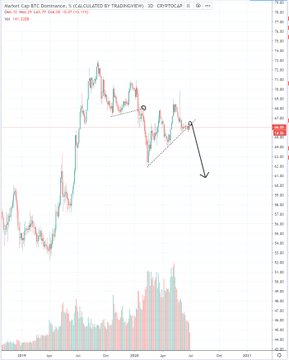 Bitcoin dominance analysis by crypto trader @SmartContracter (Twitter handle). Chart from TradingView.com
Further corroborating this narrative is the prominent cryptocurrency fund Pantera Capital. The firm's executives asserted that while they see upside in Bitcoin, they expect value to accrue in altcoins due to technological developments and novel use cases.
Featured Image from Shutterstock
Price tags: adausd, adabtc
Chart from TradingView.com
Macro Cardano (ADA) Chart "Highly Suggests" the Bull Run Is Over: Analyst