Decentralized finance reached a new milestone over the weekend as the Total Value Locked (TVL) in DeFi broke $6 billion for the first time.
What's more, the rate of DeFi growth is reflecting the explosion in interest witnessed over the past few months.
One Twitter user, @cryptounfolded, documented the number of days each one billion dollar milestone took to reach.
The jump from $5 billion to $6 billion occurred in less than three days. This contrasts significantly with the launch of DeFi in August 2017, when it took two and a half years to get from zero to $1 billion.
Time between DeFi milestones:

$0 – $1 billion: 917 days
$2 billion: 146 days
$3 billion: 20 days
$4 billion: 4 days
$5 billion: 12 days
$6 billion: 2.2 days

via @tayvano_ pic.twitter.com/YbodcOL8ly

— Unfolded (@cryptounfolded) August 17, 2020
Investors Look to DeFi as Traditional Finance Falls Out of Favor
The growth in the DeFi economy this year has astounded many experts.
Clem Chambers, CEO of investment website advfn.com, attributes this to an increasing breakdown of trust in traditional financial markets. This, he says, is being driven by uncertainty regarding the on-going pandemic situation.
"The world will have to go "risk on" to recover and the winner of those races will undoubtedly grab onto the fastest and most dramatic technologies to try to drag themselves from the quicksand of economic depression."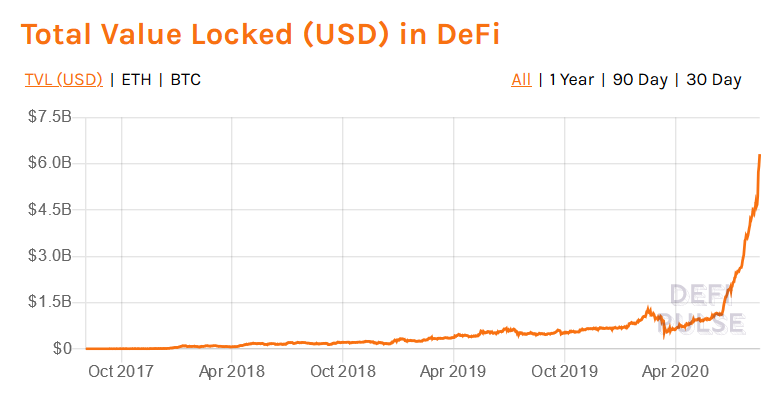 Source: defipulse.com
The chart above shows a hockey stick pattern of the value locked in DeFi from March onwards, supporting Chambers' claim.
During that period, the Dow Jones Industrial Average suffered its most significant points drop in history on March 9th. Two further record-breaking drops on March 12th and March 16th followed.
As a correlated asset, Bitcoin was not immune. It crashed 45% on March 12th, taking the rest of the crypto markets down as well.
Since then, both stocks and crypto have recovered, thanks mainly to unprecedented levels of money printing from central banks.
But, as Chambers points out, the flaws in traditional finance have been laid bare. With that, perhaps DeFi, and not Bitcoin, is what will be crypto's ticket to the mainstream.
Questions Arise Over Accuracy of Total Value Locked as an Indicator
Nonetheless, despite value locked in DeFi reaching an all-time high, some say TVL as a metric is flawed.
The founder of Encode Club, Damir Bandalo, claims that elements within TVL are double-counted, even more in many cases.
Taking this into account, Bandalo estimates the value locked into DeFi is much lower, at around $3.5 billion, almost half of what defipulse.com claims.
A lot of talk these days around the total value locked in DeFI.

However all of them count the same $ many times.

So I did my own calc to find out how much is actually locked in top 15 DeFi protocols.

Answer: $3.5bil. (compared to $6.7bil on @defipulse)

1/n

— Damir Bandalo (@damirbandalo) August 16, 2020
Illustrating his point, Bandalo gave a typical scenario that yields triple counting in the value locked in DeFi:
"Let's say you deposit ETH into@MakerDAO and mint DAI. Take that DAI and go to@CurveFinance and put it into ycurve. Your $ can actually be counted 5 times. First when your ETH goes into Maker. Then when the DAI goes into ycurve"
To produce a fairer calculation, Bandalo is also calling for the removal of DeFi tokens from the TVL figure. His argument stems from DeFi tokens conforming more to value created, rather than value locked.