The largest crypto assets trading and exchange platform OKEx has announced the expansion of its VIP Club program to all its clients along with the inclusion of a new Gold tier membership to the existing privilege program.
The OKEx VIP Club allows users to make the minimum required deposit for respective tiers in bitcoin and gain access to a lot of features that were otherwise limited to the holders of the platform's native OKB tokens. It also marks the deviation of OKEx from other market players who have made the use or possession of their respective platform's native tokens as the eligibility criteria for similar privilege programs.
Announcing the new feature, the CEO of OKEx Jay Hao said, "We are endeavoring to offer the best experience for users, including a wide range of trading privileges, to help our VIP clients stay on top of the market. We have seen market players tied the exchange token with the VIP club, we'd opt out from it, focusing on the real value of OKB."
He also said, "We encourage users to trade big and smart on our platform. Instead of holding hundreds of thousands of BTC-worth exchange token for trading-fee discount, users with large trading volumes can also enjoy lower fees without a hassle on the OKB price fluctuations."
The OKEx VIP Club has three tiers – GOLD, PLATINUM and DIAMOND, each with its own prerequisites of eligibility. The GOLD membership can be gained by depositing a minimum of 20 BTC, while the PLATINUM and DIAMOND tiers require minimum deposits of 50 BTC and 300 BTC respectively. The VIP Club members can also get an upgraded to the next tier based on their monthly trading volumes on OKEx.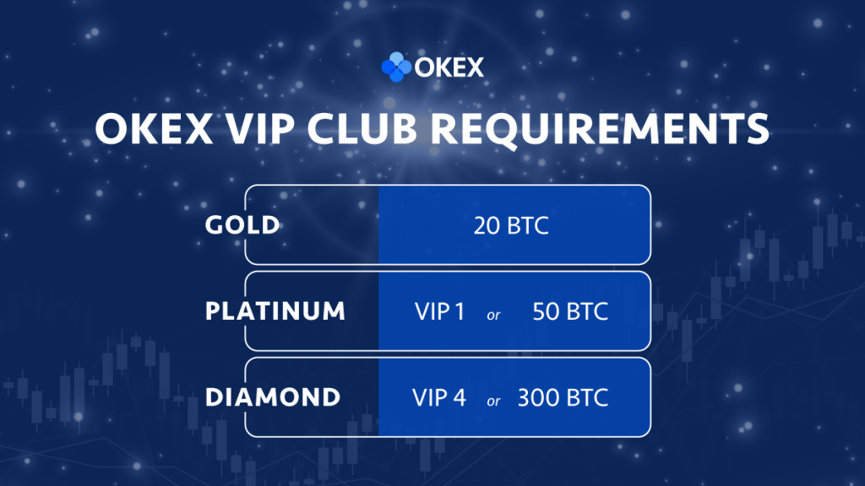 The transaction requirements tied to OKEx VIP Club are as follows: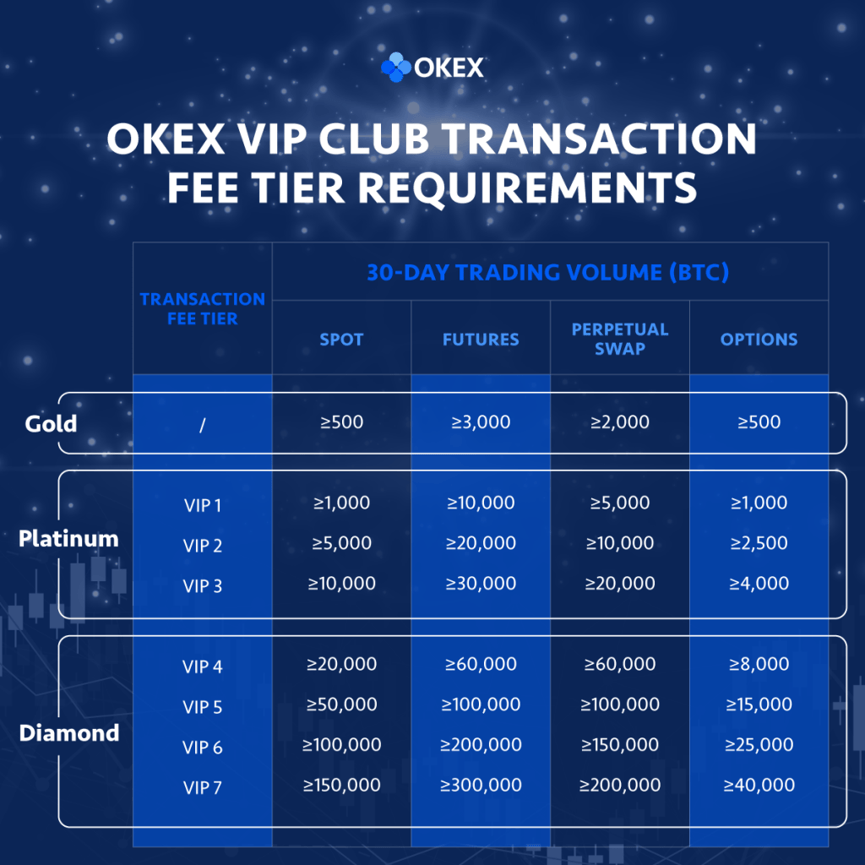 The VIP Club privileges are available in three categories – trading, OKEx ecosystem and add-ons. All the VIP members, irrespective of their membership tier are eligible for discounts on trading fees, depositEXPRESS, bespoke withdrawal limits, OTC fiat gateway, data product, colocation/proximity hosting, alpha/beta tester opportunities, and one-on-one dedicated account manager with direct access to technical support while trading on the platform.
The PLATINUM and DIAMOND members receive few special OKEx ecosystem extras in the form of OKEx Prestige card – a card shaped cold wallet which also acts as a privilege card to enjoy discounts at luxury hotels, restaurants and bars, and exclusive invites for events, conferences and meetups around the world sponsored by OKEx.
Some of the add-ons for VIP Club members include access to institutional grade research and lots of surprises on birthdays, festivals and special occasions.
It is also worth noting that the VIP Club membership can be retained by either achieving required trade volumes or by maintaining the minimum required deposit. It will not create any undue pressure on the participants to trade continuously to maintain the membership, and with minimum deposit in place, they get to enjoy all the tier-linked benefits irrespective of their trade volumes.
The creation of VIP Club will make way for not just regular traders but also high-volume traders and institutional investors to become part of the privileged group and gain all the benefits without worrying about managing OKB or any other additional crypto asset. It will also help the platform provide better service to its global clients with a personal touch, something that is absent on most exchange platforms.
Image by FelixMittermeier from Pixabay