Your favorite altcoin may be up 100% year-to-date, but make no mistake, Bitcoin is currently the alpha of the cryptocurrency pack.
Since Bitcoin dominance hit some 32% in early-2018, altcoins have underperformed. Dramatically. In fact, dominance for the leading cryptocurrency now sits at 69% and is showing no signs of stopping its growth.
According to a recent analysis by one leading trader, Willy Woo, the carnage seen in altcoin markets may soon end — or at least may take a breather. Bag holders rejoice!
Altcoins May Soon Bottom Against Bitcoin
While Bitcoin is a mere 50% lower than its all-time high of $20,000, a majority of altcoins are far from achieving that milestone. Per data from Messari's OnChainFX, XRP, Ethereum, Bitcoin Cash, and Litecoin are among the leading altcoins that are still more than 80% down from their all-time high. This bifurcation, as aforementioned, has resulted in a surge in Bitcoin dominance.
Woo, however, believes that altcoins may soon finally find some support against Bitcoin. He posted the below image on Twitter, which shows that the altcoin capitalization-to-Bitcoin capitalization ratio and the altcoin market volume-to-Bitcoin market volume indicators are currently "heading into a region of support."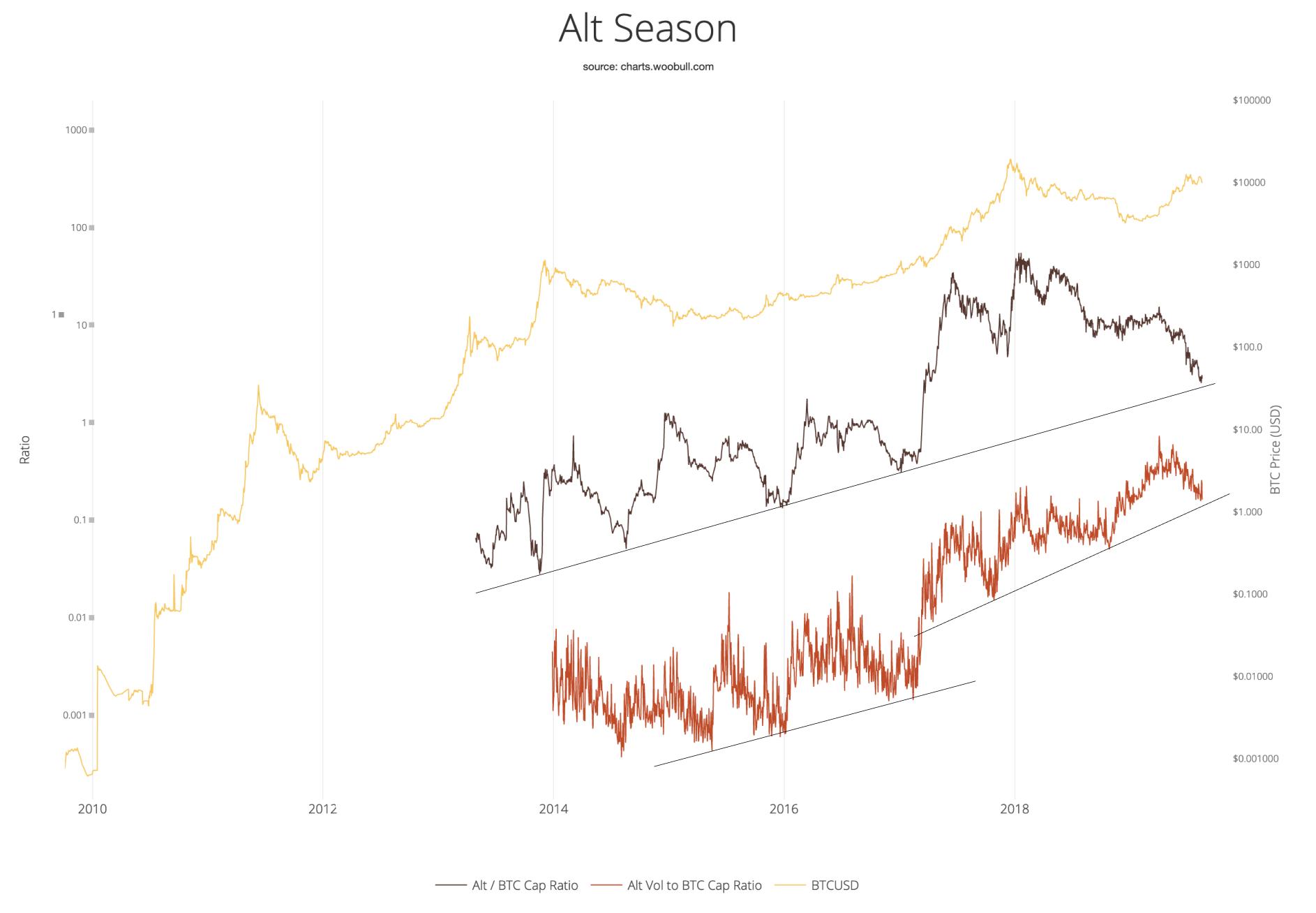 Indeed, as the Bitcoin-centric Adaptive Capital partner chart depicts, the two aforementioned indicators are currently poised to encounter two key lines of historical support. Should history repeat itself, altcoins should bounce in the coming months, potentially to kick off what crypto traders call an "altseason".
Woo isn't the only analyst currently charting for altcoins to finally start baring their fangs.
Per previous reports from NewsBTC, Bitcoin dominance is nearing the apex of a rising/ascending wedge, which, is a technical pattern marked by tightening ranges and a decrease in momentum. With an ascending wedge being seen as a bearish chart structure, BTC dominance may soon collapse and an altseason may come to fruition.
That's not all, a Telegram technical indicator group recently posted that the weekly Bitcoin dominance chart on TradingView flashed a sell nine for the TD Sequential indicator. This strongly implies a strong trend reversal for altcoins against BTC, which has the potential to last for a number of weeks.
Or Not…
Despite the signals that altcoins may finally have some room to run, not everyone is convinced. In fact, 70% of more than two-thirds of nearly 4,900 respondents to a Twitter poll believe that the altcoin carnage isn't complete. The remaining 30% think that this subset of the crypto asset class has finally bottomed.
Pure fundamentals suggest that Bitcoin may continue to steal all the limelight from altcoins.
Just look to the U.S. Securities and Exchange Commission's recent attacks against high-profile crypto projects, like Kik's KIN and Veritaseum, which have both been sued by the financial regulator over recent months.
Also, institutions foraying into this industry have focused nearly solely on Bitcoin. Just look to Bakkt, which will be finally coming to market this fall with its first product — physically-deliverable Bitcoin futures.
Featured Image from Shutterstock