In the past few minutes, Bitcoin has crossed above $10,000 once again after consolidating at $9,900 for multiple hours. While it isn't yet clear if BTC has flipped $10,000 into support, a prominent stock/futures trader is expecting a bigger breakout in the weeks and months ahead.
This analyst went as far as to say that there's a good likelihood BTC trades at $15,000 by the end of the year.
Bitcoin Could Soon Surge Towards $15,000: Analyst
It's been an explosive past few months for the gold market. Since the start of the year, an ounce of the precious metal has gained approximately 25%, surging from approximately $1,500 to $1,916 as of this article's writing. This is just dollars short of gold's all-time high price.
According to Adam Mancini, a popular futures trader with over 50,000 followers, Bitcoin could soon follow gold higher. Arguing that BTC following the footsteps of gold will lead to a move to $15,000, then beyond, the analyst wrote:
"Bitcoin $BTCUSD is setting up for a move – likely to follow in $GOLD's footsteps. We're coiling into a multi-year triangle, and these don't resolve with small moves. Given the trend entering this pattern was up, this should resolve the same way with 15k then 24k targets."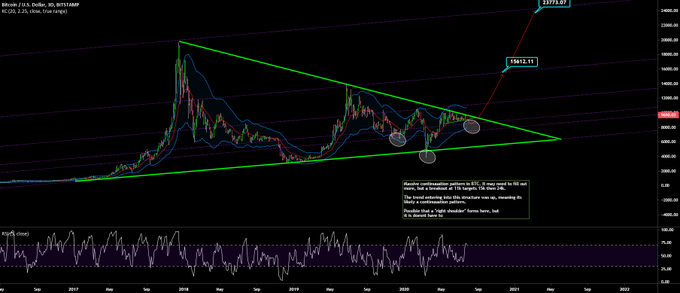 BTC price chart from tradingView.com. Macro analysis by trader Adam Mancini (@adammancini4 on Twitter).
Mancini is followed by other prominent traders in and outside of the cryptocurrency space, such as Peter Brandt, Steve Burns, and Bob Loukas.
He isn't the only one expecting Bitcoin could soon visit the region around $15,000.
The same analyst who predicted that BTC would undergo a V-shaped reversal at the $3,000 lows recently opined:
"A fair amount of '19/20 Bitcoin accumulation is happening by whales who bought the alt bottom My $BTC best guess for remainder of year: Parabolic 17K rally as alts hit distribution range followed by market wide shakeout, retest of 10.5K and grind to ATH Result: uber rektness."
As reported by NewsBTC previously, this commentator said that Bitcoin is currently resembling the price action of the Nasdaq after the 2008 Great Recession. His fractal analysis predicts that BTC will hit $20,000 in 2020.
Not Everyone Is Convinced a Bull Run Is Here
While the recent price action has been impressive, not everyone is convinced the bull run is here.
Bob Loukas, an analyst that has been covering the Bitcoin price for years, recently commented:
"Continue to believe in bullish accumulation #bitcoin. Timing ripe (new cycle) for significant move higher here. Cannot rule out another 40day consolidation though, which ends with sharp V pattern from $7k's or a volatility surge. Sorry to those looking for exact prediction."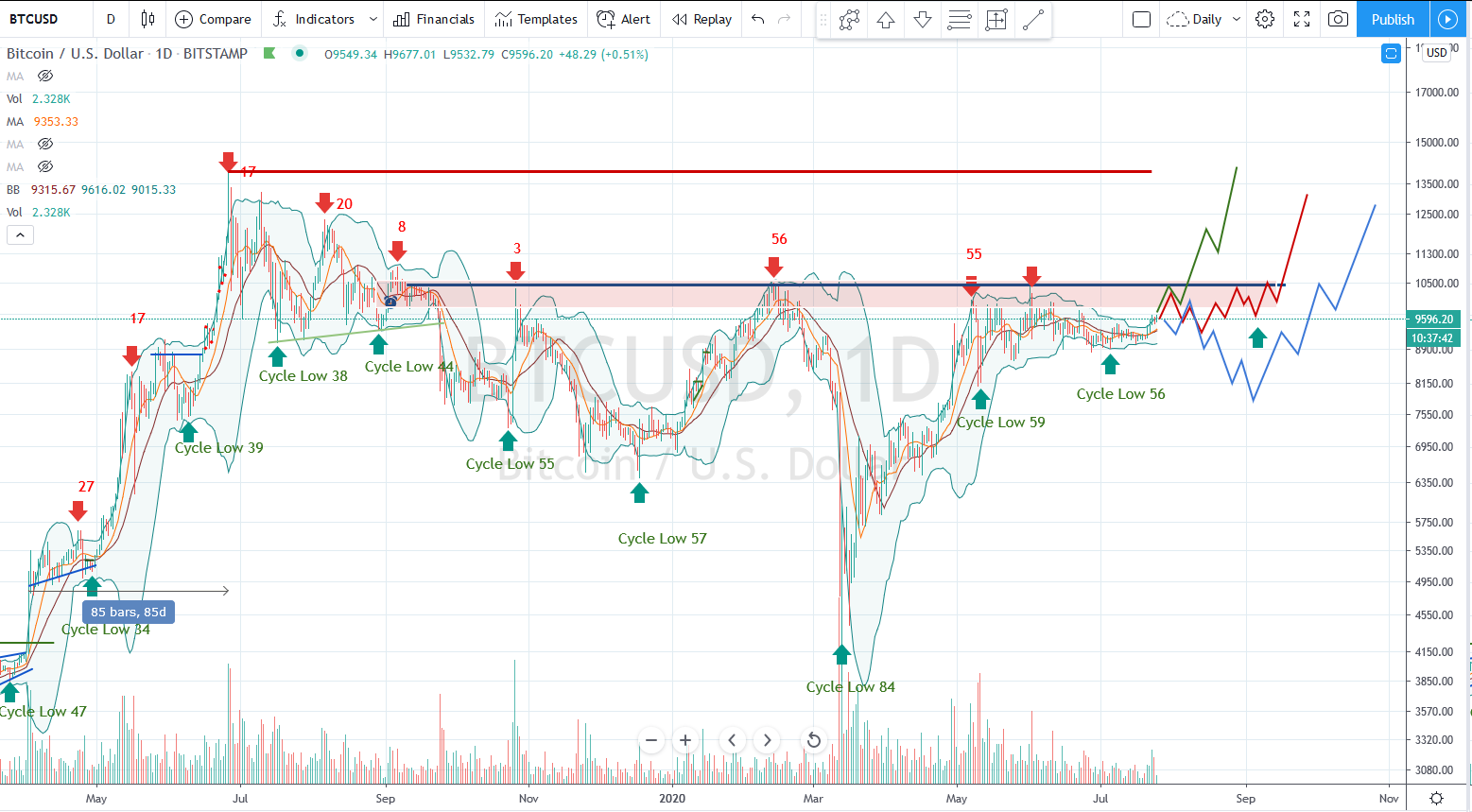 Analysis of Bitcoin's price action over the past year by analyst Bob Loukas (@BobLoukas on Twitter). Chart from TradingView.com
Once Bitcoin breaks past $10,500, though, most analysts have said that they will flip any bearish bias.
Featured Image from Shutterstock
Price tags: xbtusd, btcusd, btcusdt
Charts from tradingView.com
Prominent Trader Suggests Bitcoin Could Soon Hit $15,000 by "Following Gold"