The Shiba Inu (SHIB) price could be facing a make-or-break moment in the coming weeks. While the launch of Shibarium is imminent according to the chief developer, the success of the layer-2 blockchain and the emerging ecosystem could determine how the SHIB price will perform.
Despite the 43% year-to-date (YTD) price increase, SHIB is still in bearish territory. Ultimately, SHIB needs another boost, whether from a macro perspective or from the successful launch of Shibarium, to return to the bullish ground.
The 1-day chart reveals that SHIB is still writing low highs on a daily basis since August last year. However, the year-to-date rally could be the start of a major move to the upside. For now, SHIB has seen a retest of the support zone at $0.000011, but could now push ahead with its rise. If not, there could be more downsides for SHIB.
At the moment, SHIB is seeing support from the 200-day EMA at $0.00001125. If the price manages to stay above this level, the first target could be the January 18 high of $0.00001292, in order to write a new local high.
After that, there would be a possibility of SHIB making a new attempt to break the high of $0.00001519 from October 29. Achieving success could mean a return to the bullish territory. However, the final, biggest hurdle, for now, will be the resistance zone between $0.00001691 and $0.00001799.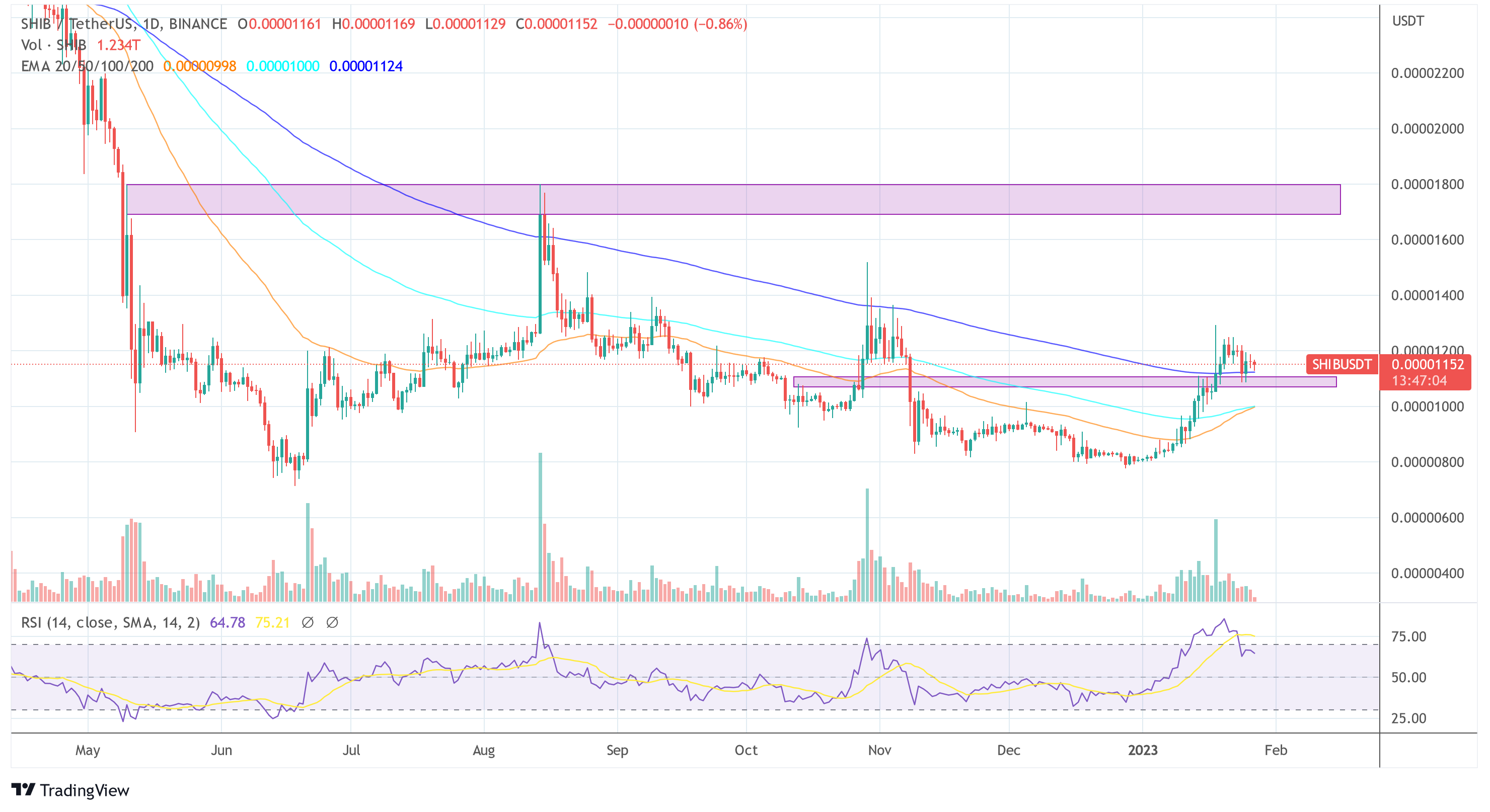 Shibarium And Whales In The Spotlight For Shiba Inu
A look at the fundamentals also reveals a make-or-break moment. With the much-hyped launch of Shibarium, it remains to be seen whether Shiba Inu can grow beyond its meme coin status.
The project is a layer 2 solution for the Ethereum-based network and aims to lay the foundation for building a powerful ecosystem that hosts a metaverse, a decentralized exchange (DEX), blockchain-based games, and NFTs.
The decentralized exchange Shiba SwapDEX launched back in July 2021 and reached a TVL of $1.66 billion at the time, but is down to $30 million. Shibarium could give new life to the exchange.
In general, however, Shiba Inu will have to prove itself if its move away from a pure meme narrative is to be successful. If the fundamentals are right, the price will follow. If Shibarium is a disappointment, the SHIB price could see further downside.
Meanwhile, the popularity of SHIB among Ethereum whales points to a bullish sentiment. A SHIB community member shared data from WhaleStats, according to which SHIB is the top-held non-stablecoin by Ethereum whales. SHIB accounts for 15.76%, only outpaced by USDT (19.52%).
Hey #SHIBARMY did you know that SHIB 🐶 is the top-held nonstable coin by ETH whales?
Something to think about. 🤑 pic.twitter.com/uKFrjkj2RU

— Shib Dream * Shiba Inu News * Shib Army Social 💎 (@theshibdream) January 26, 2023
Meanwhile, Coinbase director Conor Grogan recently revealed that popular online broker Robinhood holds Shiba Inu (SHIB) tokens worth $266 million.
In total, Robinhood holds $3.37 billion worth of assets on Ethereum Virtual Machine (EVM) chains. These break down as follows: $2.99 billion ETH (88%), $266 million SHIB (8%), and $54 million MATIC (1.6%).
At press time, the SHIB price stood at $0.00001152.
Featured image from LeandroDeCarvalho / Pixabay, Chart from TradingView.com