The founder of Cardano, Charles Hoskinson, reached out to Litecoin CEO, Charlie Lee, to broach the possibility of working together.
While it's too early to determine the precise nature of the collaboration, Hoskinson stated that cross-chain communication between the two is what he has in mind.
@SatoshiLite it would be great to do something together. I love the idea of testing cross chain communication between Litecoin and Cardano. We got a lot of ideas and I'm sure you guys do too

— Charles Hoskinson (@IOHK_Charles) July 7, 2020
In response, Lee welcomed the idea, saying his Project Director will be in touch to take things forward.
Source: twitter.com
Although details at this moment remain scarce, an alliance between these two heavyweights has set the crypto community on fire over expectations of the final product.
Charlie Lee Aiming For Litecoin WimbleWimble Testnet Within Two Months
Being launched in 2011, Litecoin is one of the first established projects within the cryptocurrency space. Dubbed "Bitcoin lite," it's known as a quicker and cheaper method of transacting compared to Bitcoin.
However, updates on Litecoin's development have been sparse of late. Recent price-performance and its slow trickle down the CoinMarketCap rankings reflect this.
Last month, Lee gave an interview to discuss Litecoin developments. Fungibility and privacy via the MimbleWimble upgrade remain the priority. With that, Lee said:
"…we're working on adding MimbleWimble to Litecoin with extension blocks. This is something we've been working on since late last year. It's been going well, we've been targetting end of this summer for a testnet launch."
During this period, critics have accused Litecoin of lacking in development. This follows a supposed leak on Reddit, in which developers expressed their disappointment with the slow pace of progress.
Lee answered the critics by announcing new core updates.
Litecoin Core 0.18.1 final release is out! Who says Litecoin has no development? 😀

Many thanks to all the developers that worked on this release! 👏

We are already hard at work on the next release, Litecoin Core 0.20, which will bring us in line with the latest Bitcoin Core. https://t.co/JaMq9RcwtR

— Charlie Lee [LTC⚡] (@SatoshiLite) June 11, 2020
Cardano Is on a Tear
By contrast, Cardano is grabbing all the headlines, and for the right reasons. The Shelley mainnet launch remains on track for release at the end of this month.
Investors are responding by pumping the price of ADA. A strong performance since the mainnet announcement, a month ago, has seen it spike up 150% against the dollar since then.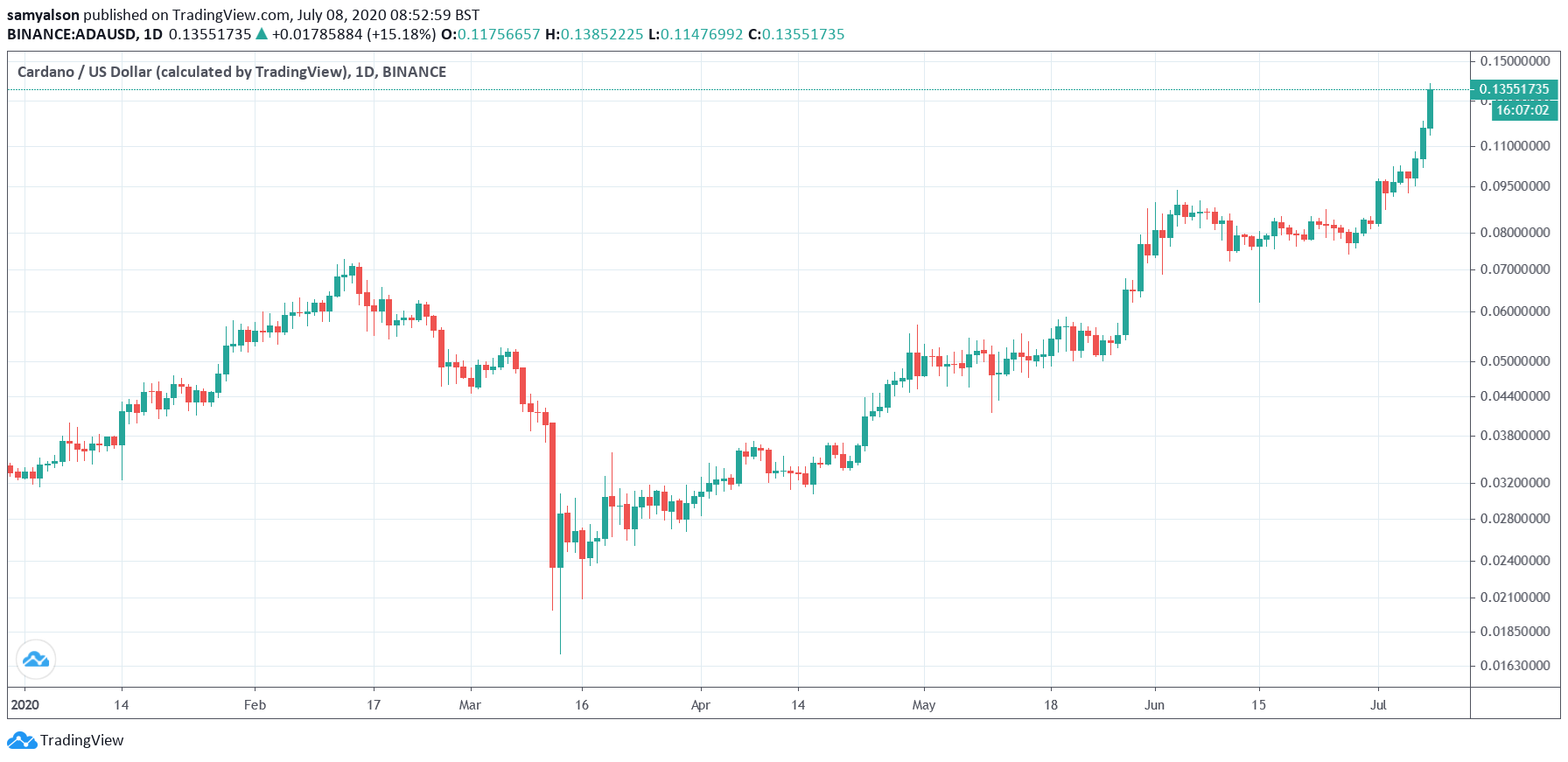 Cardano daily chart YTD. (Source: tradingview.com)
This momentum was enough to flip Litecoin for the seventh spot on CoinMarketCap. A few hours later, this was followed by flipping Bitcoin SV for sixth.
Cardano just flipped BSV

🔥🔥🔥 pic.twitter.com/JzaN4j5piC

— ₳DAFrog – FROG – Cardano stake pool – ADA ステークプール (@ADAFrog_Pool) July 8, 2020
Speculation Goes into Overdrive
Cardano is moving into the Goguen phase of development, this focuses on building smart contracts and DApps.
Roadmap details for Goguen reveal plans for developing a multi-currency ledger. This will allow users to create new natively-supported tokens, as well as provide the functionality to tokenize assets.
"… supporting the creation of new cryptocurrencies on Cardano as well as the tokenization of many types of digital and physical assets. Another benefit will be easier integration of smart contracts and DApps involving multiple cryptocurrencies."
WBTC and imBTC are tokenized Bitcoin on the Ethereum network. They serve to bring Bitcoin's superior liquidity into the DeFi space.
Taking this into account, could the Cardano Litecoin collaboration be about tokenizing Litecoin in the Cardano ecosystem?
At this stage, such talk is pure conjecture. What's more, with ADA and LTC being similarly liquid, it's unclear how such a move would benefit both parties.