Tezos (XTZ) has been one of the best-performing cryptocurrencies of the past few days. The cryptocurrency surged approximately 15% this weekend once it cracked the pivotal $3.40 resistance.
XTZ now trades for $3.75 — up 7% in the past 24 hours. This is a performance better than that of Bitcoin and Ethereum, which are both up by approximately 2% over that same time frame.
Analysts say that the altcoin is preparing to move higher as its chart strengthens. Also boosting the Tezos bull case is the expectation of profits from other altcoins such as Chainlink (LINK) to flow into XTZ.
Tezos Could Soon See Another Leg Higher
Tezos is on the verge of its next leg higher as technical signals align, a number of analysts have said over the past 24 hours.
Josh Olszewicz, analyst at Brave New Coin, shared this chart below on August 9th. IT shows that on a macro scale, Tezos is forming a "Cup and Handle" pattern with an inverse head and shoulders pattern. These two patterns working in tandem suggests that the asset will soon undergo another leg higher, likely above $4.00.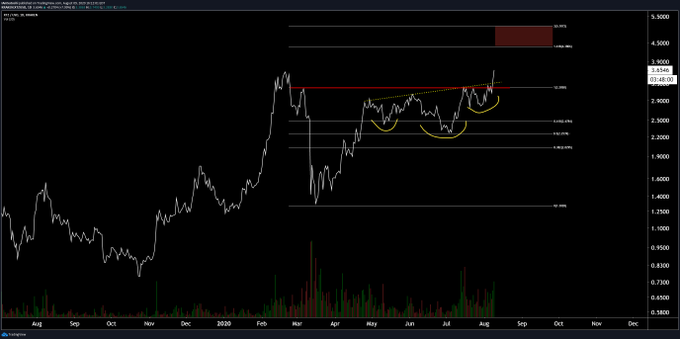 Chart of Tezos' price action over the past year with analysis by trader Josh Olszewicz of Brave New Coin. Chart from TradingView.com
The optimism was echoed by other analysts, who noted that Tezos crossing above $3.40 on a daily scale marks a massive win for bulls.
Bitcoin Isn't in the Clear Yet
It is important that Bitcoin remains in a bullish state to ensure that the altcoin market has fuel to rally. Unfortunately, the leading cryptocurrency is not yet in the clear.
After crossing above $12,000 on Monday morning, the cryptocurrency plunged by just over 2% in the span of 10 minutes. While bulls have since recovered a majority of the drop, Bitcoin remains below the August 2nd high of $12,200. For the cryptocurrency to cement that the uptrend is intact, Bitcoin will need to cross above that level.
Others say that it's entirely possible that BTC could retest the $9,000s or $8,000s unless the $12,000 resistance is flipped into support.
As reported by NewsBTC previously, one trader said on the matter:
"$BTC macro picture: I think we're topped or maybe one last impulse above current high. Had my eyes on 13k$ resistance for a while, went close enough, R:R wildly favoring bears from here until 13k is closed through and held above. Macro pull-back into $8'125 area is plausible."
Chart of BTC's price action since the start of the year with analyst by crypto trader SalsaTekila (@SalsaTekila on Twitter). Chart from TradingView.com
How exactly Tezos will be affected by such a move, though, remains to be seen.
Featured Image from Shutterstock
Price tags: xtzusd, xtzbtc
Charts from TradingView.com
Tezos (XTZ) Is Preparing For Another Leg Higher as Chart Strengthens: Analysts