Somehow, Bitcoin's price action has become even tighter over the past days than it has been over the past two months. If you zoom out and look at BTC's macro chart, it may seem like the asset has flatlined.
Yet a cryptocurrency trader is starting to fear that one final correction is in the works. Trying to explain this sentiment, he has cited a confluence of technical analysis factors.
Bitcoin Could Soon See a Correction, Fears Analyst
Bitcoin's inability to continue to push higher after hitting $10,500 in June has not lent well to trend indicators.
One cryptocurrency analyst shared the chart below on July 17th, showing that the Gaussian Channel is about to "roll over" on the daily. Notably, this Gaussian Channel is a lagging indicator, meaning it may take a few days or weeks before it formally acknowledges that a bear trend is in effect.
The potential for it to "roll over" is bearish for the cryptocurrency because almost every instance of this happening was followed by losses.
The analyst who shared the chart below noted in another analysis that the channel turned red three times during 2018's 80% bear market. The indicator also trended into the red near the peak of 2019's bull market, preceding a 30-40% drop.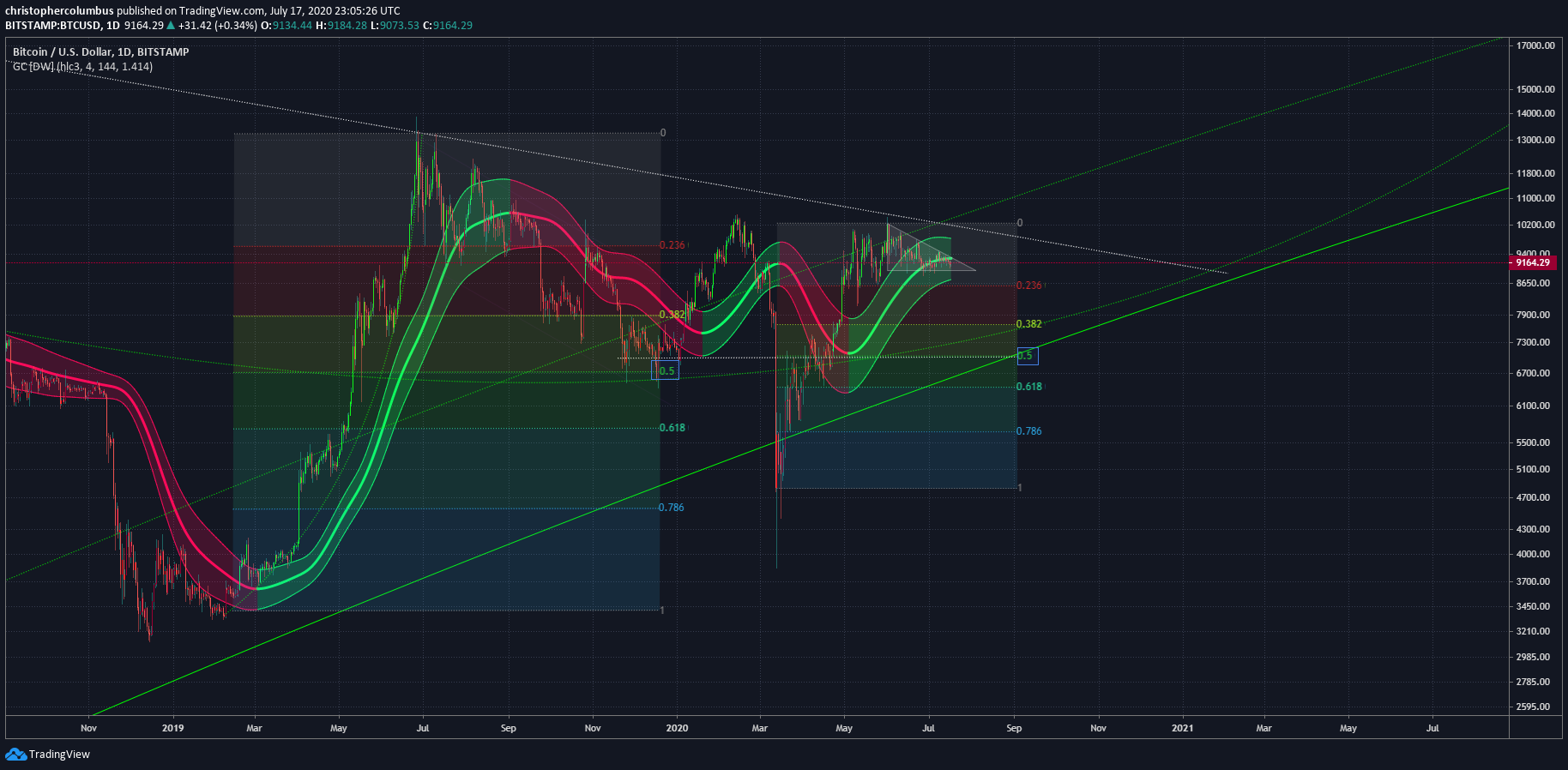 BTC price analysis with Fibonnaci Retracements and the Gaussian Channel by trader "Dave the Wave" (@Davthewave on Twitter). Chart from TradingView.com
Because of the likely rolling over of the channel and other factors, this analyst expects BTC to retrace to the $7,000s and maybe even lower.
On-Chain Indicators Tell a Different Story
On-chain indicators tell a different story about BTC than the technicals. Instead of predicting one final correction before a full-blown bull market, they predict that the long-awaited bull run is almost or already here.
Ki Young Ju, the chief executive of Crypto Quant, recently argued that the outflow of Bitcoin from exchanges is indicating the imminent start of a bull run:
"I think the #BTC bull market will start soon. Average Exchange Withdrawals value is going down and about to touch the retail investor-level threshold. Historically, the Bull Market starts when retail investors become active."
There's also the Hash Ribbons, an indicator that derives signals from movements in the network hash rate. Last week, it printed a buy signal for BTC , which is something that has preceded all of BTC's previous macro rallies.
Featured Image from Shutterstock
Price tags: xbtusd, btcusd, btcusdt
Charts from TradingView.com
The Signal That Preceded a 2019's BTC Correction Is About to Return