Ethereum has seen an explosive price performance over the past three weeks. In the span of just around 20 days, the asset has surged from $245 to a local high of $415. As of the time of this article's writing, the leading cryptocurrency trades hands for $394 — just shy of the pivotal $400 resistance.
Although ETH has already seen this steep rally, a fractal analysis by a trader who predicted much of the recent rally suggests there's room to run.
In addition to the fractal, fund managers in the space see multiple fundamental reasons why Ethereum is primed to move higher.
Ethereum Could Soon Surge Past $1,000, Predicts Fractal
Ethereum's recent price action that took it from $245 to $415 is just the start of a larger rally, one analyst suggested on August 6th.
In an analysis shared with Twitter, the trader published this chart below. It shows that Ethereum's macro price action from the 2018 highs until now looks almost identical to BTC's price action from the 2014 highs to the start of the 2016-2017 bull run.
This so-called "fractal" analysis predicts that Ethereum will rally past $1,000, likely in the middle or heading into the end of 2021.
The trader that made this analyst is one who predicted days after the March crash that Bitcoin was likely to bounce back to pre-crash levels. He also predicted the ongoing ETH breakout.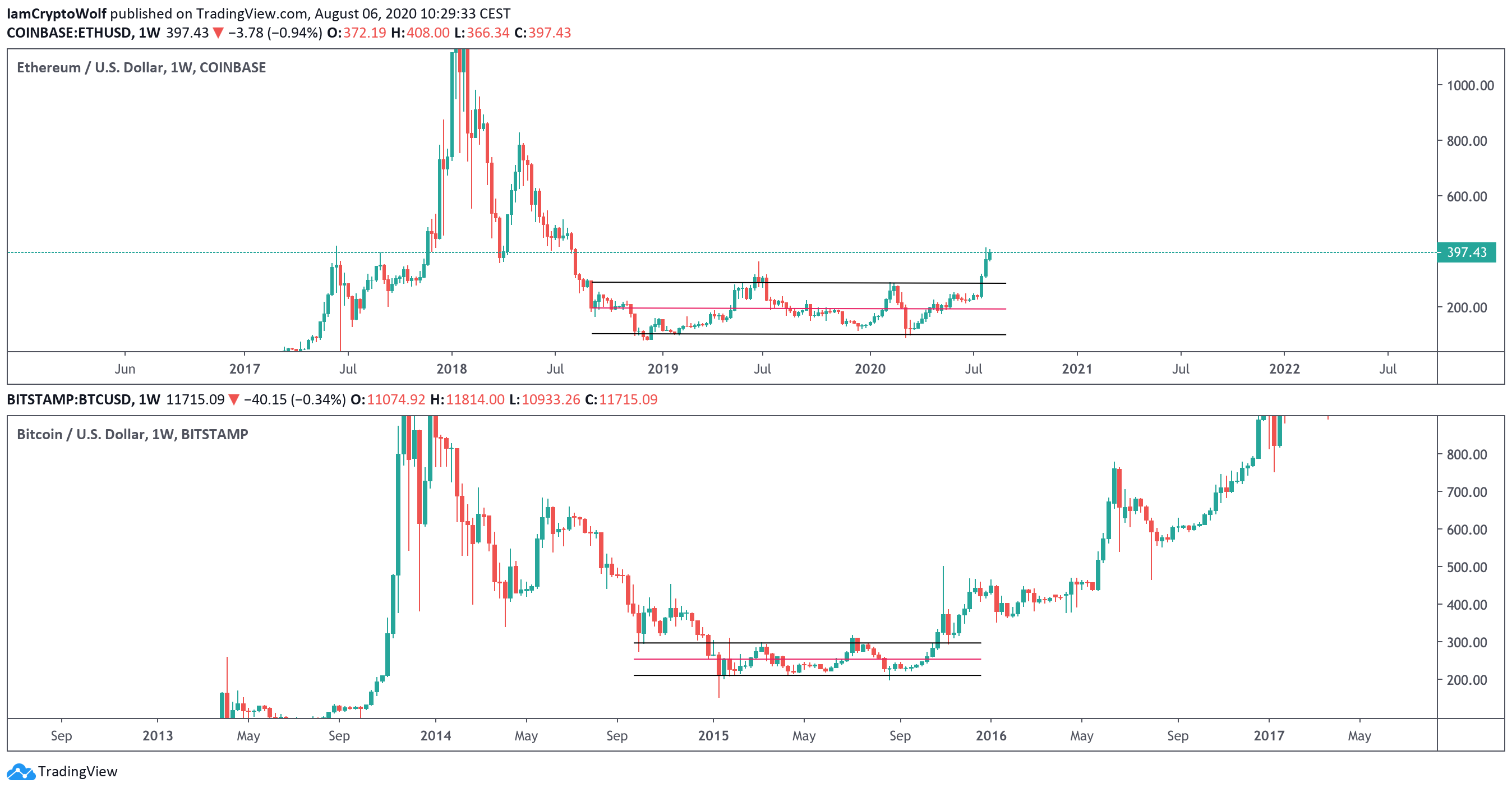 Fractal analysis of ETH's macro price action by trader "The Crypto Wolf," who called recent price action. Chart from TradingView.com
Fund Managers Agree
There are some fund managers in the space that are confident Ethereum will rally to fresh all-time highs above $1,000 this market cycle.
Chris Burniske of Placeholder Capital touched on this in an extensive Twitter thread earlier this year. Referencing how ETH will benefit from Bitcoin likely rocketing to a price of $50,000 this cycle, the prominent investor wrote: 
"If $BTC goes > $50,000 in the next cycle, and $ETHBTC returns to its former ATH, then expect to see $ETH > $7,500. Why #bitcoin > $50,000? As discussed in May 2019, if $BTC is half as volatile in this cycle as it was in the last, we would still expect it to cross $50K and $1 trillion in network value. $1 trillion has been a long time coming for this macro-asset. Meanwhile, to the mainstream ETH will be the new kid on the block — expect a frenzy to go with that realization."
If $BTC goes > $50,000 in the next cycle, and $ETHBTC returns to its former ATH, then expect to see $ETH > $7,500. pic.twitter.com/5tetUJdbCS

— Chris Burniske (@cburniske) June 14, 2020
He explained in a separate thread that decentralized finance will drive record levels of demand for ETH: "#DeFi will flex Ethereum's ability to perform *all* financial services."
Higher demand, assuming consistent or decreasing supply, increases the price of any asset.
Featured Image from Shutterstock
Price tags: ethusd, ethbtc
Charts from TradingView.com
This Eerie Ethereum Bear Market Fractal Is Predicting a Rally Above $1,000