Bitcoin's price action has been extremely boring over the past two months, with the leading cryptocurrency trading in a historically small range.
Bulls, however, may soon get a boost as the premium between the Bitcoin spot market and the implied price of BTC determined by Grayscale investors has shrunk.
Bitcoin Could Soon Enter Bull Run, Predicts Unexpected Signal
According to a Bitcoin chartist, the premium between the two markets has reached under 5% in a rare signal.
While this may be seen as a sign of decreasing interest in the product, an analysis has found that this may not be the case.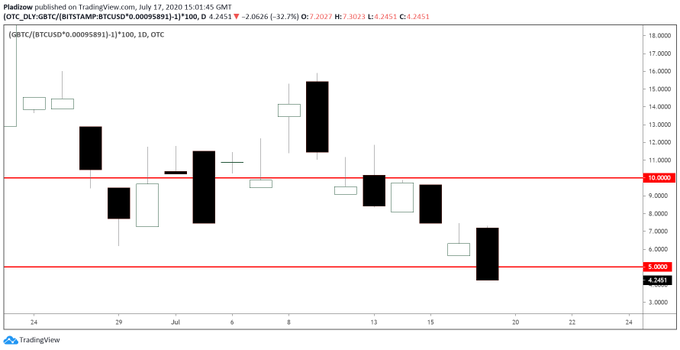 GBTC premium over spot market indicator. Chart from TradingView.com; chart made by Nunya Bizniz (@Pladizow on Twitter).
According to a trader, an extremely low premium between the Bitcoin price on spot markets and that implied through Grayscale's trust may indicate the market has bottomed.
Sharing the image seen below, the trader in question recently wrote:
"This guy wrote an interesting thread about GBTC and pointed out that the GBTC premium seems to always be low when $BTC bottoms out. It looks like it's true. Premium is always higher when market goes parabolic, premium is low when market bottoms out."
Macro BTC price action with GBTC premium over spot market indicator. Chart from TradingView.com; chart made by Byzantine General (@Byzgeneral on Twitter).
Case in point: before Bitcoin rallied from the $3,000s to $14,000 in the first half of 2019, the premium fell to levels slightly above than those seen today. Also, the premium saw strong dips during corrections during 2017's run-up, before rallying even higher.
This recent drop in the premium to multi-year lows suggests that Bitcoin will soon enter a bull run should history rhyme.
Grayscale Is Seeing Record Inflows
Further supporting the bull case, Grayscale has reported massive capital inflows for the second quarter. As reported by NewsBTC previously, the company wrote in the report released last week:
"Grayscale recorded its largest quarterly inflows, $905.8 million in 2Q20, nearly double the previous quarterly high of $503.7 million in 1Q20. For the first time, inflows into Grayscale products over a 6-month period crossed the $1 billion threshold.":
This report comes shortly after Paul Tudor Jones, a prominent hedge fund manager worth over $5 billion, said that he supports investing in Bitcoin. In a research note an in an interview with CNBC, the legendary macro investors said that with the ongoing digitization of the world as central banks print money, BTC is making more and more sense.
An analyst says that these Wall Street inflows are extremely bullish for the Bitcoin and Ethereum bull case. The analyst recently commented:
"DeFi can rally without a ton of new money coming in, but BTC/ETH are at the point where they need real, institutional/macro fund flows to take it to the next level. But it's hard to see ETH making a huge move with BTC range bound. Just a different level of capital needed for that."
When that rally arrives, though, remains to be seen.
Featured Image from Shutterstock
Price tags: xbtusd, btcusd, btcusdt
Charts from TradingView.com
This Unexpected Signal Indicates Bitcoin Is About to See a Bull Trend