Few expected Bitcoin to be in the position it's in now just days ago. Just earlier this week, the leading cryptocurrency was riding high, trading above $12,000 as investors thought the rally to new all-time highs had begun. There were reasons to believe this: gold was surging, the U.S. dollar was crashing, increased inflation was hinted at, and altcoins were surging.
But one trader, the whole time, was predicting a strong move lower under $10,000 to $9,755.
With Bitcoin having traded under $10,000 twice in the past few days, he's been proved almost fully correct.
Here's what he expects to come next for the cryptocurrency market.
What's Next for Bitcoin?
The same trader that made this prediction believes that Bitcoin may be primed to retest $11,000 in the days ahead. He shared this chart showing his opinion:
"OK, here would be my perfect $btc scenario for next days. SFP 61.8% pattern, end of dump, maybe form something like a 4hr bull div (so a 4hr lower close between 10130 & 9970, higher low RSI). Bounce. Go take those highs /stops. Continuation of dump next week. Let's see what happen?"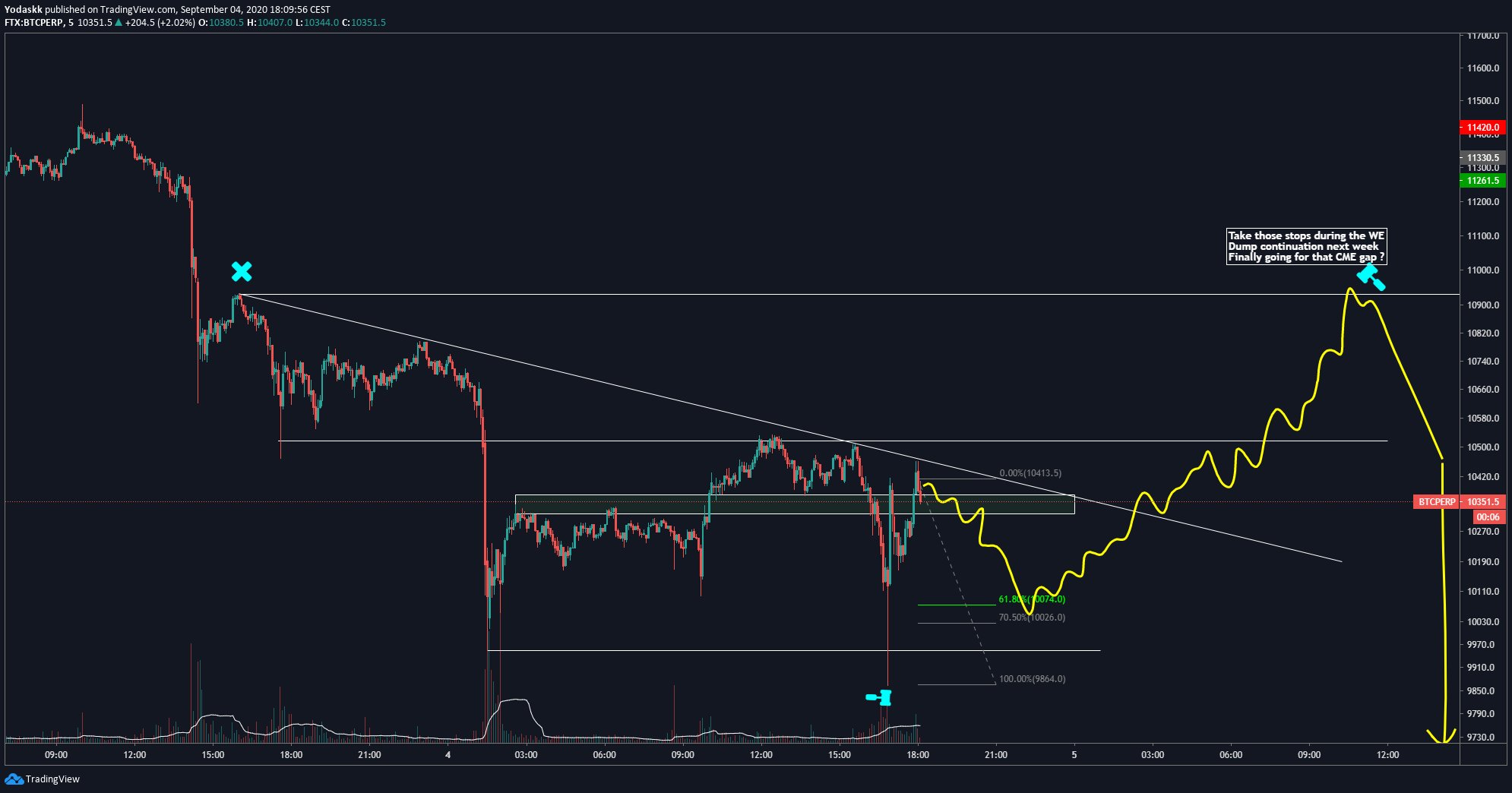 Chart of BTC's recent price action with analysis by crypto trader Coiner-Yadox (@Yodaskk on Twitter). Chart from TradingView.com
Expect a Bounce
The bounce that the analyst is expecting is likely, a number of indicators suggest. We've already seen a bit of a bounce, but more is likely to come. 
For one, Bitcoin is extremely oversold as per the Relative Strength Index:
"Alright, stopped out on both $BTC & $ETH trades (of course). It think this is just one of those times when I have to admit defeat. By the way: the RSI hasn't been this oversold since the black swan crash. Crazy stuff."
Chart of BTC's price action since the start of 2020 with RSi analysis by crypto trader Byzantine General (@Byzgeneral on Twitter). Chart from TradingView.com
Legacy markets have bounced as well, with the U.S. dollar losing momentum once again. This means that Bitcoin may have room to extend to the upside.
Featured Image from Shutterstock
Price tags: xbtusd, btcusd, btcusdt
Charts from TradingView.com
Trader That Predicted Plunge Under $10,000 Thinks This Comes Next