Earlier this year, in late-September, prominent Bitcoin analyst Filb Filb posted this chart below, showing that he expects for BTC to jump by dozens of percent to near $10,000, then collapse by 35% to the low-$6,000s to interact with the "miners bottom range."
While some laughed this off as pure bearish sentiment at the time, Filb Filb's prediction was proven to be nearly 100% accurate, with Bitcoin surging past $10,000 in a temporary vertical relief rally, then crashing the mid-$6,000s just earlier this month.
He managed to predict Bitcoin's trajectory months in advance, something quite difficult for any trader due this market's volatility.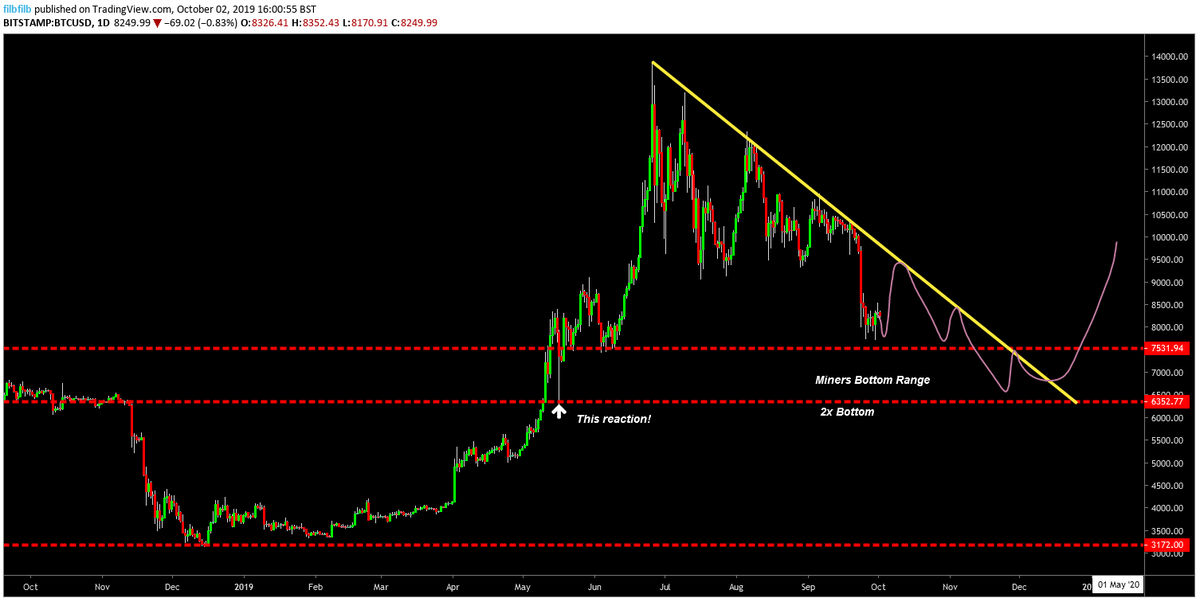 The same analyst is back again, issuing his latest forecast for the leading cryptocurrency.
Bitcoin to Hit $9,555 Soon
Filb Filb recently noted that Bitcoin is preparing to make a raid on the previous resistance level of $9,555, noting that this is where the price of the cryptocurrency topped in October and early-November in the wake of the now-infamous 40% "China pump."
BTC reaching this level, which would satisfy textbook market trends of assets visiting support and resistance levels multiple times before establishing a direction, would require it to rally by 7% from the current price of $8,850.
Previous weekly resistance @$9555 – Bring it home $btc. pic.twitter.com/kKxlyvJ6V0

— fil₿fil₿ (@filbfilb) January 18, 2020
Not the Only Bull
Filb Filb isn't the only prominent analyst who is bullish on Bitcoin.
Aside from Filb Filb, there are few traders that have been as accurate on BTC as Dave the Wave. In the middle of 2019, he claimed that he expects for BTC to drop by dozens of percent to bottom in the mid-$6,000s, which it did months later. Mind you, he made this harrowing prediction when investors were high on life, claiming that $20,000 and beyond was imminent.
Dave recently issued his next prediction, saying that BTC is preparing to break higher than it already has, drawing attention to the below chart which shows BTC is trading in a clear uptrend. Per his analysis, the cryptocurrency's price will likely surge another 32 percent to $11,500 by the middle of February—just four weeks away.
Pennant starting to look more likely with price staying high here. Freebie from my alts page… pic.twitter.com/IZQAJIrgf0

— dave the wave (@davthewave) January 17, 2020
Backing this prediction, Dave looked to a confluence of factors:
Bitcoin recently broke above a descending channel that has constrained price action for more than six months, marking a large win for bulls.
BTC rallying to $11,500 would satisfy a historical chart pattern.
The weekly 

Moving Average Convergence Divergence

 (MACD) is starting to trend higher once again, which was a signal seen in 2015/2016 as BTC moved from a bear market to bull.
Featured Image from Shutterstock